Berke's Books for Boys
(not just boys, but all kids, really - I was going for the alliteration thing)

Paul the DBA dropped by my desk this morning to shoot the breeze and we somehow ended up on the topic of Berke Breathed's children's books, so I tried to show him the beauty and majesty of Edward Fudwupper and Berke's other books that I've acquired and, well...I realized I hadn't ever posted anything about any of them. My slacking knows no bounds!
So now, many moons after the I wrote up my thoughts on the following Berke books, I'm finally going to get around to posting them.


The Last Basselope
I picked up The Last Basselope by Berkely Breathed many years before I had kids, but well after the untimely end of my childhood - despite this being a book written and intended for kids. Berke Breathed is better known as the creator of Bloom County, Outland and the Opus newspaper comic strips than for his children's books, but he does craft some fine children's literature.

The art is beautiful (who would have imagined that a cartoonist would be so skilled) and the story clever enough to entertain adults, yet simple enough to keep the kids enthralled.

Opus Handed Rosebud a last snack for the road. "A Great and Famous Discoverer knows that some secrets are better left undiscovered," Opus said sadly.
"Then I have one more undiscovery," said the beast, "Just for you." He scrunched up his eyes, and his face turned pink with strain. Slowly at first and then quickly, his antlers expanded like glowing balloons. They rose above his head, and gently, ever so gently, Rosebud's feet lifted off the ground.
"The stories never mentioned this," said a thrilled Opus, laughing and waving good-bye.
It's a nice little story about sacrifice, morality and adventure.


Edward Fudwupper Fibbed Big

I happened across a Berke Breathed children's book called Edward Fudwupper Fibbed Big (published in 2000) earlier this week when looking for the Ward translation of The Stranger at Borders. I'm always happy to add another Berke Breathed book to the collection, so I quickly snatched it up.
Dr Seuss couldn't have written more lyrically flowing prose.


From a long line of liars, there's none higher upper...
Than my fibbing big brother,
The Edward Fudwupper.

There he is now,
I know just what he's doing:
He's thinking of who could be next for some fooling.
Edwurd's been cooking up fibs full of phooey;
He'll serve them up SWEET, all gooey with hooey.

The illustrations are typical Berke. Unlike the artwork A wish for Wings that Work and The Last Basselope, the art in this book alternates between cartoon-style and fully-finished painted panels.




I read it to the kids before bed and, despite protests before I started that they didn't want to hear one of my stories, they were hanging on my every word and were full of questions about the colorful, vibrant - often very silly - illustrations in the book.
So I guess they liked it.


Mars Needs Moms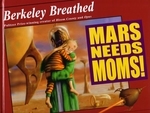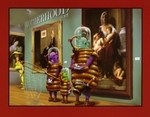 I picked up Berke's latest book, Mars Needs Moms, from Borders the week it arrived in the bookstore.
This book is an awesome tribute to mothers and the art is gorgeous.



And he barely sensed the gentle hands place her own helmet over his head.

Milo opened his eyes and for the first time, he saw neither a broccoli bully nor a slave-driving garden ogre.

He didn't see a tyrant or a dictator or a weary driver to soccer games.

Suddenly he knew what was special about mothers.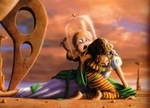 This is an awesome book for kids. And grown-ups. If you don't get at least a little emotional by the end of the story, you have no soul.


Opus: 25 years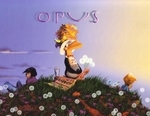 I also picked up Opus while I was at Borders when I saw it on the discount rack for five bucks. Five bucks for a hardcover collection of all the Bloom County, Outland and Opus strips.
Sweet!
I haven't actually read them all the strips yet, but there are a couple of pages of introductory material (including some work Berke did for the film Secondhand Lions) that I've managed to find time to read. It's interesting to see how Opus and Berke's drawing style have evolved over the years.
I also bookmarked one of the strips from the Opus: 25 years book that I just got around to scanning.


Why? Because it reminds me of Mars Needs Moms....except it's the version from a Berke without kids. So instead, we get "Mars Needs Women!"


Whew! Okay, that's my Berke Children's Book archive (I don't think I missed any of them, though I didn't mention my treasured A Wish for Wings that Work video. Mission accomplished.



Got something to say? Say it. (2 responses).


This page has been viewed







times since I started tracking hits.
(This is a rudimentary non-unique IP hit counter, so don't be too impressed)