Comiccon 2010

I was only able to hang out at ComicCon for a few hours on Thursday morning this year (don't ask), so I didn't really get the same "full experience" that I have in years past, but I'll share what I got out of the few hours I was there...
I had to stand in the unbelievably long line to pick up my one-day pass this year (Laurie and Kandrix were able to hook me up with an exhibitor's ComicCon pass in 2009, so I avoided these headaches last year). The line is just insane. I thought arriving at the convention center by 7:15 (sidebar: the cost of parking went up a little from last year - it was $25 at the Petco lot this year, up from $20 last year) would get me near the front of the line. Not so. I walked, and walked, and walked, and finally reached the end of the line as it snaked around Seaport Village along the waterfront of the San Diego harbor. And then I stood and waited with the other nerds for about half an hour before the line started moving. Once the line was moving, it moved very quickly and within about twenty minutes I was inside (on the second level of the convention center) with my one-day pass.
With my trusty ComicCon Pass in hand (well, "around neck" actually), I moved to the top of the staircase that I usually take down to the exhibit hall, but this year - as I watched the security goons turn people away (the hall wasn't open yet) and stealthily positioned myself to rush the stars once the exhibit hall opened - I overheard the goons telling one of the other guests that there was a line on the other side of the convention center to get into the exhibit hall. So I wandered over to the other side and discovered a line that snaked back and forth forever. And I just couldn't bring myself to stand in yet another line, so I chose to return to the top of the stairs to wait for the goons to allow us to pass (or for the mutinous crowd to rush the goons and restore freedom to the convention center). But 9:00 came and there was no movement. Not to worry - the hall didn't open until 9:30 so that wasn't overly alarming.
And then 9:30 came. And passed with still no movement. So I decided to try the line in the back again. And I went on a tour of the back side of the convention center (near where I gave blood several years ago) and finally arrived - in a very roundabout way - back on the first level at the doors of the exhibit hall. On the way there, I came across a couple of guests (or maybe they were employees - I didn't ask) who had turned the gigantic schwag bags that each guest received as part of the "free stuff all guests receive when picking up their passes" into dresses (you can see the schwag bags being used as bags in the background).
So only 3 hours after arriving I was inside the convention center. Whew.
I only had about three hours before I was expected to be leaving (the little woman's birthday was on Saturday, so I was informed that I would be driving to my in-laws that very afternoon - don't ask), so I started wandering the maze, looking for the artists and exhibitors I seek out every year. I know five hours sounds like a lot of time - but if you've ever been to the ComicCon, you'll know it's not nearly enough time to see everything.
One thing I noticed this year was the abundance of artists who usually have full booths selling their stuff in Artist Alley. I'm not sure why this was the case, but I suspect they were bumped to make way for all the gigantic non-comic booths that fill the hall.
Booth babes were prevalent, but maybe not as much so as they have been in previous years. And most of them were - not all that unusually, actually - non-comic-book-character booth babes. As were most of the costumed attendees. I predict the ComicCon gets a name change within the next year or two. And the number of comic vendors will diminish gradually until there are only movie-related (DC & Marvel, mainly) comic book companies left.
I only saw two Slave Leia costumes this year (always a convention favorite) and no Red Sonja costumes at all (but I may have just missed them - it's a big place and I didn't have a lot of time to wander). here's the first Slave Leia I came across. I saw the second one of the day as I was hanging out with Laurie and Kandrix.
Mark Schultz
Mark had a booth on the Artist's alley end of the exhibit hall, which is usually the last place I get around to, but this year it was where I was ushered in so I found Mark before I got to anyone else. I picked up two of his sketchbooks: Blue Book and Various Drawings, volume 4.




Here are a few of my favorite sketches from Mark's Blue Book:




And a few from Mark's Various Drawings, volume 4:






LaurieB!
I met Laurie and Kandrix a few years ago when they were trying to generate interest in their self-published comic book series, A Monk's Tale. Laurie did the art for the book, but it just never quite picked up enough steam to get anywhere. And then Laurie decided to take a page from the Dean Yeagle playbook and focus on "good girl" art (or is it "bad girl" art - I can never remember which is which), creating her own versions of popular comic book and beloved characters.
This year was a little different for Laurie, though. She'd just had her first child and definitely had babies on the brain when she was coming up with material for the convention circuit. She did a sketchbook of comic book heroines in her Pure Heroine line of books with thea subtitle of "Constant Cravings" (c'mon, tell me that's not something a pregnant woman would come up with) and a second sketchbook called Baby Boomers with the same comic book characters that would fill her other sketchbooks...only a lot younger. The cover image for Baby Boomers says it all - a baby version of Han Solo lying in a crib with a Death Star rattle in one hand and Chewbacca stuffed animal under the other arm. Overhead is mobile with X-wing, Tie fighter and Millennium Falcon.






Here are a few of my favorite sketches from the Baby Boomers sketchbook.





And a couple from Pure Heroine - Constant Cravings.



Chris Sanders
Chris Sanders is the guy responsible for Disney's Lilo & Stitch. Curiously, he doesn't appear to have been one of the animators for the film, just a writer/director and voice actor (Stitch). I say "curiously" because Chris is an amazing artist and his sketchbooks back me up on this. This year, he was selling his fourth sketchbook (I missed the first one). Here are a few of my favorites (they're all great, but I doubt Chris would appreciate me scanning his whole book).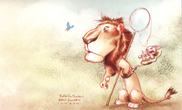 Bobby Rubio
Bobby Rubio is a self-published artist/animator who created and self-publishes Alcatraz High and 4 Gun Conclusion. He's a great guy, despite having been a friend of Dan's in High School, and a talented artist. Sadly, he didn't have any new books for sale this year (he did have a print, but...well, let's just say that even if it did somehow make it home intact, I already have more posters and prints than I have wall space to display them). I'm surprised Bobby paid the outrageous booth fee with only back issues and a new print to sell (he has a pretty good-sized corner spot, and they're not cheap).
Dean Yeagle
Dean Yeagle is an illustrator who is most recognizable as one of the guys who does the full-page color cartoons in Playboy. And Dean's are among the best illustrated. His favorite character, Mandy, is featured in the many sketchbooks and...well, short illustrated story books that Dean sells at the conventions. This year I picked up a hard cover book that Dean created a couple of years ago, Mandy Godiva. Dean's illustration style is just so Disney-like, it's startling to see so much full-frontal nudity throughout. You can definitely see the Yeagle influences in everything LaurieB! does.






The end of Mandy Godiva also includes a few pages of frolicking Wood Nymphs. Good fun.




Dean was also kind enough to give me a little Mandy sketch (pretty much the same one he's done for me in years past) in the front of my book (the glossy paper gave him difficulties).


Radical comics

I don't have anything very specific to say about Radical Comics other than they publish some really amazing books. The writing, for the most part, is top notch and the artists they have on staff are amazing. I picked up a bunch of new books at the Con (I'd received an online order from Radical a few months before that filled the holes I had in their ongoing series).
Here are the books I bought: Driver for the Dead #1 (a story about a hearse driver who handles "special" needs, like making sure the dead body in the chain-wrapped coffin in his hearse doesn't rise from the dead - the story reminds me of something Tim Powers might write), Hot Wire, Deep Cut #1 (the second part of a series about a distant future in which the dead linger and cause havoc so the Police Force has to keep exorcists on duty to handle the troublesome "ghosts" - sort of reminds me of Dr Who in a way), Legends, the Enchanted (a hard cover that takes a post-apocalyptic Mad-Maxian future and sticks a bunch of Grimm's Fairy Tales characters in it), and The Rising (has a story very similar to that Avatar movie that made a gazillion dollars and also reminds me a lot of Blizzard's Starcraft video game).





Here's a glimpse at some of the interior pages of these amazing books:


Driver for the Dead

Hot Wire, Deep Cut
Strange Pirate Tales
If you're not already well aware of my fondness for all things "pirate," you will be if I ever get around to finishing the Pirate-themed rant that I've been working on for many, many moons. My point is that when I saw a comic called Strange Pirate Tales, I had to have it. It's equal parts Pirates of the carribean, Popeye and pirate Maddox. It has headhunters, donosaurs, sea monsters, zombies - all the stuff a good pirate yarn should have. The art is...more newspaper strip that comic book, but it's a pirate book, so I'm wiling to be forgiving,



Here's a glimpse inside:



In a nearby booth (or possibly the same booth, I don't really remember), I was handed this pirate trading card (the model for pirate lass on the card, Monique Duval, was standing nearby and signed it along with the artist, Justin Chung - surprisingly, I don't appear to have taken her photo...or it was even too blurry for me to keep and I nuked it).



Joe Linsner
Cry For Dawn was the main book that I sought out in the early years of my Con attendance (I've been going to these things for a long, long time). They always had a special "Convention Edition" cover and I had them all. Sadly, I no longer do, but that's a story for another time. After Cry For Dawn Productions exploded, Joe and a few other guys created Sirius (which may still be around - I dunno) and now, for the past several years, he does his own thing. Joe puts out a sketchbook every year that's filled with Dawn, Dark Ivory and a whole lotta women who aren't either of those perfectly curvaceous vixens. There's even the occasional dude in the sketchbooks. I missed the 2006 and 2009 editions, but I have the rest of them. I wish Joe would do more comics, but I suspect he has more fun doing pin-ups.



Here's a peek at a few of the sketches from inside:



Elephantmen
One of the cool things about the Con is the exposure you get to books you've never heard of or you've glanced at but haven't taken the time to read.


I was walking by an Elephantmen booth (a series which I have never read, but have now ordered a few issues online because I liked what I saw in that issue) when their buxom booth babe caught my eye. I asked if I could take her photo and she agreed after giving me a free issue of Elephantmen (#15). I only later discovered that she was dressed as a character from the series.
But it was the booth babe's comment to another Con attendee who was walking by giving her the lecherous eye (I guess I wasn't being lecherous enough to get called out) that made me laugh.
"They're called boobs."
And yes, they were.
Fiction Clemens
I don't even remember how I stumbled upon the first issue of Fiction Clemens. I may have picked it up in one of the local comic shops that closed many moons ago (my current shop stocks a bare minimum on books from small publishers, so it's unlikely that I found it there). But I hadn't really planned to seek out the second and third issues of the 3-issue series just because I figured it would be more trouble than it was worth to find them. And then I found them at the Con - for cover price. Sweet!





It's a goofy story that defies a quick blurb being used to describe it, but the art is what grabbed me. Take a look:




Interesting, isn't it?
IDW
I stopped by the IDW Publishing booth to see if they had any issues of Kill Shakespeare lower than #4 (the current and only issue I had at that time). Not only did they had issues 1, 2, and 3, but I met the writers and artists who worked on the book and happily scribbled all over the covers. Sweet. One of the covers was even a Con exclusive, which was kinda cool. I didn't pick these issues up when they were first published because I couldn't make sense of the title and wasn't feeling adventurous. Something made me try the fourth issue and then I had to seek out the first three to complete the set. I'm glad I did. the books are a weird mishmash of Shakespeare's plays/stories/poems and at the same time, Shakespeare himself is a character in the story. Very weird, but good.




I also picked up a Con exclusive sketch cover of The Last Unicorn. I love sketch covers (though none as much as the actual Mike Kunkel sketched cover on The Land of Sokmunster).
The Tick

The Tick hasn't really done much for me since Ben Edlund gave up the duties of writing/drawing the big blue guy. But that hasn't stopped me from buying all the substandard Tick titles that have been put out over the years. I picked up the first three issues to the latest non-Edlund Tick at the Con called, appropriately enough, The Tick, New Series. Bob Polio, the guy who does the colors for the new series, did the colorized version of the Edlund originals, and created one of the worst of the post-Edlund Tick comics called The Tick and Artie scribbled on all my books and even gave me a silly little Tick sketch.




I also got a Free Comic Book Day version of the original Edlund Tick #1. Anybody want it? Just for fun, here's some of Edlund's greatness:


I'm just about out of steam, but here are a few other things worth mentioning...
ComicCon Souvenir Book
Every year all attendees get a Souvenir Book for that year's Con that pays tributes to comic books, comic strips, writers, etc - whatever happens to be celebrating an anniversary that year. Star Wars was one of the subjects a few years ago. This year, it was Schultz's Peanuts, DC Comics and their stable of super-people, Beetle Bailey and probably a few others. This is what's so cool about it: artists I've never heard of who have nothing to do with these characters take a stab at creating a pice of tribute art. And then they're all collected in the book.



The Guild cast
I walked past a booth and noticed that Felicia Day was signing autographs/DVDs/comics for The Guild. But the line was way longer than I wanted to wait in, so I opted not to have a chance to talk to Felicia for a half microsecond before the bully-boys tackled me and dragged me away for the next slobbering fan. Maybe I'll get tackled next year.


Burn Notice/Psych autograph sessions
A couple of wandering non-booth babes handed me cards with information about autograph sessions with members of the casts of Burn Notice and Psych.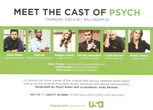 I would have really enjoyed meeting Bruce Campbell (Burn Notice) in person. And Maggie Lawson (Psych). If only I'd had the time.


As I was leaving the convention center (around 3:00), I was surprised by how thick the crowds headed into the convention center still were (or just coming back from lunch or whatever). They were crazy huge. I ended up staying at the Con a little later than I was given "permission" to stay because I had to talk to a Canadian feller about helping out with his web site.

The Green Hornet, one of the many movies vying for the attendees' attention, was setup outside in a nearby restaurant (other movies took over the exteriors of nearby buildings, too). ComicCon my left nut! This thing's a MovieCon that also happens to have a few comic book booths.
And the last thing I have to report is a complete absence of any Mike Kunkel or Mark Oakley goodness at the Con. So sad.
Oh, and if you're just here for the out-of-focus snapshots that I took, you can see them collected here and here. Enjoy.



Got something to say? Say it. (0 responses).


This page has been viewed







times since I started tracking hits.
(This is a rudimentary non-unique IP hit counter, so don't be too impressed)