Farewell to Potterland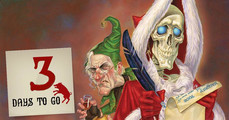 This will probably be my last mention of the Happy-Happy Fun World of Harry Potter. So no more Pottertopia logo after this post. Back to boring old Badbartopia...
The wife and I took our final trip to Harry Potterland the first week of December, expecting to see Potterville all decked out in Christmas trees, holly, lights, and all manners of Christmassy goodness. Universal Studios itself was pretty well decorated (the Dr. Seuss tree was really cool), but there wasn't a single Christmas decoration in Hogsmeade. Not a sausage. Speaking of sausages, we also didn't bother eating at the Three Broomsticks on this visit. I think the lack-of-Christmas-disappointment ruined our appetites. So any temptation we may have had to return the next week (the final week that our passes were active) or to renew our passes for 2017 was removed. We didn't even bother with Butterbeer on this visit, though I did finally get a chocolate frog (they come in milk chocolate only...yuck) with a wizard card before we left. It was Helga Hufflepuff, sadly. I was hoping for Dumbledore. On the way out of the park, I also picked up some bottled butterbeer from the gigantic - and way-overpriced - Sugar store in the Downtown Universal Studios. I've had the bottled stuff before and found it pretty mediocre, but I think they must have adjusted their recipe because it tasted a lot more like the real thing than I remembered.
We also rode the Flight of the Hippogriff mini-coaster for the first time since our initial visit before Harry Potterville was officially opened to the pubic, and the Harry Potter and the Forbidden Journey ride inside Hogwarts. And now, the big news for those of you who didn't have a chance to visit Pottertland before the end of 2016 - the Harry Potter and the Forbidden Journey ride inside Hogwarts has been modified from a very cool 3D ride to the same ride minus the 3D. The physical characteristics of the ride remain unchanged...but there's a lot more blank space visible inside the ride now (it's the same space, you just didn't see it before) and it feels less "real" than it did with the sweet 3D quidditch goggles that had to be worn when the ride's video interaction was all 3D.
Here are a few photos (a couple are things I hadn't taken a photo of previously, but most are the same old buildings, crowds, etc). There are also a few photos of Christmas decorations around the non-Potter parts of Universal Studios. And a couple of the Jurassic Park area - the ride was closed for renovations, so we didn't go on the ride in 2016 even though I remember it fondly from years ago. And we stuck around after dark for the first time with these passes. So some of the photos are from after dark, which adds a whole new perspective (especially in Potterland).
Universal Studio Christmas decorations (and other nighttime lights)
Jurassic Park (the ride was closed, so this is all I got)
Potterland - for the last time
Also, the crowd-forecast calendar was reasonably accurate for the day we attended. It was supposed to be a ghost town, and generally was. Lines were all super short, anyway, even if there were quite a few people there. We actually stayed until after dark and saw the lights turn on inside Hogwarts and around Hogsmeade, which was pretty sweet.
Here are a couple of recent doodles. Enjoy.
I had also planned to mention a couple of other things, but all this Harry Potter stuff has taken the wind out of my sails. So next time...



Got something to say? Say it. (2 responses).


This page has been viewed







times since I started tracking hits.
(This is a rudimentary non-unique IP hit counter, so don't be too impressed)