Yet another trip to The Wonderful World of Harry Potter!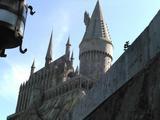 I've been blathering about Harry Potterville so much lately that I decided to change my site logo (you may need to refresh the page to see it). What do you think?


Harry Potter theme with lyrics, courtesy of my goofy kids

And now...the eagerly awaited photo-travelogue of my October 26th visit to The Wonderful World of Harry Potterland!! Ok, maybe it's not eagerly awaited. But it's here. So enjoy.
We planned a trip to visit Harry Potterville the week before Halloween in anticipation of seeing some of the amazing Halloween decorations from the Harry Potter films. We figured that Disneyland decorates their whole park for Halloween, so surely Universal Studios must at least be decorating their biggest draw to the park for this occasion, right? If they did (beyond featuring some of the Halloween-themed candies in Honeyduke's), I didn't see it. The Mardi-Gras (that's what they looked like to me) decorations in the French Quarter and the "US History with skeletons" stuff on the main street was all still out, but I didn't see anything new on Hogsmeade/Hogwarts. So disappointed.
It was the first time both of the kids have been with us since the Hogwarts ride opened and the Walking Dead opened, so at least we had a chance to experience those features together for the first time. That was fun. But we were only in the park for about 3 hours, so the drive to and from was about double the time we spent in the park. Not sure if that's a good trade-off. As much as I love the Harry Potter section of the park, I think this will be my last visit for a few years unless they open a Diagon Alley where Waterworld currently is...and maybe add a Hogwarts Express shuttle between them. Or something equally cool.
Enough nattering. On to the photos! Here are the usual snapshots of Hogsmeade and a few things I hadn't taken photos of in past visits (mainly, Hagrid's cottage).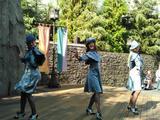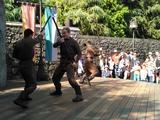 We also timed our wandering through Hogsmeade just right and caught the BeauxBatons and Durmstrang performers. I'd only seen them perform on YoutTube, so it was pretty cool to see it live. The Durmstrang guys were especially acrobatic and violent. I took a bunch of photos in succession, so there's too many to show below - click either thumbnail and you will be taken to a gallery of the photos.
Every visit to Harry Potterworld ends with a purchase from Honeyduke's candy shop. When the kids are along, it turns into a lot of purchases - but always just one for me. I look for something from the movies I haven't tried yet each time. This time it was Exploding BonBons. I wanted something that was individually wrapped so I could share them with my co-workers (who are forced to hear way too much about my Harry Potterland visits). And this was one of the very few candies that was individually wrapped. But they turned out to be pretty yummy (if, unsurprisingly, overpriced), so that was lucky. I also bought a Gryffindor necktie. I've wanted one for years, so I finally bit the bullet and bought one. It looks awesome, but it's a little short when hanging down over my long, corpulent body. But it works (after a few re-ties and a tie-clip to keep the short back part tucked away). Funny thing I noticed with every necktie I looked at in the park - they all say "Universal Orlando" on the tags. So I guess the ties haven't been a huge seller in Florida. Too hot to wear ties there, I guess.
I also took a bunch of photos of the line into The Walking Dead attraction, but they were all blurry. The line was moving too darn fast. So I'm not putting any of them up here. But if you want to see those or any of the other photos in their orignal resolutions, they're all here listed by filename - no thumbnails. The Walking Dead stuff is near the end.
And that's all I'm going to ramble on about today. I still plan to at least mention a few more books, so that may be happening in the near future.



Got something to say? Say it. (0 responses).


This page has been viewed







times since I started tracking hits.
(This is a rudimentary non-unique IP hit counter, so don't be too impressed)