&nbsp
Meg & Dia Continue to Haunt my Dreams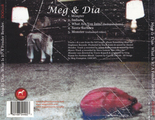 I picked up another old-ish Meg & Dia CD from Amazon after Something Real turned out to be worth listening to called What Is It? A Fender Bender. This was just an EP and I should have looked more closely at the track list because Monster and Indiana were on Something Real. Two acoustic songs, What Are You Into (Bedroom Demo) and Santa Barbara, are both only on this album, though. Regardless, it was well worth getting.
Give it a listen...

Also speaking of music, I took the family to a concert-not-of-my-choosing a couple of weeks ago: Imagine Dragons.



Imagine Dragons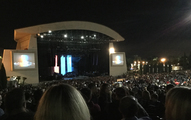 I've never really was a live-music/concert guy (I've attended a few here and there in the centuries I've wandered the Earth), but I've started to enjoy the live music experience more in my old age. So I was perusing the upcoming San Diego concert listings and didn't see many I really wanted to attend, but did see one that I knew the kids would love. So I checked in with Emeli, got an enthusiastic affirmative response to the possibility of attending the Imagine Dragons show, and then picked up some tickets for the upcoming show in Chulijuana.
Other than knowing the kids love Imagine Dragons and that Radioactive was covered quite a bit on The Voice (when I watched it more faithfully), I didn't know much about their music. After attending their show, I have to admit that I don't remember most of the (unfamiliar) songs they performed, but I do remember their performance vividly. These guys put on a really good show (unlike their two opening acts, K Flay and Grouplove, whose performances I would have happily missed). A better opener (unless she's only headlining now) would have been Grace Vanderwaal, whose EP gets played over and over on my phone/in my car (the only places I listen to music anymore). Grace has a new album dropping in a few weeks that I will eagerly be picking up. Surprisingly, I've never mentioned little Grace here before, and I didn't plan to know, but...Grace is also touring this year, but not getting to San Diego and all her shows - other than the first couple in Texas - were sold out well in advance of the tour dates, so I won't be driving up to LA with the family to see her.
Returning now to the band I actually saw in concert - my favorite part of their performance was an acoustic (not just guitar - there was a small orchestra string section) played right in the middle of the arena. I don't remember what song was performed, but I do remember really enjoying it. And then it was back to the stage and more electric mayhem. In an early song, the guitarist (who bore a striking resemblance to our Lord and Savior) also played a lute for at least part of one of the songs, which I thought was pretty cool. We checked out his bio after the show and discovered that he's a really accomplished musician (I think he was playing the cello or one of the other acoustic instruments in the mid-show acoustic set).
So, yep, that's pretty much all I have to say about the Imagine Dragons. It was a good concert for the whole family, but the opening acts were...not great.
Here are a few photos of the concert. We weren't that close, so they're not great. The video we took was even worse.
2 Years 8 months and 28 Nights

I've read a few Salman Rushdie books - the infamous The Satanic Verses, Shalimar the Clown, and The Enchantress of Florence. They've all been well-written and interesting stories, but none of them have really struck me as amazing. <1>2 Years, 8 months, and 28 Nights is no exception.
2 Years, 8 months, and 28 Nights is, roughly, 1001 Nights (if starting from Jan 1: 2 years = 730.5 days, the sum of the days in the first 8 months of the years = 242 days + 28 days is 1000.5 days, or 1001 nights). So with that explanation out of the way, you can guess that this book is going to be filled with caves filled with treasure, genies, and all kinds of fantastic stories.
There's no Scheherazade is this story, though the narration of the story is odd and possibly actually is a scheherazade-like character telling the story (well in the future of the events of the story, which take place in a not-too-distant time from now). But if that's the case, we never find out. The narrator is never revealed.
As with all this author's books I've read, he takes a deserving swipe or two as Islam. This is one of the more obvious swipes. I'm not sure why he called those Afghani idiots "Swots" istead of just calling out the monstrous Taliban for what it is. I guess he's had enough with fatwas and assumes that few of those primal goat-lovers will see through the "Swot" label.
So there was a foreign invasion. This was a mistake foreigners repeatedly made - the attempted conquest of the land of A.- but they invariably left with their tails between their legs, or just lay dead on the battlefield for the benefit of scavenging wild dogs, who weren't choosy about what they ate and were willing to digest even this type of horrible foreign food. But when the foreign invasion was repelled what replaced it was even worse, a murderous gang of ignoramuses who called themselves the Swots, as if the mere word would earn them the status of true scholars. What the Swots had studied deeply was the art of forbidding things, and in a very short time they had forbidden painting, sculpture, music, theater, film, journalism, hashish, voting, elections, individualism, disagreement, pleasure, happiness, pool tables, clean-shaven chins [on men), women's faces, women's bodies, women's education, women's sports, women's rights. They would have liked to have forbidden women altogether but even they could see that that was not entirely feasible, so they contented themselves with making women's lives as unpleasant as possible. When Zumurrud the Great visited the land of A. in the early days of the War of the Worlds, he saw at once that it was an ideal place to set up a base.
But this isn't really a story espousing anything political or religious. It's a silly fantasy involving a war between rival Jinn with the Earth as the battleground. And there are quite a few interesting characters that you get to know, many of whom have superpowers thanks to a distant Jinn ancestor, so the story is a little X-Menish or Wild Cardsish at times, too. Here are a couple of Wild Cardish passages.
It was Mayor Rosa P Fast who first understood what was happening, who brought the strangeness into the arena of what could be properly spoken about, of news. "This miracle baby can identify corruption," she told her closest aides, "and the corrupt, once she has fingered them. literally begin to show the signs of their moral decay on their bodies." The aides warned her that kind of talk, belonging as it did to the archaic old-Europe world of dybbuks and golems, probably didn't sit too well in the mouth of a modern politician, but Rosa Fast was undeterred. "We came into office to clean this place up." she declared. "and chance has given us the human broom with which we can sweep it clean." She was the kind of atheist who could believe in miracles without conceding their divine provenance, and the next day the foundling, now in the care of the foster care agency, came back to the mayor's office for a visit.

Baby Storm reentered City Hall like a tiny human minesweeper or drug-sniffng Alsatian. The mayor enfolded her in a big Brooklyn-Ukrainian hug, and whispered, "Let's go to work, baby of truth." What followed instantly became the stuff of legend, as in room after room, department after department, marks of corruption and decay appeared on the faces of the corrupt and decaying, the expenses cheats. the receivers of backhand payments in return for civic contracts, the accepters of Rolex watches and private airplane flights and Hermes bags stuffed with banknotes, and all the secret beneficiaries of bureaucratic power. The crooked began to confess before the miracle baby came within range, or fled the building to be hunted down by the law.

Mayor Fast herself was unblemished, which proved something. Her predecessor was on TV deriding the mayor's "occult mumbo jumbo" and Rosa Fast issued a brief statement inviting Flora Hill to "come on down and meet this little sweetheart," which invitation Hill did not take up. The entry of Baby Storm into the council chamber induced a panic among the individuals seated therein, and a desperate rush for the exits. Those who remained proved immune to the baby's powers and were revealed as honest men and women. "I guess we finally know," said Mayor Fast, "who's who around these parts."

There was one disadvantage to being the adoptive mother of the baby of truth, she told her fellow citizens on breakfast television. "If I tell the smallest little white lie in her presence, well! My whole face begins, just dreadfully, to itch."
and here's another good one.
Teresa Saca had her superhero name now. Not Madame Magneto or any of that tabloid nonsense, that was comic book stuff. Dunia's voice in her head saying I'm your mother. I too will be something's mother, she told herself, I will be Mother, the fiery mama of death itself. That other, more saintly Mother Teresa, she had been in the death business too, but Teresa Saca was more interested in the sudden-death variety than in hospices, no easing of the living into swift oblivion for her, just a hammer blow of voltage to bring life to a hard full stop. She was Dunia's avenging angel, the avenger, or so she told herself, of every spurned, wronged, abused woman who had ever lived.

Moral exemption was an unfamiliar state to be in, the condition of having permission to kill, to destroy without feeling guilt at the destruction, there was something here that went against the human grain. When she killed Seth Oldville she had been full of rage but that didn't make it right, she understood that, rage was a reason but it was not an excuse. He might have been an asshole, but she was still a murderer. The criminal was guilty of the crime, and that criminal would be her, and maybe justice had to be done, but, whatever, she added silently, they need to catch me first. And now all of a sudden her jinnia ancestor whispered into her and set her inner warrior free and tasked her with helping to save the world. It was like those movies where they took guys off death row and gave them a shot at redemption, and if they died, hey, they were going to get fried anyway. Fair enough, she thought, but I'm going to take a lot of bastards down with me when I go.
Salman Rushdie is a skilled wordsmith and does craft well-written prose. But I would categorize this as less-interesting than his other three books I've read. But it does have its moments and isn't terribly long, so it may be worth a read if you're so inclined and/or a fan of the original 1,001 Night. Interestingly, Emeli is reading 1,001 Night in her English class this year and created an awesome watercolor for her class project right around the time I was reading this book. Sadly, it's in her teacher's possession now, so I can't share her creativity.



Got something to say? Say it. (3 responses).


This page has been viewed







times since I started tracking hits.
(This is a rudimentary non-unique IP hit counter, so don't be too impressed)