Just one book this time - David Savakerrva


(and some new Cubicle fun)
I recently finished another book that has jumped ahead of the many others in my queue, David Savakerrva (this is another that was read at the behest of the author who provided me with a physical copy). I would have mentioned it weeks ago, but I've been having major PC issues for the past several weeks (which seem to have all begun when I installed the new version of my anti-virus, but that could just be a coincidence). I can't do much of anything that touches the filesystem without the computer pretty much going into limbo (though the non-filesystem applications are working fine - no browser issues unless I'm trying to download files).
David Savakerrva was a satisfying read, but took a long time to get through (see my earlier laments about spending less time reading recently). It was equal parts steampunk Alice in Wonderland and Dune, and had a little bit of a Lord of the Rings flavor. I also remember feeling some serious RA Salvatore vibes (more Saga of the First King vibes than Drizzt Do'Urden). There were a bunch of other impressions I picked up as I was reading, but by the time I'd reached the end, many of those had faded from my barely-functional memory.

David Savakerrva, Larry Brown



David Savakerrva Volume 1 is a pretty massive tome - over 600 pages - and took me a while to finish. I found myself thinking that the editors should have done what they did to Tolkien's opus and insisted on splitting this huge book into multiple shorter books just to make it feel less overwhelming. I later discovered that Volume 1 contains books 1 and 2, which are each pretty lengthy books in their own right. Funny enough, After reading my Lord of the Rings paperbacks (I went through a few sets) multiple times, I finally picked up a Lord of the Rings hard cover with all three books lumped together as Tolkien originally intended. Lord of the Rings is definitely more overwhelming to read in a single-volume format, as is David Savakerrva.
The main protagonist in David Savakerrva is a young, very unremarkable, boy named Garth. He's very Bilbo Baggins-ish (who wasn't exactly "young" in man-years) or Harry Potter-ish. He's equally annoying in his immature floundering as either of the aforementioned characters. He comes across as whining and incompetent and all his successes are seemingly accidental. But he does grow on you over time.
As I was reading, the similarity of Larry Brown's alien language and his completely foreign/alien character names reminded me a lot of Dune, the more recently read The Rage of Dragons, or even Tolkien's Adventures in Middle Earth. It took me a while, as it did with each of the aforementioned works, to translate the unfamiliar words as I was reading. Early on, I struggled a little to translate the unfamiliar verbiage.
Here's a really long excerpt (a few pages) filled with names and alien words to give you a feel for the . It's also one of the scenes that reminded me of a demented Alice in Wonderland. But first, a little background: the "Soot" character is an alien who has kidnapped our young protagonist to curry favor with the other aliens who have invaded the alien world. Garth has escaped and his doing his best to evade capture in the alien landscape.
Misery, every crackling branch and prickly stem.

Snagged and clawed, scratched and pierced - Garth nearly missed the underworld's hot, windy gale. Fear raked like every thorny bough, but so did thoughts of what next? Soot had taken him for a reason, and though what awaited seeded terrors and plowed up dread, Garth wondered about the Kavahl.

Did they still need to stop it?

Yes! Dahkaa's presumed response. The recent past seemed a blur, but before the Cave of the Beast, Dahkaa had said the G'mach would finish the Kavahl in just seventeen moons. So, what was it now, fifteen or less? And if Dahkaa had died, then what about his plan to unite with the tribes? Was that dead, too?

click here to show the full quoted excerpt
Here's a good excerpt to illustrate why I envisioned a "steampunk" Alice in Wonderland as I read. This excerpt features the most steampunk of all the characters in the story: Torgen Betugen.
Torgen burst through the door of his high-tower room.

Fast but quiet, he leapt down a narrow stairwell. But with every quick turn, the bazooka-like tube strapped to his back scraped the tight walls.

He jumped to a corridor landing and charged a wall. A brick wall, by all appearance. But when he lowered his shoulder and leapt, he crashed through a plaster facade.

Torgen fell three feet, then landed on a platform in a dark, vertical shaft. Already descending, the platform quivered as it dropped, some unpowered freight elevator plunging straight down. Pulleys whined with increasing speed, and Torgen braced for the plummeting end.

click here to show the full quoted excerpt
There is a very early reference to Frank Herbert's Dune in the story, but more Dune-like are the residents of the brutal scorched sub-side culture of the alien planet, who are very similar to Dune's Fremen culture. They're maybe even a little less compassionate than the Fremen. The Dune reference is near the end of this lengthy excerpt.
Dahkaa sat alone. Brooding between boulders on the wind-whistled peak, he ignored the auroral elations high overhead, the fleeting greens and flitting blues. Unmoved by the Northern Lights, the Man of Scars pondered, instead, the still, gray moon.

"So." Garth shivered near the cave. "That's it, we're done?"

click here to show the full quoted excerpt
So, to sum it all up, David Savakerrva is a well-written science fiction epic that delivers. And it's definitely primed for future sequels - the ending is satisfying and equally unsatisfying (if the story ended here).



Further Adventures in Cubicle Decor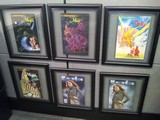 I've had the Terry Pratchett's The Colour of Magic comics (#1 was signed by Terry Pratchett himself way back in 2005 at a Mysterious Galaxy book signing many years ago) on display on my cubicle wall, along with two issues of Doctor Who (with the exact same photo of Amy Pond/Karen Gillan superimposed on different backgrounds that I hadn't really picked up on when I bought them), for the past few weeks. I included the Doctor Who comics to finish filling up the six frames - The Colour of Magic is just a 4-issue mini-series (as is The Light Fantastic, which I had planned to display next).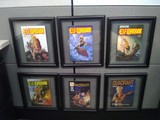 I decided to display Peter M Hsu's Elf Warrior series instead of The Light Fantastic since I'd already had a month of Terry Pratchett awesomeness in my cubicle. Elf Warrior is also a 4-issue series, so I chose a couple of other Peter Hsu books from my collection: Quadrant #7 and The Adventurers #1 - to round it out since Elf Warrior is another 4-issue series from the 80s). I was also tempted to go with one of the workplace-friendly The Gauntlet covers or his Ninja Elite cover, but...well, I didn't.
Peter Hsu has been out of the comics game for a few decades, but his stuff is still worth seeking out and Elf Warrior is still pretty affordable...the Quadrant books are pretty pricey, though. And I suspect they're also much more rare.
I brought in a few of my older toys from my many toy bins, a How to Train Your Dragon concept art print I picked up at the ComicCon in 2009, an R2D2 card Emeli made me just because she's so super-sweet, and I also decorated the not-home-away-from-home for Christmas. Oh, and I bought some awesome tiny magnets from Amazon that are super strong. They've made the cubicle-decorating much easier.
There's plenty more to ramble on about, but I'll never finish this thing if I keep adding to it...



Got something to say? Say it. (0 responses).


This page has been viewed







times since I started tracking hits.
(This is a rudimentary non-unique IP hit counter, so don't be too impressed)