Update: Wednesday July 19, 2006
I may have overestimated the percentage of pages that have been updated on the site. You can go back all the way through the previous rants to the end of 2004 without getting an error now, but no further. I also need to integrate the Highlander and Douglas Adams pages into the site a little better. It's coming along...but slowly.
There are two more movie reviews in the forum: Dark Kingdom: The Dragon King and Edison Force.

Update: Sunday July 16, 2006
The site has undergone a few changes today. I moved the "forum" menu under the "Badbartopia.net" menu and also removed everything but "The Big Screen" (the location of all my movie reviews) from the forums.
I have also added several really good movie reviews (DVD reviews, actually) to the forum: Benchwarmers, Mirrormask, Day of Wrath (surprisingly, this DVD has been consistently out-of-stock at Blockbuster since it arrived- there must be a lot of Highlander fans out there), Just Friends, The Greatest Game Ever Played (still hard to find on the shelf at Blockbuster), Annapolis, Find Me Guilty, Munich, Eight Below, and The Net 2.0. More reviews (that no one will read) will undoubtedly follow as the summer progresses (Steve, Dan...where are you guys?).

Saturday, July 15, 2006
The site layout revisions are about 90% complete, after which I can begin the content revisions. Woo-hoo, new stuff on the way. Aren't you excited?

I've heard from several sources that Superman Returns is too long. And that its slow. Excetionally slow.

I finally had the opportunity this weekend (this isn't a film that inspired me to take extreme measures - like finding a babysitter - to see) to discover for myself if my these opinions were only coming from comic book nerds who felt this film violated the sanctity of one of their heroes and old people who can't site for more than an hour without peeing.

While I will admit that this film is quite long (it's no Lord of the Rings, though) and even been a bit slow at times, the film made every attempt to help the non- or new-Superman-fan understand who the characters were and what was going on. At least, I suspect that was the intention for the pace of the film. When I would periodically wake up, it seemed to be doing just that.

A little background: Superman Returns is a continuation of the earlier Christopher Reeve films. The new Superman, Brandon Routh, even bears a strong resemblance to Reeve and his "Clark" (voice and mannerisms) is spot-on. Kevin Spacey plays the follicly challenged Lex Luthor too much like Gene Hackman did in the originals (which was probably the writers' intention). I love Kevin Spacey, but I prefer Lex Luthor from TV's Smallville (and the Smallville Lois, but I'll get to that in a minute).

The Lex of the movies has always seemed too...nice. He's evil, but in a jovial way. In my opinion, the Lex character should be a shrew, calculating villain with motives beyond simple profit. And that brings me to Lex's scheme in this movie - straight out of Superman II (more or less). Is that really the best they could do? Didn't they see the reinvention of Batman in Batman Returns. Go to ground zero and make the character a real guy while explaining the forces that shaped him. The audience will love it (and by "the audience," I mean me).

may have been a bit too young to step into the role of Superman "5 years later," Bosworth was definitely too young. She looked more like a teenager than a world-weary reporter. She could have played Lois's daughter...but casting her as Lois was a mistake. My own theory about her casting is her resemblance to the also ill-cast Katie Holmes in Batman Begins. I think it's about the foreheads. I expect to see Christina Ricci cast as a female DC character any day now.

The religious connotations throughout the film (not exclusively Christian, though Christianity has adopted them) are plentiful. Superman is told by a powerful, yet disembodied, voice as he is hovering in near-space (see the above movie graphic) above the plant Earth, that he is the THE ONLY SON of his father, the SAVIOR of mankind... are you seeing it yet? Initially, "The Superman" (created by a couple of Jewish guys named Jerry Siegel and Joe Shuster in the 1930s) wasn't an alien from another world and wasn't even an especially "good" guy...he was actually the product a scientific experiment. It was closer to an episode of the twilight zone. It would take five more years for Superman to gain popularity with his rebirth as the spandex and cape wearing guy we all know today. I'm not sure what any of this has to do with the religious symbolism...it's all just history.

So, while I won't give this movie a "two thumbs way up," I will say that it's worth the price of matinee admission to the theater. The special effects are very well done and you will get that tingly feeling as Supe saves the day time after time. Brought a tear to the eye, it did.



And now...a good ol' fashioned Rant!

Is it just me, or do people no longer - with few rare exceptions - have respect for anything or anyone beside themselves? I'm not talking about any one thing in particular, but it seems that the hedonistic behavior of the short-sighted individuals who plague me at every turn is getting progressively worse. A few examples taken from my typical Saturday: I see trash strewn in the median (fast food debris tossed carelessly on top of the carefully maintained shrubbery) of the roadway near my home. Drivers darting in and out of traffic and swerving recklessly into the left turn lane of intersections to pass the cars ahead who they deem to be driving "too slowly." Stupid women who talk to one another behind me, discussing important topics with comments like, "why does he even like her? All she does is ignore him?" while I am trying to watch Superman. Grrrr!!

I'm not leading up to a "this is what happens when you take God out of the home" or "God out of school" argument. I'm not trying to make assertions that weakening adherence to religious beliefs is the culprit. Or even that single-parent households are destroying the fabric of our society. I have little doubt that fatherless homes are a major contributor to these problems, but these people are not the sole product of these types of households. I place the blame wholly on parents - and not only the current generation of parents. This "give my kids free reign" theory of child-rearing is causing nothing but trouble for everyone who has the misfortune to deal with one of these children during childhood or later in life. Discipline has been removed from the hands of the parent and placed in the hands of...the state? Parents fear to lay a hand on their children lest they risk receiving a visit from Child Welfare Services. Kids grow up with a feeling of entitlement and a complete lack of respect for anyone or anything around them. Protect the environment? Why bother? Drive safely and Courteously? No way - I'm late! Put myself in the position of others around me and do what is best for everyone? I don't think so - I'm looking out for numero uno!

Maybe I'm overreacting. I don't know. I will tell you this much, though: my kids will not be among these disrespectful miscreants you find laying waste to the natural environment, stealing, acting with disregard and disrespect of others or expecting their life to be one handout after another. They may be alone with these qualities in the dark, grim days ahead, but they will face the future with honesty and purpose - not with their hands held out in expectation.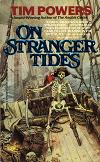 Oh, one other thing about the theater. There were still lines to get into Pirates of the Caribbean today (early afternoon showings). I expected the crowds on opening weekend, but this is nuts - they have to be repeat viewers (surely there aren't that many people who didn't see the show opening weekend). Go Pirates! I hope this means there will be many other "pirate" genre movies to follow (as well as a string of sequels to Disney's movies). I would love to see a movie adaptation of Tim Powers's On Stranger Tides. Now that would be an awesome pirate yarn. Blackbeard, vodoo, sea battles and more!
And now, my last random thought for the night:
I was watching Futurama on the Cartoon Network's Adult Swim this week and was surprised when, following Futurama, Peewee's Playhouse came on. I remember watching Peewee's Playhouse on Saturday mornings when I was younger...so it seemed odd to me that it would be on TV with programming considered "adult" in nature. Yeah, we all know what he was doing in that theater...but how exactly did those events transform a show for kids into something patently "adult?" I don't get it.
Weirdos.
I may get around to posting the reviews of the past week's DVDs from Blockbuster or the Neil Gaiman comics I picked up from eBay last week or maybe one of those books I've recently read, but not tonight...



Share your thoughts here. They'll probably be wrong, but got ahead and share them anyway.