And now for something...er, slightly different!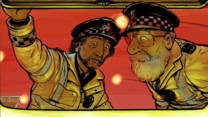 I read Good Omens for the first time just after it was published by the Science Fiction Book Club in the nineties (I was young, poor, and couldn't afford hard covers, so I bought the SFBC hard covers which were slightly smaller, slightly less robust, but were hard covers of a sort). I was, at the time, a big Fan of Terry Pratchett's Discworld books (the couple that had come out) and was unfamiliar with Neil Gaiman (who hadn't done much to be familiar with at that time). I gave the SFBC hardcover to my sister and bought a paperback copy for myself a few years later. And I just recently re-read that one a few months ago.

One thing that has always intrigued me about co-written books (Terry Pratchett's current Long Earth/Long Mars series is another one) is "who wrote which bits?" Neil Gaiman (who I am much, much more familiar with now that he has written many other books that I've read and enjoyed) has answered my questions regarding the Good Omens collaboration in the announcement of a 6-part BBC radio broadcast of a Hitchhiker's-like dramatization of Good Omens (okay, so I'm woefully behind the times, but I'm on the left coast of America, not in England - so I try to keep up with this stuff as well as I can).

So, for those of you who don't like to follow links, here's the gist: Neil decided to become the Douglas Adams/Terry Pratchett of humourous Horror (SciFi and Fantasy having already been claimed by the aforementioned authors) and wrote Good Omens. This was before he was anybody so he gave it to Terry to read. Terry read it and re-wrote it, pretty much doubling its length. And then they got together and re-rewrote it some more together. Along the way, characters were transformed, renamed and added by Terry to the story. Specific characters are identified by Neil in his article, so if you want to know more, follow the link.

But back to the BBC 4 dramatization...

If you hurry, you can listen to the first three of six episodes on the BBC site for free (they're only available for a few weeks) -
Good Omens episode 1
Good Omens episode 2
Good Omens episode 3

The rest will be available shortly...
Good Omens episode 4
Good Omens episode 5
Good Omens episode 6

I will have MP3 versions of each episode eventually. I'm working on it.

Here are some photos of the radio show cast members -
| | | |
| --- | --- | --- |
| Colin Morgan as Newton Pulsifer, Charlotte Richie as Anathema Device, Clive Russell as Shadwell, and Julia Deakin as Madame Tracy | Peter Serafinowicz as Crowley and and Mark Heap as Aziraphale | The whole cast, more or less |
There are more here.


In other news, I've read a few books and sold a few comics. I gave up on CraigsList soon after receiving several extreme low-ball offers for the whole collection. It's possible the total of everything I sell will end up being less than what these guys were offering, but I'm willing to take my chances.

I was going to mention the similarity of a couple of books I'd just read (Anathem and The Long Mars), but it's Christmas Eve and I've got stuff to do. So maybe later.


update - 12/30/14

Here are MP3s of the 6 epsiodes. I've tried to edit them to be listenable, but let me know if you listen to any of them and they have odd noises in the recording, longs gaps of silence, or any other problems.





Got something to say? Say it. (0 responses).



This page has been viewed







times since I started tracking hits.
(This is a rudimentary non-unique IP hit counter, so don't be too impressed)