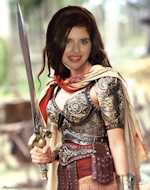 Xenia, Warrior Songstress
Well, hello.
I am, despite all rumors to the contrary, still alive. I just haven't seen or done anything I felt was really worth mentioning here for the past few months. But I actually left the house last week and did something a little different, so I figure it must be time to drone on and on about something nobody but me will ever care about. Hooray!
Oh, and I'll probably be doing a little rambling about books and other stuff here, too. Aren't you a lucky duck?
So...last week's exciting event: I saw The Voice Season 1 almost-winners Dia Frampton and Xenia at the good ol' House of Blues in dirty, homeless-ridden, and garbage-strewn downtown San Diego. Scars on 45 was there, too, but I'd never heard of them before the show and wasn't particularly inspired to seek out any of their stuff afterward (apologies to you die-hard fans - the volume of your appreciation was noted at the show, so I know you're out there).
Dia and Xenia are my favorite singers from either Season 1 or 2 of The Voice, so I was stoked when the little woman actually wanted to go (well, she saw in the newspaper two days before that the show was sold out and said something like, "Gee, it's too bad we can't see this show...it's sold out", so maybe she was just making conversation, but I took it as a challenge). Since I hadn't even heard about the show until the week of, I had to resort to CraigsList for tickets. But I found a guy who won the tickets from a radio station contest and sold them to me for less than Ticketmaster would have, so that worked out.
"So," you ask, "how were the performances of these fabulous singers I've never heard of?"
Well, gentlereader, in the face of your burning interest, I will tell you all about the show in way more detail than any sane person could ever possibly desire...
The first act of the night was Xenia. If you're unfamiliar with her voice, you can easily enough watch videos of her singing all over Youtube. And you should watch them all. She's great. She only sang five or six songs and was finished with her set way too soon. One of the songs was a Neon Trees cover and one was an unreleased track from an upcoming album - the others were all on her EP (digital only, so cavemen like me who prefer to buy CDs are stuck downloading from Amazon).
For the record, Xenia sounds as good live as she does "live" (you never know what magic is being added to the audio when you're listening to someone sing "live" on a TV show, on an album, or even in a Youtube video). And I was surprised by how cute she is in person (she just didn't see that above-average in the videos or on TV). She's an itty-bitty little thing.
Next up, Scars on 45 sang a bunch of songs. And talked with the audience who all seemed to be really into them. I wasn't familiar with any of their stuff, so I waited patiently for their set to end...
Dia Frampton has been singing and touring with her sister for about ten years. I don't know if being on The Voice made any difference to her touring schedule, but you can definitely tell she's got a well-honed gig. She interacts well with the audience, joking and telling stories (one of which led into a cover of Losing My Religion). She's every bit as cute as Xenia and knows how to engage her audience. One of the funnier bits was when she brought a "random" guy from the audience (I don't know if he really was random) up on stage top sing a Flight of the Conchords song (Most Beautiful Girl in the Room). It sounds like this is something she does at all her shows, so I guess it isn't that original, but it was still really funny. Who doesn't like a good Flight of the Conchords cover? All told, Dia sang three or four covers and probably five of her own songs. And she did put on a really good show (even if she doesn't have a drummer - which was weird).
Here are some really poorly focused photos from the show. Sadly, these are the most-focused of the many, many I took. Most of them are of Xenia.

I was going to get really boring and talk about a few books I've read recently (and how I'm re-reading HHG for the millionth time after listening to the entire radio show - just the DNA version - in my car twenty times and noticing new things). But I don't feel like it anymore. So buzz off. Make like a tree and get outta here. Scram!



Got something to say? Say it. (1 response).


This page has been viewed







times since I started tracking hits.
(This is a rudimentary non-unique IP hit counter, so don't be too impressed)