Mandy Moore vs The Army of Darkness

The new Mandy Moore CD, Amanda Leigh came out last week and we picked up a copy earlier this week. I've had a couple of days to listen to the tracks while working.
It's okay. About what I expected, though not as bad as I'd feared. One of the songs, Merrimack River, reminds me of The Beatles in a "I ripped off The Beatles" sort of way (like that Tears for Fears song Sowing the Seeds of Love). There's a short instrumental version of the song that's also fun to listen to.
Most of the other songs aren't bad, they're just...forgettable. They remind me of the Emmy Rossum album I bought a couple of years ago (I thought I had menioned it here, but i can't find it if I did). Both Mandy and Emmy obviously have beautiful voices, but there's just no hook for their songs (at least not on Amanda Leigh - Wild Hope had several catchy tunes). They roll off your brain without sticking. The first single from Amanda Leigh, I Could Break Your Heart Any Day of the Week, is just as banal on the album as it sounded in the video I saw. It could have been sung by Britney Spears or any of the other semi-talented pop-clones out there. Blah. Then again, no one can dispute that Mandy Moore's voice is every bit as impressive live as it is on the album - there's no reliance on studio magic for her albums.
Maybe the songs will grow on me as time passes. Or maybe Wild Hope was Mandy Mooore's one really good album (unless you're a fan of her early bubblegum pop crud - and if that's the case you can stop reading anything I have to write now) and the rest of her output will sound mediocre in comparison.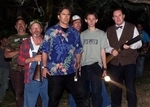 I also saw My name is Bruce for the first time this week. As a word of explanation for the other 99.9% of the universe that has never heard of this film, it basically pokes fun at Bruce Campbell's B-movie star status.
Why do I mention My name is Bruce in the same breath as Amanda Leigh, when Mandy Moore is young and talented and on top of her game (though not exactly a major box office draw), unlike Bruce Campbell whose best days are probably behind him? (I do like Bruce's character in Burn Notice, but that's not what brings me back week after week.) The horrible acting and uber-low-budgetedness of My name is Bruce made me cringe and reminded me of the disappointment I felt when buying and listening to not only Amanda Leigh, but Chris Isaak's Mr Lucky a couple of moths ago. I'm a big Chris Isaak fan, but I listened to the whole album without finding a single track that...well, stood out for me.
But I did like the artwork (all done by Chris Isaak himself) of the CD booklet thingy. Very cool.
Maybe it's not the music, maybe it's me.


A-ha! I did write about the Emmy Rossum CD I picked up (Inside Out) almost two years ago, but I just never got around to posting it. And even though this is not exactly newsworthy, I'm going to share it now since I mentioned Emmy's CD briefly above...
I had a Borders coupon good for 40% off any CD a couple of years ago (they still send them out periodically), so on the last day it was good I went to see if they had any CDs that I wanted. And even though Borders does have a large selection of CDs - with pretty good variety - they were sorely lacking in anything and everything I looked for. One CD did catch my eye, though, as I was looking for Dolores O'Riordan's solo album (I know, I'm a big girl): Emmy Rossum's mug on the CD cover.
I picked up the CD, looked it over and hoped I was looking at an album of cover songs.
The track list:
1. Slow Me Down
2. Inside Out
3. Stay (I'd hoped for an Oingo Boingo cover)
4. Falling
5. The Great Divide
6. Lullaby (I'd hoped this was a Cure cover)
7. Don't Stop Now (I was thinking that was the Queen song)
8. High
9. A Million Pieces
10. Rainy Days And Mondays (this was obviously a cover)
11. Anymore
So when I couldn't find anything else I really wanted, I decided to pick this CD up (the fact that it was only $10 before my 40% discount also played a part) and took it out to the car for a listen.
Emmy Rossum does have a nice voice and is a skilled singer...but the forgettable music backing her vocals and the whispy, breathy style of too many of the songs just didn't impress me. It's a lot like Enya, if you're into that. It's just not my cup of tea, I supppose.
As far as being a'cover" album...no such luck. None of the songs I hoped were covered were, except for the peculiar rendition of Rainy Days and Mondays.
I don't mean to imply that this is a bad album, because it's not. It just doesn't fit very well within the spectrum of my musical tastes.



Got something to say? Say it. (2 responses).


This page has been viewed







times since I started tracking hits.
(This is a rudimentary non-unique IP hit counter, so don't be too impressed)