&nbsp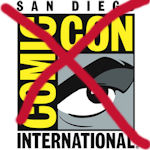 No ComicCon report this year...
Okay, I've been sitting on this post for weeks now, so I guess it's time to post something new here for Dan and Steve...
I missed ComicCon 2011 because it sold out before I could get a pass. So I don't have anything to say or any photos to share. I did hear about a new comics-centered event called Trickster that took place across the street from the convention center in a culinary college this year. It's supposed be happening again next year, so I might be willing to make a pilgrimage downtown to check that out next year, but I think I'm done with the big event. Comiccon is all about movies, TV shows and video games these days. Comic books are way down the priority list. And prices (for attendees and exhibitors) are going up-up-up. So I'll pass.
So, where did I hear about Trickster? From Chuck, the fearless leader of Mile High Comics, in one of his newsletters.
...there are some changes afoot as regards the convention. I have already mentioned in my previous newsletters from this week that obtaining tickets for next year's show has become quite difficult. In effect, there is now a savage battle underway between very powerful forces over who can obtain easiest access to the tickets. The current victims of this conflict are comics fans, while the winners are the local hotels (who are reportedly demanding tickets to sell as a part of expensive vacation packages), local media outlets, and members of Hollywood. With fewer and fewer comics fans being able to gain access to the convention, I was not at all surprised to hear from the dealers in the Golden Age and Silver Age comics pavilion that business this weekend has been mediocre, at best.

Many folks with whom I have spoken here at the show have suggested that I should write these changes off to a natural evolution away from print media. I disagree. Plenty of comics-only shows around America are doubling in attendance this year, so there is clearly still a great deal of interest in comics. Comics do still have a vital contribution to make to our popular culture, and this convention in San Diego, above all others, needs to make certain that comics remain an integral part of the show. That will, however, require some preferential pricing of booths for comics dealers, and guaranteed continued access to the convention for comics fans who have been long-time supporters. Otherwise, this gigantic place becomes only an annual pop culture flea market, and an event that ultimately benefits only Hollywood.

With that thought in mind, several prominent comics creators (including HELLBOY creator Michael Mignola) created TRICKSTER, an independent comics convention in a culinary arts school directly across the street from the convention center. TRICKSTER is presently extremely small, but it represents a beginning of a response to the current practices of the convention. Even in its present size, TRICKSTER has been very popular as the convention for the "cool kids," and was thus quite well-attended.

There is quite a bit of talk among the comics dealers, too, of creating an entirely separate comics convention in San Diego, during the same week as "Comic-Con." I used to think that kind of talk was just a bunch of hot air, but after feeling the rage of so many comics fans and dealers first-hand, I now sense that there is enough seething resentment of the status quo that an actual revolution may well be at hand. Do not be at all surprised if the San Diego convention experiences an internal fragmentation next year, which acts to break comics fans and creators completely away from all this suffocating Hollywood domination. I don't want to believe this disintegration of such a wonderful event may already be underway, but when those in control of a society fail to adequately consider the needs of their constituents when establishing policy, they are asking to be overthrown. No one here can actually fire the leaders of Comic-Con, but we can just leave and set up our own show. As crazy as it may seem, that incredibly radical schism is now far closer to becoming possible than at any time in my memory.

I will close today's newsletter by passing on that Wondercon, which San Diego purchased several years ago, has reportedly just lost their annual dates in San Francisco's Moscone Convention Center (due to remodeling?). The reported solution (confirmed separately by two senior officials of the convention) is that Wondercon will be held in Anaheim next year on a date yet to be announced. While this change will in some measure act to blunt Disney's current competitive thrust against San Diego (not to mention seeking to block further expansion by WIZARDWORLD...), I will be very curious to see how this new Southern California convention will impact San Diego. With little warning massive revolutionary change is now at hand, and our world may never, ever, again be the same. I just hope that enough magic remains when the dust settles to keep making all of us cry sometimes with joy, when our most beloved of dreams come true in San Diego.
But, moving on to stuff that even Dan and Steve won't read...
I don't know if I'm getting lazier, even more antisocial, or if I'm just becoming more and more curmudgeonly, but sharing anything with anyone just seems to be a whole lot more effort than it's worth anymore.
That being said, I'm going to share a few thoughts about one of the books I've read over the path few months (most of which were very worthy of at least receiving a brief mention here, but...well, see the above). And what book has so captivated my imagination that I had to sing its praises? It's one of the many that have been collecting dust on my reading shelves for many, many months: A Thousand Splendid Suns by the author of the The Kite Runner, Khaled Hosseini.



A Thousand Splendid Suns
Here's a brief excerpt from the book that talks about the Soviet-backed revolution that overthrew the government in the 70s.
He reported that earlier in the day the rebel Fourth Armored Division had seized the airport and key intersections in the city. Kabul Radio, the ministries of Communication and the Interior, and the Foreign Ministry building had also been captured. Kabul was in the hands of the people now, he said proudly. Rebel MiGs had attacked the Presidential Palace. Tanks had broken into the premises, and a fierce battle was under way there. Daoud's loyalist forces were all but defeated, Abdul Qader said in a reassuring tone.

Days later, when the communists began the summary executions of those connected with Daoud Khan's regime, when rumors began floating about Kabul of eyes gouged and genitals electrocuted in the Pol-e-Charkhi Prison, Mariam would hear of the slaughter that had taken place at the Presidential Palace. Daoud Khanhadbten killed, but not before the communist rebels had killed some twenty members of his family, including women and grandchildren. There would be rumors that he had taken his own life, that he'd been gunned down in the heat of battle; rumors that he'd been saved for last, made to watch the massacre of his family, then shot.

Rasheed turned up the volume and leaned in closer.

"A revolutionary council of the armed forces has been established, and ourwatan will now be known as the Democratic Republic of Afghanistan," Abdul Qader said. "The era of aristocracy, nepotism, and inequality is over, fellowhamwaians. We have ended decades of tyranny. Power is now in the hands of the masses and freedom-loving people. A glorious new era in the history of our country is afoot. A new Afghanistan is born. We assure you that you have nothing to fear, fellow Afghans. The new regime will maintain the utmost respect for principles, both Islamic and democratic. This is a time of rejoicing and celebration."

Rasheed turned off the radio.

"So is this good or bad?" Mariam asked.

"Bad for the rich, by the sound of it," Rasheed said. "Maybe not so bad for us."
Those who survived by the sweat of their brow always think that punishing the rich is going to lead to an improvement in their own lives, but anyone with any sense of history knows that wealth is actually just transferred from one group to another. Nothing really changes for the little people - nothing changes for the better, anyway. And when the Soviet revolution failed, we got the rise of the Taliban. So much for "maintaining the utmost respect for principles, both Islamic and democratic." But we'll get to that...


Even though the Soviet revolution failed to lead to any long-lasting freedom for the Afghan people, for a time there was optimism as Soviet propaganda was being spread in Afghan schools.
The teacher's name was Shanzai, but, behind her back, the students called her Khala Rangmaal, Auntie Painter, referring to the motion she favored when she slapped students-palm, then back of the hand, back and forth, like a painter working a brush. Khala Rangmaal was a sharp-faced young woman with heavy eyebrows. On the first day of school, she had proudly told the class that she was the daughter of a poor peasant from Khost. She stood straight, and wore her jet-black hair pulled tightly back and tied in a bun so that, when Khala Rangmaal turned around, Laila could see the dark bristles on her neck. Khala Rangmaal did not wear makeup or jewelry. She did not cover and forbade the female students from doing it. She said women and men were equal in every way and there was no reason women should cover if men didn't.

She said that the Soviet Union was the best nation in the world, along with Afghanistan. It was kind to its workers, and its people were all equal. Everyone in the Soviet Union was happy and friendly, unlike America, where crime made people afraid to leave their homes. And everyone in Afghanistan would be happy too, she said, once the antiprogressives, the backward bandits, were defeated.

"That's why our Soviet comrades came here in 1979. To lend their neighbor a hand. To help us defeat these brutes who want our country to be a backward, primitive nation. And you must lend your own hand, children. You must report anyone who might know about these rebels. It's your duty. You must listen, then report. Even if it's your parents, your uncles or aunts. Because none of them loves you as much as your country does. Your country comes first, remember! I will be proud of you, and so will your country."

On the wall behind Khala Rangmaal's desk was a map of the Soviet Union, a map of Afghanistan, and a framed photo of the latest communist president, Najibullah, who, Babi said, had once been the head of the dreaded KHAD, the Afghan secret police. There were other photos too, mainly of young Soviet soldiers shaking hands with peasants, planting apple saplings, building homes, always smiling genially.
The Soviets were never known for championing freedoms, but compared to the Taliban they were the ACLU.


We've all heard about the giant Buddah statues that the Taliban blew up, but when I heard about it happening, I thought "Meh. That's sad, but what's it to me?" But I actually felt the loss to Afghanistan - and the world - after reading about the history of the statues before they were destroyed.
They got out of the taxi. Babi pointed "There they are. Look."

Tariq gasped. Laila did too. And she knew then that she could live to be a hundred and she would never again see a thing as magnificent.

The two Buddhas were enormous, soaring much higher than she had imagined from all the photos she'd seen of them. Chiseled into a sun-bleached rock cliff, they peered down at them, as they had nearly two thousand years before, Laila imagined, at caravans crossing the valley on the Silk Road. On either side of them, along the overhanging niche, the cliff was pocked with myriad caves.

"I feel so small," Tariq said.

As they climbed, Babi told them that Bamiyan had once been a thriving Buddhist center until it had fallen under Islamic Arab rule in the ninth century. The sandstone cliffs were home to Buddhist monks who carved caves in them to use as living quarters and as sanctuary for weary traveling pilgrims. The monks, Babi said, painted beautiful frescoes along the walls and roofs of their caves.

"At one point," he said, "there were five thousand monks living as hermits in these caves."

Tariq was badly out of breath when they reached the top. Babi was panting too. But his eyes shone with excitement.

"We're standing atop its head," he said, wiping his brow with a handkerchief "There's a niche over here where we can look out."

They inched over to the craggy overhang and, standing side by side, with Babi in the middle, gazed down on the valley.

"Look at this!" said Laila.

Babi smiled.

The Bamiyan Valley below was carpeted by lush farming fields. Babi said they were green winter wheat and alfalfa, potatoes too. The fields were bordered by poplars and crisscrossed by streams and irrigation ditches, on the banks of which tiny female figures squatted and washed clothes. Babi pointed to rice paddies and barley fields draping the slopes. It was autumn, and Laila could make out people in bright tunics on the roofs of mud brick dwellings laying out the harvest to dry. The main road going through the town was poplar-lined too. There were small shops and teahouses and street-side barbers on either side of it. Beyond the village, beyond the river and the streams, Laila saw foothills, bare and dusty brown, and, beyond those, as beyond everything else in Afghanistan, the snowcapped Hindu Kush.

The sky above all of this was an immaculate, spotless blue.

"It's so quiet," Laila breathed. She could see tiny sheep and horses but couldn't hear their bleating and whinnying.

"It's what I always remember about being up here," Babi said. "The silence. The peace of it. I wanted you to experience it. But I also wanted you to see your country's heritage, children, to learn of its rich past. You see, some things I can teach you. Some you learn from books. But there are things that, well, you just have tosee andfeel."
I couldn't help but wonder what a world dominated by Sharia law would be like. Buh-bye art treasures. Buh-bye museums. Buh-bye libraries (if not contained within a mosque). If it offends or threatens the Islamic faith in any way, it must go. Bah!


The Afghan civil war and the rise of the Islam hardcore knuckleheads - AKA the Taliban - ended the Soviet-backed revolutionaries brief hold on Afhanistan- and erased anything resembling democracy in Afghanistan.
She should have seen this coming, she thought. Almost everyone she knew had packed their things and left. The neighborhood had been all but drained of familiar faces, and now, only four months after fighting had broken out between the Mujahideen factions, Laila hardly recognized anybody on the streets anymore. Hasina's family had fled in May, off to Tehran. Wajma and her clan had gone to Islamabad that same month. Giti's parents and her siblings left in June, shortly after Giti was killed. Laila didn't know where they had gone-she heard a rumor that they had headed for Mashad, in Iran. After people left, their homes sat unoccupied for a few days, then either militiamen took them or strangers moved in.

Everyone was leaving. And now Tariq too.

The freedoms and opportunities that women had enjoyed between 1978 and 1992 were a thing of the past now - Laila could still remember Babi saying of those years of communist rule. It's a good time to be a woman in Afghanistan, Laila. Since the Mujahideen takeover in April 1992, Afghanistan's name had been changed to the Islamic State of Afghanistan. The Supreme Court under Rabbani was filled now with hard-liner mullahs who did away with the communist-era decrees that empowered women and instead passed rulings based on Shari'a, strict Islamic laws that ordered women to cover, forbade their travel without a male relative, punished adultery with stoning. Even if the actual enforcement of these laws was sporadic at best.But they'd enforce them on us more, Laila had said to Mariam,if they weren't so busy killing each other. And us.
And suddenly being a woman in Afghanistan was a dangerous thing to be. Unless you were happy being closed up indoors all day.


Afghanistan went from being - for women, anyway - a modern country to a backwards, third-world hellhole. This description of a delivery room, and the Taliban-enforced rules for medically treating women, is chilling.
It was dark outside when a nurse finally called them in. The delivery room had eight beds, on which women moaned and twisted, tended to by fully covered nurses. Two of the women were in the act of delivering. There were no curtains between the beds. Laila was given a bed at the far end, beneath a window that someone had painted black. There was a sink nearby, cracked and dry, and a string over the sink from which hung stained surgical gloves. In the middle of the room Mariam saw an aluminum table. The top shelf had a soot-colored blanket on it; the bottom shelf was empty.

One of the women saw Mariam looking.

"They put the live ones on the top," she said tiredly.

The doctor, in a dark blue burqa, was a small, harried woman with birdlike movements. Everything she said came out sounding impatient, urgent.

"First baby." She said it like that, not as a question but as a statement.

"Second," Mariam said.

Laila let out a cry and rolled on her side. Her fingers closed against Mariam's.

"Any problems with the first delivery?"

"No."

"You're the mother?"

"Yes," Mariam said.

The doctor lifted the lower half of her burqa and produced a metallic, cone-shaped instrument- She raised Laila's burqa and placed the wide end of the instrument on her belly, the narrow end to her own ear. She listened for almost a minute, switched spots, listened again, switched spots again.

"I have to feel the baby now, hamshira."

She put on one of the gloves hung by a clothespin over the sink. She pushed on Laila's belly with one hand and slid the other inside. Laila whimpered. When the doctor was done, she gave the glove to a nurse, who rinsed it and pinned it back on the string.

"Your daughter needs a caesarian. Do you know what that is? We have to open her womb and take the baby out, because it is in the breech position."

"I don't understand," Mariam said.

The doctor said the baby was positioned so it wouldn't come out on its own. "And too much time has passed as is. We need to go to the operating room now."

Laila gave a grimacing nod, and her head drooped to one side.

"There is something I have to tell you," the doctor said. She moved closer to Mariam, leaned in, and spoke in a lower, more confidential tone. There was a hint of embarrassment in her voice now.

"What is she saying?" Laila groaned. "Is something wrong with the baby?"

"But how will she stand it?" Mariam said.

The doctor must have heard accusation in this question, judging by the defensive shift in her tone.

"You think I want it this way?" she said. "What do you want me to do? They won't give me what I need. I have no X-ray either, no suction, no oxygen, not even simple antibiotics. When NGOs offer money, the Taliban turn them away. Or they funnel the money to the places that cater to men."

"But, Doctor sahib, isn't there something you can give her?" Mariam asked.

"What's going on?" Laila moaned.

"You can buy the medicine yourself, but-"

"Write the name," Mariam said. "You write it down and I'll get it."

Beneath the burqa, the doctor shook her head curtly. "There is no time," she said. "For one thing, none of the nearby pharmacies have it. So you'd have to fight through traffic from one place to the next, maybe all the way across town, with little likelihood that you'd ever find it. It's almost eight-thirty now, so you'll probably get arrested for breaking curfew. Even if you find the medicine, chances are you can't afford it. Or you'll find yourself in a bidding war with someone just as desperate. There is no time. This baby needs to come out now."

"Tell me what's going on!" Laila said She had propped herself up on her elbows.

The doctor took a breath, then told Laila that the hospital had no anesthetic.

"But if we delay, you will lose your baby."

"Then cut me open," Laila said. She dropped back on the bed and drew up her knees. "Cut me open and give me my baby."

* * *

Inside the old, dingy operating room, Laila lay on a gurney bed as the doctor scrubbed her hands in a basin. Laila was shivering. She drew in air through her teeth every time the nurse wiped her belly with a cloth soaked in a yellow-brown liquid. Another nurse stood at the door. She kept cracking it open to take a peek outside.

The doctor was out of her burqa now, and Mariam saw that she had a crest of silvery hair, heavy-lidded eyes, and little pouches of fatigue at the corners of her mouth.

"They want us to operate in burqa," the doctor explained, motioning with her head to the nurse at the door. "She keeps watch. She sees them coming; I cover."

She said this in a pragmatic, almost indifferent, tone, and Mariam understood that this was a woman far past outrage. Here was a woman, she thought, who had understood that she was lucky to even be working, that there was always something, something else, that they could take away.

There were two vertical, metallic rods on either side of Laila's shoulders. With clothespins, the nurse who'd cleansed Laila's belly pinned a sheet to them. It formed a curtain between Laila and the doctor.

Mariam positioned herself behind the crown of Laila's head and lowered her face so their cheeks touched. She could feel Laila's teeth rattling. Their hands locked together.

Through the curtain, Mariam saw the doctor's shadow move to Laila's left, the nurse to the right. Laila's lips had stretched all the way back. Spit bubbles formed and popped on the surface of her clenched teeth. She made quick, little hissing sounds.

The doctor said, "Take heart, little sister."

She bent over Laila.

Laila's eyes snapped open. Then her mouth opened. She held like this, held, held, shivering, the cords in her neck stretched, sweat dripping from her face, her fingers crushing Mariam's.

Mariam would always admire Laila for how much time passed before she screamed.
As many quotes as I shared here, there were actually a lot more that I had considered using. This is a book - as was The Kite Runner - that's well worth reading. As I finished reading the novel, I was struck by how optimistic the author must have been for Afghanistan's future - as were the characters in the book - because there seemed to be so much to be hopeful about at the time the book was written: the Taliban was on the run, a fledgling democratic government was in place in Afhanistan and women were once again daring to attend schools and lead a burqa-free existence without fear of being beaten and arrested by Taliban "soldiers" for violating Sharia law (granted, the Taliban miscreants were, and are, still sneaking around killing women who dared pursue an education). And that brings us to the present, a time when the US government is doing the inconceivable: negotiating to return power to the same Taliban that did everything in its power to turn Afghanistan into a backwards, misogynistic rat hole. With no reason to believe that these trolls have somehow transformed into responsible stewards for the people of Afghanistan, they're being allowed to resume their roles as Totalitarian overlords. If there was ever a time to doubt the intelligence of our current administration, this is the time. So that's why I thought it was worth mentioning.


Another book which I read a few months ago, that's sort of an antidisestablishmentarian romp through what could possibly be the best way to fix what's broken with the US Government, is called An Act of Self Defense. I had a bunch of excerpts to share from the book, but I'm too lazy to bother retyping any of them.

An Act of Self Defense
You don't have to be anti-government to appreciate An Act of Self Defense, but it helps if you are able to acknowledge just how messed up things in Washington are. If you're a fan of fast-paced, character-driven stories, you will love this story by Erne Lewis (his first published novel). As I devoured the book, I was reminded of the extremely hard-to-put-down novels of John Grisham and Scott Brown. I know, I know...you intellectual elitists are going to whine about how Grisham and Brown are formula-driven hacks, but there's no arguing that they both write very enjoyable and readable prose.
So what's so great about this novel? I think the characteristic that I found most intriguing is the timeliness of the fictional events of the story. They are eerily reminiscent of the Gun Control fervor surging through the Federal Government following the Gabrielle Gifford shooting that seriously challenge every American's second amendment rights. And then there are the events in Egypt that are prompting the Federal Government to push legislation to give them full control over the nation's Internet access in the name of protecting our country (methinks it's more about protecting the governing elite from the people if there's a call for revolution).
Once these rights are taken away, they won't be given back. Not without a fight. And how do you fight something that has all the power and all the guns? Not openly, if you want to live to talk about it.
As someone who has experience with the FBI's tactics of intimidation and warrant-less monitoring, I can affirm that the horrible acts in this story perpetrated by our government are not exaggerated. Republican or Democrat - it makes no difference. The primary impetus of all our seasoned politicians is to increase their power and authority over our lives.
Be afraid. Be very afraid.

I was also going to talk about the Edgar Rice Burroughs John Carter books that I've been reading (and maybe even tie it in with the comic adaptations that have recently come out), but I lack enough interest to bother...

Signing tonight...
I think there's a book signing at Mysterious Galaxy tonight for the sequel to another book I read a couple of months ago, The Magicians (a great mash-up of Harry Potter, The Catcher in the Rye, and the Narnia stories). So I might have something to say about that in a few months. Probably not, though.



Got something to say? Say it. (1 response).


This page has been viewed







times since I started tracking hits.
(This is a rudimentary non-unique IP hit counter, so don't be too impressed)