Sing Street Screening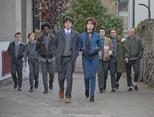 I saw a screening of Sing Street this past week. It was a perfect movie for somebody in my age group (plus or minus 5 years, probably). The events of the movie all took place in Ireland, so I couldn't exactly relate to the specific circumstances of the characters in the film, but there were a lot of things in the movie that were universal to anyone who was a teenager in the 80s - way too much denim, gigantic hair, gigantic frames, music videos taking over the world, and so much familiar music. It's a rare movie anymore that only plays music I recognize and actually appreciate - I even embarrassingly found myself singing along at a couple of points. I feel bad for those sitting near me. There was also a smattering of original music that was also really good. I was surprised at the lack of U2 music, though. What Irish band was bigger in the 80s?
I really enjoyed the story, even though it was an unlikely happy ending along the lines of a too-familiar theme: boy meets girl, boy goes the extra mile to impress girl, girl ditches boy...and then movie magic kicks in and the girl returns and boy ends up with girl. I prefer the ultimately depressing, but much more realistic story (and all too-familiar) in 500 days of Summer to this one. Happy endings never come this easy. And more often than not, don't come at all. You learn to appreciate what you get. There were a couple of distracting aspects to the movie - just about every kid in the movie, and a good many adults, smoked relentlessly and there were rampant broken families. But that could very well just be Ireland - or at least Ireland in! the 80s. I wasn't there so I have no idea.
A few photos from the film - The lovely Raphina (Lucy Boynton) and Cosmo & Co channeling their inner (and often, outer) Adam Ant, the Cure, Duran Duran, Spandeau Ballet, Depeche Mode...

I just saw (about 10 days later) the track list of the Sing Street soundtrack (which doesn't come out for a week or so) and saw an Adam Levine song listed, which surprised me because I didn't remember anything other than the band in the movie and 80's tunes being played in the film. If I have a chance to watch it again, I'll have to listen more carefully. But this video (minus the Adam-Levine-in-the-studio parts) pretty much sums up the movie's greatness.
Oh, and I'm getting lazy so if you're using a non-HTML5 compliant browser, this video probably won't play for you. And even if your browser is compliant, it's a pretty slow loader, so sit back and wait patiently...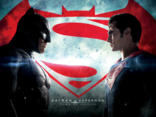 I also saw the Superman/Batman movie last weekend. Meh. I'm not an Aflek fan (though he did look more like an older, grumpier Batman than Christian Bale could have pulled off - I'm pretty sure this film was set about 20 years after the last Batman movie's events) and the whole thing just felt like a ridiculously improbable comic book story. Lex Luthor having a full, shaggy head of hair and acting like a manic Joker-esque (Heath Ledger's Joker) was weird. I was more excited to see several of the movies in the trailers than I was the movie I was actually there to see. Especially afterward. And the Amy Adams bathtub scene with Superman was a little...out of character. At least for the Superman of old. Maybe the current batch of comic book writers have reinvented good ol' Clark and he's getting as busy as anyone else now. I freely admit to being out of touch with superhero comics.

Oh, and for the record - there is no way Batman versus Superman is a thing - Batman would never stand a chance. I don't care how smart, resourceful, gadget-laden or well-trained Bruce Wayne might be, the only thing keeping Superman from crushing him like a bug is Superman being a good guy who doesn't crush bad guys - or "good" guys coming after him - willy-nilly.

Craigslist
We've all heard about Cragslist scammers and shady dealings with both buyers and sellers on Craigslist, but I've now had experiences of my own to share. I've just replaced my mismatched bedroom furniture with a fancy new bedroom set (for the little woman's anniversary gift - the anniversary-theme for 20 years is bedroom furniture, right?) and am now attempting to unload the old stuff using Craislist. Sadly, I've received little interest in most of my stuff, and the interest I have had has been mostly either scammers feeling me out for vulnerability or scammers going all in to rip me off.
Here's the recurring scam that's I've seen several times recently. I've receive a response that's almost word-for-word the same each time in slightly-irregular English. First, I've received this response:
"Hello, i am interested in buying your [whatever the item is]. Do you still have it available? What the actual price you sell to me?
Thanks"
When I respond, I then receive a followup email that's also the same every time -
"I will pay your asking price of $[amount varies by item] and My means of payment is via cashier check. As soon as the check clear in your bank account, then I will..."
and then
"Send me the details below for the check to be mail out if the procedure is Ok by you.
Name:
Address:
City:
State:
Zip-Code:
Cell phone:
Location of the Cemetery:
I will be waiting for your quick response
Thanks
[name varies each time]"
Suspicious, I checked into cashier's check fraud and ways to avoid being ripped off. Basically, if someone offers you a cashier's check, you need to validate the check with whatever bank it is issued from before taking it anywhere near your own bank (unless your bank happens to be the issuer - which would be convenient). If you deposit the check without verifying it first, you will be on the hook for the amount of the check plus fees if the check is bogus. So I queried each of the buyers for information about the bank the cashier's check was drawn on and assured them that as soon as I had verified their cashier's checks, the item would be theirs. Unsurprisingly, this is as far as any of my carbon-copy buyers has gone with the transactions.
Another key similarity I've seen with just about all my Craigslist transactions - almost nobody wants to pay what you're asking - even if you've priced your stuff super low to sell it quickly. It seems to be the norm for most of the buyers to offer about half of my asking price. I don't know if this is because Craigslist buyers assume you're over-inflating the price of whatever you're selling in an attempt to rip them off, or if Craigsist is just, by its nature, a haggler's paradise. But it can be infuriating when someone agrees to your price and then shows up and offers half of what they agreed to via email or on the phone, telling you it's all the money have...so pretty much to take it or leave it. And in my case, I'm generally, by this time, so tired of dealing with these people that I just want to be done with it and I've agreed. The rare transaction that has ended with no haggling has been a joyous day indeed.
I was going to talk about Dirk Gently or my awesome new 24" monitor or maybe my new Pirate Captain bedroom set....but maybe next time.



Got something to say? Say it. (0 responses).


This page has been viewed







times since I started tracking hits.
(This is a rudimentary non-unique IP hit counter, so don't be too impressed)