&nbsp
Tim Powers Signing at Mysterious Galaxy for Down and Out in Purgatory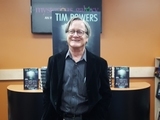 I hadn't been to a book signing for a few years before the recent Bruce Campbell signing - not counting the Neil Gaiman non-signing appearance I had to pay to attend in April - and now I've been to two within the past couple of weeks. Both were at the Mysterious Galaxy book store and, though very different (one for an author loosely associated with the film industry and the other an actor who has written a couple of autobiographical books), they were both great and very much worth my time.
Most people would recognize the name "Tim Powers" (if at all) as the the author of the book that the fourth Pirates of the Caribbean movie, On Stranger Tides, was very loosely based upon. Tim has been a published author for about forty years, but has accumulated a surprisingly small number of novels and short stories - only eighteen full-length novels and twenty short stories/novellas. And I've only read a handful of them, but have enjoyed them all (especially the aforementioned On Stranger Tides - which is a million times better than, and much different from, the version Disney shoe-horned into the Jack Sparrow pirate universe). The signing tour is for the release of the collection of all his short stories, confusingly given the same name as a novella he published about a year ago that I happened to pick up from Amazon when I saw it, Down and Out in Purgatory - which is also one of the stories in the collection.
Sadly, there were only around 10 or 12 people at the signing. Unlike Bruce Campbell's signing, there were no lines out the door or standing room only for attendees. I say "sadly" because Tim Powers deserves all the adulation that a celebrity like Bruce Campbell gets - even though I was grateful there weren't a few hundred other people there crowding me and forcing Tim to rush each attendee out the door as quickly as possible. In fact, this signing was anything but rushed, but more about that in a second...
I arrived at the bookstore around thirty minutes before the signing because I didn't have a copy of the book for the signing yet (I did bring my hardcover of the novella of the same name). In fact, the book wasn't even available for sale outside of signings until November 7, so I got a copy of the book a few days before it was for sale publicly. As I entered the store and waited for my turn at the cash register (the stack of books was at the register), I noticed Tim Powers walking around the store, looking at books, and talking to other customers. I didn't try to chat him up because I become a rambling, incoherent boob around...well, pretty much any author/actor I've been around. See my Lev Grossman encounter for a perfect example of the extent of my disability. Before he left the store, after the signing, Tim had acquired a stack of books to purchase.
The signing started out with Tim just talking. Talking about the new collection, talking about the publishing industry, talking about the supernatural, talking about people asking him when he was finally going to write a "real" book, and pretty much just talking about anything he thought people might be interested in. Then he took questions from the attendees. Amongst the questions were questions about his elbow-rubbing with other authors, why he sets a lot of his books in the vicinity of L.A./Southern California, the effect of the On Stranger Tides adaptation on the sale of the novel, the way Hollywood/book optioning works, his writing process,and details of the Disney adaptation process. Throughout the Q&A session, Tim kept us chuckling. He's a great storyteller in person and in his books.
Here are a few of the answers (or just things I overheard Tim telling other attendees while I waited in line) that stood out enough for me to remember them in any kind of detail (not to say that anything Tim shared was uninteresting, but there was so much that it overwhelmed my faulty memory).
Tim revealed that On Stranger Tides was actually optioned as the fourth film in the series by Disney before the first Pirates of the Caribbean was even filmed. At the time, there was no guarantee that the series would become a successful franchise and even make it to four films, so Tim and his wife kept a close eye on the success of each of the Pirates movies. He recalled a fake story about Johnny Depp being killed in a car accident before the third movie was filmed. And his elation when it turned out to be a fake story. He was forbidden by Disney from telling anyone about the option deal in place - as he was signing my books, I remarked on what he'd written on my copy of On Stranger Tides at a signing years earlier and he responded that he was lucky Disney hadn't found out about it and sued him. One other thing Tim mentioned was his complete non-involvement with the script writing for the film and being on set for a day and briefly meeting Johnny Depp.

Tim knew Philip K Dick (the guy who wrote the story Blade Runner was based on and also the story that the Amazon series The Man in High Castle came from) for last 12 year of his life and is actually a character named David in the semi-autobiographical story Valis. Actual conversations and events from Tim's life are in the book verbatim (Tim told us he was a little distraught at some of the imagined dialog that was put in his character's mouth that would never be uttered by him the the real world).

Tim spoke about having to acquire and use piles of books to see photos and get background on the locales he used in his books before the Internet and Google Earth made it possible to be there and see a location by dropping the little orange man anywhere and looking at everything in 360 degree views. He also mentioned how easy it is to just go look at an actual location with the books set in L.A. and how there was one place he would never visit in person, despite it being relatively nearby: Amboy.

Tim told a story about a friend who was stationed at TwentyOne Palms (which is about 60 miles away from Amboy) being warned, when he was first stationed at TwentyOne Palms, against ever even driving through Amboy (even though it was a faster route from base to parts east). But being a big, brave military guy in possession of a handgun with a fifteen-round magazine, he decided to ignore the warnings and take the shorter Route 66 drive through Amboy.

As he drove into town (what little there was of a "town" - a motel/restaurant, a few ramshackle homes, and a gas station) he saw a car stopped diagonally across the highway ahead of him and two bodies lying on the pavement motionless. He slowed for a moment, and then remembered all the stories he'd been told about human sacrifices, death cults and disappearances in Amboy, and instead of stopping to help, he sped back up and drove around the car on the shoulder, speeding away. In his rear-view mirror, he saw the two "bodies" on the road stand up and twenty or more people who had been hiding by the side of the road come out of hiding. He never chanced driving through Amboy again after that day.

I don't know if there's any truth to this story (I found a very similar version online). But I suppose it's possible that the author of the story I found is the same person Tim Powers knows. Or maybe somebody who heard the story from Tim - which would make it no less true.

Before signing my books, Tim asked me my name. When I told him, he remarked that I share a name with a character in the book he's currently working on. But then he apologized that his character is a bad guy in the story.

Tim told a story about an early encounter with Kurt Vonnegut Jr. at a signing just after Tim published his first book. Tim brought a signed copy with him and proudly gave it to Vonnegut, only to find it, after the signing, in a planter outside the venue. Tim lamented that Kurt Vonnegut couldn't even take the time to throw it in a trash receptacle with a lid to spare him the shame. He then commented on Vonnegut's mental absence from the event, saying that if each of us is born with a limited amount of attention we give to other people, Vonnegut had long since used all of his up.

Tim talked in depth about his writing process, his tendency to procrastinate, and talked about how his writing process had evolved with the introduction of computers. He also talked about the dearth of editors for many publishing houses, how publishers now tell writers to get their own editors, and the important role editors play in making a novel really shine.

Tim's wife was also at the signing. Tim mentioned her several times during his remarks, and in the responses to the questions. One thing he said specifically about his wife is that she is the first reader of all his drafts. She's well-read, intelligent, and most importantly - not an author - so her analysis is helpful and appreciated. Tim commented on other authors being the worst audience for commentary on an author's work. Even his own commentary would be all about how to make the draft he was reading into a Tim Powers book, not a better version of the author's book.

I was surprised to hear that Tim teaches a writing class in an L.A. area High School. That would have been my favorite class ever (I did have a few memorable English teachers - I'm looking at you Ms Clack - though none who wrote an epic pirate novel). Tim told a story about commenting to another teacher about how exceptional High School students are these days - one of his students was reading Voltaire for fun - and the teacher told him that he's seeing a tiny exceptional microcosm of the students. When Tim looked outisde those in his class, he saw the sad truth.

I asked, in the Q&A session, if Tim would ever consider returning to the Age of Piracy for a future novel and Tim replied that there is a huge swath of history to be mined during the age of piracy, so it was definitely a possibility - which was music to my ears!

Tim mentioned a few times how collections of short stories weren't something a publisher willingly spends the money to publish because they don't make nearly as much money as full-length novels. He suspects the only reason they allowed him to publish this collection of short stories is because he just changed publishers and the new publisher is trying to score points with their new author.
I had intended to take a few photos, but I was so entranced by all the great stories I was hearing that I never touched my phone. And as I mentioned, I was at the end of a short signing line (or almost, I was actually second to last) so I was close enough to hear most of the stories Tim shared with the people ahead of me. He shared something different with everyone. This is the kind of signing Neil Gaiman, Terry Pratchett and Lev Grossman used to have at Mysterious Galaxy. Maybe a little bit (or a lot, actually) smaller, but much more personal. So cool.
I haven't read Down and Out in Purgatory (the short story collection) yet - though I have read the novella by the same name - so I can't say anything specific about the collection. I'm still reading Mark Geragos's Mistrial and an eBook that I'm really not enjoying much, so I won't be reading anything new for a little while.



As I was driving into work (and heard an Imagine Dragons song being played as background for a Ford ad), I was reminded of something I saw a week or two ago (whenever I last saw a movie in the theater). As we walked to our seats, I heard the Grace Vanderwaal song Beautiful Thing playing - which I thought was a nice surprise - as a video montage played on the screen. I thought the music was just being piped into the theater (the lights were still on) and the video montage was independent of the song. But as we sat and watched as we listened, I realized the song and the scenes of the video were synced. And then the video ended and I realized it was an advertisement for Windex and the song was, in fact, part of the ad. Good for Grace. And Imagine Dragons.
Here's the Windex Ad. It's pretty awesome.
I did just buy the new Grace Vanderwaal CD, so I might talk about that one of these days. And I also saw Thor Ragnarok today, so it might warrant a response, too. It was well worth all the dough it cost to get the whole family into the theater.



Got something to say? Say it. (3 responses).


This page has been viewed







times since I started tracking hits.
(This is a rudimentary non-unique IP hit counter, so don't be too impressed)