The Crowdedest Place on Earth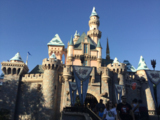 The family took a trip up to Disneyland last week. We had one day-one-park passes that didn't cost us anything so we decided to upgrade those passes, before entering the park, with So Cal annual passes since we could apply the value of the no-cost passes against the cost of annual passes. So now we can go back as often as we want - to both parks - for the next 12 months. I think I would have rather gone to Harry Potterland over the next 12 months if the drive through LA wasn't such a horrendous beast. And it would have been a few hundred dollars cheaper - even after deducting the value of the one-day passes - but Disneyland wins the day thanks to its relative proximity to San Diego.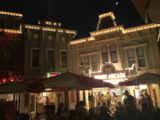 We were optimistic that crowds in the park weren't going to be insane because the ticketing windows were pretty light...think again, foolish mortal. It wasn't as bad as the ill-fated Christmas Day trip we took a couple of years ago to break in our passes. But it was pretty bad. All the rides we tried had 30 or more minute waits to get on, which is probably just a average day at Disneyland, but we were there on a non-holiday school day (Wednesday) in late-October so we expected lighter crowds.
Even the restaurant we picked in New Orleans Square, the French Market, had a long line for it's buffet style assembly line food (this one was our second choice - the first one, Cafe Orleans, ended up requiring reservations). I really want to try Blue Bayou one of these days, but it also requires a reservation. Regardless, the beef stew in the sourdough bread bowl from the French Market Restaurant was extremely tasty. If I don't make a reservation for the other eateries again next time, I'd definitely have that again.
An observation I made about the ticket-sellers and the ticket-takers as we were making our way into the park - every one of them appeared to be at least sixty. And most appeared older (and all the ones I saw were female). I didn't see a lot of of gray heads inside the park, but Walt's grandparents are manning the gates.
As far as changes since we last visited (a year or more ago) -
Halloween decoration were up all over the park and Jack Skellington was in charge of the Haunted Mansion. but that's pretty normal for October.
The Star Wars stuff still appears to be in early stages of construction.
We saw the Haunted Hotel transformation from outside California Adventure (we stayed in Disneyland the whole day, so didn't see it up close or anything else in the "other" park).
There was a restaurant under construction in FrontierLand (yawn).
We didn't do much in TomorrowLand - we just walked through the back side (by the submarine ride) en route to the train, so I don't know if anything changed there
I think they added a lightning-strike to the dinosaur tunnel on the train ride. But that may have already been there and just bee non-functional for the past few years. Who knows?
Thankfully, the Pirates of the Caribbean Wench Auction was still intact (there are rumors that it was going to be redone with a feminist theme).
It was 102 degrees near three or four o'clock when we started to eye the exit (the forecast was for a high of 104, but I don't know if it ever got that hot). In October. Which of the seven circle of Hell is Disneyland in?
Oh, one final observation - as much as I dislike the crowds, I appreciate the effect the hot weather has on some of the visitors' attire in the park.


Halloween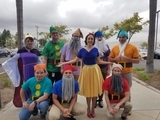 My co-workers decided we should ress up as Snow White & the Seven Dwarfs at work this year, but I'd already planned to let Emeli work her special effects magic on me before this was decided, so I was a Zombie (or at least badly injured) dwarf at work this year. The gray dwarf beard I purchased online from Amazon broke the night before, so I had to improvise with that, too (I ended up with weird gray patches of beard glued at random invervals along my jawline - continuing the zombie theme).
I also learned about the importance of not storing dry ice in the freezer before you plan to use it - unless you want it to dissipate down to a tiny little chunk of dry ice that won't really do much for fog-creation...



I don't know that I'll ever get around to giving the following books their due, but I don't want to disregard them altogether, so here's a brief mention of several books I've read over the past year or so that I've never quite managed to compile my thoughts on.

JK Rowling - Harry Potter and the Cursed Child



I was happy to see that the Harry Potter stories were continuing. But less happy to see that they were only continuing in script form. The story was interesting and well-done (the Harry Potter kids are adults with kids of their own, and the kids are now struggling with similar issues that their parents had years before), but I find reading a script to be painful. And so much less descriptive than a novel. I wouldn't mind seeing a film adaptation of the story, but I wouldn't recommend reading the script version. Unless you really like reading scripts.

Terry Pratchett - The Long Cosmos


This was the final Terry Pratchett collaboration novel with Stephen Baxter and, as with all the other Long Earth books, it felt less like a Terry Pratchett book than a book done by someone else. There were moments with Sancho the Troll that felt very Pratchett-esque, and I have enjoyed all these books, but I would have rather read another Tiffany Aching story - those books are amazing. These are a whole different breed of stories from the Tiffany Aching stories, though, and there's nothing wrong with them. So if you're a fan of multiple-dimension/universe theory and like to explore interesting ideas, this - and the previous novels - are for you. I remember reading that Stephen Baxter is continuing with at least one more novel in the series. Not sure if I'm interested in a Pratchett-less Long Earth story, though. We'll see.

Rick Black - Maximus

Rick Black is a long time friend of our family and a good dude. I never suspected he was capable of writing a historical novel. Yet...here it is. It's the story of Jesus Christ, though told from a completely new perspective. It's not the observations made by one of the Apostles, but from a Roman Officer who is sent on a mission to observe the threat of this Jewish guy who was accumulating more and more followers every day. The Roman Officer goes undercover and immerses himself in Jewish culture with another soldier, Androcles, and they find themselves going native. And becoming believers. It's an interesting perspective. Oh, and there are pirates in the story, too, so how can you go wrong?

William Forstchen - One year After


I just picked up the final book in this series (or the most recent, anyway). I've really enjoyed these apocalypse-via-EMP stories. The stories have no zombies, magic or plastic-eating viruses that don't exist - just good old fashioned currently-known-tech delivered via known means of delivery. They're more about the struggle to survive as society crumbles around you. I honestly don't remember as much about this specific novel as I do the series in general, but I do know that I enjoyed this story well enough to pick up the next book in the series, which is sitting on my reading shelf.

Greg Bear - War Dogs & Killing Titan



I can't believe I haven't mentioned either of these books, especially since I've long been a fan of Greg Bear's books. I did mention War Dogs in passing a while back, but never in enough detail to explain what I really liked about it. Sadly, it's now been so long that I don't have a real clear memory of the books, but I do remember them in general (and there's one more in the series yet to be read, which I do plan to acquire in the near future). Basically, these are books about space marines (very StarCraftish) taking on aliens invading the solar system (the story is set pretty far in the future), very similar to the general plot of Ender's Game at first glance. But there are several differences. The main one: Earth has been prepped to battle these invaliding aliens by another race of super-advanced aliens who come in very small numbers and share their tech with the people of Earth - but at a cost. The story twists and turns and you're often left wondering who the real bad guy of the story is. I don't know that I loved these books as much as I have some of the others I've read recently, but they were good enough that I'm looking forward to book three, Take Back the Sky (which is out, I just don't have it yet).

Adam Carolla - Daddy, Stop Talking



I had every intention of doing a full-write-up for Daddy, Stop talking. I'm pretty sure I even collected quotes, scanned photos from the book and did all the legwork up to just putting it together. But I guess there was just too much other madness around the time I finished reading it and now I can only find a coupe of the scans. Regardless, this was another very funny Carolla book, full of priceless parenting advice. And life advice. And complaints. Oh, yeah, there are a lot of complaints. But at least they're all well-reasoned complaints. You will laugh out loud as your read this book. I definitely recommend it to the not-easily-offended (because there is a lot in the book that's offensive and profanity is pretty common in all the Carolla books).

And of course there are photos and photo-shopped images all throughout.



Got something to say? Say it. (0 responses).


This page has been viewed







times since I started tracking hits.
(This is a rudimentary non-unique IP hit counter, so don't be too impressed)