Potterland...the return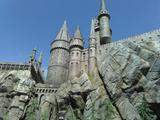 I bought annual passes to Universal Studios for the whole family this year - purchased exclusively because I was stoked to check out the Wizarding World of Harry Potter, from this point on to be known as TWWOHP - which means my visits to Potterland are limited to non-blacked-out days. This week was the first chance, since the end of the Spring Break blackout, we had to return since TWWOHP opened to the public. There have been stories of massive crowds and three hour waits in line for the Hogwarts ride (and lengthy lines for everything else), so the wife and I had no idea what kind of nightmare crowds we were going to have to deal with. It's bad enough that it takes over an hour longer to get into Hollywood than it took to get to the land of Disney, but compounding that with potential three hour waits in line for one of only two rides (that's all there is in Potterland Hollywood) makes me think twice about making the trek.
I'm happy to report that there were only smallish crowds at Universal Studios (on a Wednesday at the end of April, just post-Spring break). It was busy, but not painfully busy. The traffic to get there and back was awful (as traffic in LA always is) and we only spent about three hours in Potterland, so we spent more time driving to and from Potterland than we actually spent within the park itself. The longest line we stood in was for lunch at The Three Broomsticks (one place we didn't have a chance to check out last time). But the atmosphere within and the food made were well worth the wait.

There was no line for The Harry Potter and the Forbidden Journey ride - well, no people in line, but I should clarify that the journey from the exterior to the actual ride within Hogwarts castle is a healthy trek even when you're walking without interruption all the way to the end. There was an initial crush of people stowing their bags in lockers because the ride is pretty motion-ful, so you aren't allowed to bring stuff that can go flying into space. And I'd recommend you rethink your footwear if flip-flops are your foot-covering of choice. I was sure I would lose mine several times in the ride (and I doubt you'd ever see them again). I would describe this ride - from the experience of a seasoned Disneyland attendee - as equal parts Star Tours, Soaring over California and Haunted Mansion with a Harry Potter flavor. There are so many amazing things to see during your wait (or at least along your path to the end of the line - even if you're not waiting) for the Hogwarts castle ride that it's almost a disappointment to be hurried through to the end on less busy days. I tried taking photos as I rushed through, but none of them really turned out due to the lack of ambient light and continuous forward motion. You get to see holographic versions of Dumbledore, Harry, Ron, Hermione, talking portraits (even the fat lady who monitors the Gryffndor's common room), the Sorting hat, so many amazing movie prop replicas, and just an amazing version of so much of Hogwarts. It's great.

The outdoor Flight of the Hippogriff roller coaster ride was also line-free, but is over in a heartbeat and not nearly as fun as Harry Potter and the Forbidden Journey, which is surprisingly long. The Hagrid-related props decorating the path to the end of the line for this ride give you some fun stuff to see, too. My camera/phone freaked out and stopped doing anything when I tried to record a video of the Hogwarts Choir, so I didn't get any photos of the fun stuff to see here.
One of my favorite things about Disneyland is the ambiance. Frontierland, Fantasyland, and New Orleans Square are my favorite spots to just soak in the magic. Even Downtown Disney has an otherworldly feel that just fun to experience. Potterland is every bit as great as any of these magical places within the Magical Kingdom. It's just so much smaller. The rest of Universal Studios is less impressive, though they've done some good work turning the "main street" area past the entrance into something - New York, I think. But it just doesn't have the same magic that makes me want to come come experience it again.

One other thing that wasn't happening during the preview day was performances by the Potterland Players (my own names for the musical acts that perform throughout the day). We were in line for lunch when the BeauxBaton dancers were performing, so I only saw them from a distance, but we did get to watch the Hogwart's Choir (5 members of the Choir, anyway) complete with toads perform. They sang Something Wicked this Way comes, The Hippogriff song, and a bunch of other very-Hogwarts/Harry Potter feeling songs (many without actual words) a cappella. The animatronic toads were making noises over the sound system to provide an underlying beat to the songs and one of the 5 choir members was a beatboxer also contributing to the songs. And the director only sang during the final performance.

My attempts to record a video failed, but Universal posts their own videos (from better positioning than I had anyway, so here are a couple of them (the singers in these videos are not only a different lineup from the performance I saw, they sometimes sing different parts when they are the same performers).
And like I said, we totally missed the BeauxBaton dancers, but Universal was nice enough to post some videos showing what we missed.
One last observations - there were a lot of costumed attendees. Mostly kids, but quite a few adults. The dirty Hermione was a popular option amongst the heavily tattooed and generally day-glo hair colored female fans. I didn't get any photos (there are a couple of them in line for the Three Broomsticks in one of the photos above, but not a good enough shot that you can really see their costumed splendor), but here's a video I found on Youtube that exemplifies what I'm talking about -
I was going to point out a real-life Dilbert experience I had at work this week and possibly blather on about a few other things, but this was probably more blathering than most people can handle. Steve probably didn't even make it to the end of this thing.



Got something to say? Say it. (2 responses).


This page has been viewed







times since I started tracking hits.
(This is a rudimentary non-unique IP hit counter, so don't be too impressed)