Disneyland, The San Diego Zoo, my cell-away-from-home, and Comic-related stuff
I apologize (mostly to myself, since I'm the main audience of this drivel) that I haven't blathered on about any of the uber-exciting stuff that's been going on - or the books I've read - for a few months, but enthusiasm is low and all the time I thought I'd have with both kids out of the house...just hasn't materialized. But enough with the excuses. Here are a few of the things I've neglected to mention since August (the last time I talked about anything other than books I've read).


Current Cubical comics


To start things off, here are some photos from my current cubicle at work. I don't think I've shared my nerd wall since July of 2017, so let's just say there have been many different comic book selections hanging on my wall since then. The current selection is the first six issues of a comic book I acquired way back in 2007-2008 (back when I was a regular ComicCon attendee - before it became all about non-comic book stuff). Five of the six issues have sketches, signatures, and/or funny little comments (all but issue #1) on the covers from ComicCon, so that's fun.
Here's the wall.
The next set of comics on the wall will be from the amazing Mike Kunkel - Billy Batson and the Magic of Shazam. And/Or maybe a few Gus Beezer Marvel comics. We'll see if I ever get around to sharing photos of those. I totally missed the Death Dealer, Conan, Batman, Kill ShakespeareNeverwhere, and many other comic series that have each decorated my wall for a couple of months each, so don't hold your breath.

The Decline of the San Diego ComicCon


And speaking of the multimedia extravaganza that was once a comic book convention called The San Diego ComicCon, here is something I have planned to mention for at least a year. It's another indicator (beyond my own disinterest in what the ComicCon has become) that the San Diego ComicCon should just remove the word "Comic" from its name.
Mile High Comics, a big comic book store in the Denver area that has an inventory of millions of back issues and was one of the founding fathers of the ComicCon 40+ years ago, decided in 2017 not to exhibit in the 2017 ComicCon (or ever again, presumably). If you've been to ComicCon (for the comics, not just to rubberneck for Chris Evans and Scarlett Johansson), you've seen the gigantic booth along the back wall of the convention center floor. http://www.milehighcomics.com/images/email/sdbooth1.jpg I acquired a good part of the harder to find back-issues in my collection from Mile High. The only comic book I currently collect is American Gods (and Neil Gaiman-related hardcover graphic novels), so my own interest in comic books has changed over the past few years. Not due to a lack of interest, but more due to a lack of storage space. Regardless, here are a series of excerpts from post-convention emails Chuck Rozanski (Mile High's founder and fearless leader) sent out in 2017.
This is the first email Chuck sent in 2017 to warn his customers/mailing list subscribers of the Mile High Comics booth's absence:
To answer the numerous questions that we have been receiving of late, for the first time in 44 years, we will not be exhibiting at this year's San Diego Comic-Con. I wish that this decision could have been otherwise, but circumstances beyond our control made our further participation impossible. To explain, San Diego has grown far beyond its original premise, morphing from what was originally a wonderful annual gathering of the comics world, into a world-renown pop culture and media festival. As such, it has seen rapidly escalating costs, and also a dramatic change in the demographics of its attendees. Neither of those changes worked to our advantage.

click here to show or hide the full quoted excerpt

And here's a followup email Chuck sent in 2017.
For the past 43 years, the first day of the each San Diego Comic-Con was filled with hope and excitement for me. For decades, I could not wait for this wonderful gathering of all my friends from the comics world to begin. Beginning about ten years ago, however, the convention underwent a major change. Long-time SDCC supporters were told at the end of that year's convention that they were no longer going to be given the opportunity to purchase passes on Sunday evening for the following year. Instead, San Diego's most loyal supporters were told that they were going to be forced to enter an online lottery system dominated by hundreds of thousands of media and pop culture fans. Most comics fans were then shut out. In my opinion, it was that one callous decision that doomed the Comic-Con that we all once loved.

click here to show or hide the full quoted excerpt
This may not be of interest to anyone but me, but I'm a little bit sad that I no longer have a comic book convention full of artists and writers I admire (the small independent creators have long since been priced out of exhibiting) to look forward to visiting in July. Granted, I'm not exactly supporting the Comic Book industry with my one issue a month habit (American Gods). Maybe if the ComicCon hadn't b3ecoe what it is, I'd still be pouring tons of dough into my sequential art habit.


The Art of Emeli


And speaking of art, here are some of the amazing creations of my amazing daughter, Emeli. Each of these is fully painted and much more amazing than they appear in the poorly scanned or photographed representations you see here.
I could post so many more, but Emeli has been curiously shy about me sharing her talents online. In a weird way.
The Occasionally-Magical Kingdom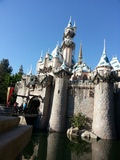 We went to Disneyland in December of 2017 and it was as crowded and unenjoyable as it ever seems to be. But I did take a few photos (probably a lot ore than this, actually, but I don't know where the others are at the moment). So here are a few photos that I took and forgot to take off my phone for many moons.
They're not super exciting, but a couple of them are things that just might disappear once the new Star Wars land opens next year. Snow White's castle at Christmas is always worth seeing.


We went to Disneyland again in September (2018) and, shockingly, it wasn't crowded. The good ol' crowd forecaster predicted "Ghost Town" crowd conditions (as it has erroneously many time in the past) and was actually spot-on. There were people there, so it wasn't exactly a "ghost town," but it was more like the Disneyland of yesteryear. There was no crowd to get in, no crowds for the rides I went on (Pirates of the Caribbean was a 5-minute wait), and the restaurants/shops were equally uncrowded. It was glorious.




One thing that was crowded was the security check points into the ticketing area. There were more Disneyland security and real policemen hanging around here than I've ever seen. But I guess this is the new normal because the next visit in October was just as security heavy. Welcome to the new world order - it's a Disney Police State.


Our first ride of the day (pretty much standard fare) was Pirates of the Caribbean. The line outside was nonexistent. There was only a single line to the boats inside. I'd guess it took no more than five minutes to get on the ride. So awesome.
I was surprised to see that Pirates of the Caribbean ride had been modified since the last time we visited Disneyland (maybe that's why it was closed for our previous visit).
It seems like the ambient narration script changed. For one thing, the "they've seen the cursed treasure..." part is gone. At least I think it is. Sad.
There's a new pirate in a cage being taunted by an octopus in a nook of the cave just before you reach the Captain in his treasure-filled room.
The ever-awful Davy Jones Squid-Faced fog wall is gone. As is the Davy Jones monologue.
And most disappointingly, the pirate bride auction is ruined forever. The redhead is now a pirate, the fatty is now selling chickens, and the other homely wenches are now elderly townspeople selling their valuables. Lame. Rewriting history all over again. I'm all for adding female pirates here and there (there were a few famous female pirates in the Caribbean), but does Disney have to ruin everything else to get them in the ride? Disappointed.
Here are a few Pirates-related photos.
A much less disappointing modification was the addition of different planetary tours in Star Tours (planets from The Last Jedi). While it's definitely the same ride, it's always nice to have new scenery. There were also apparently some changes made to the Indiana Jones ride, but it was closed earlier in the day and was too crowded once it re-opened so I skipped it.
Here are way more Disneyland photos from this visit than anyone wants to see.
All in all, a good day at Disneyland.



But then I had to go and ruin my warm, fuzzy memory with a follow-up visit in October. The forecast called for a 40% chance of rain, so we had high hopes for smaller crowds. Sadly, the only rain we saw was a light drizzle as we left the park in the afternoon.
The restaurants were as busy as they are in the spring or around Christmas (I don't do Disneyland in the summer, so I can't compare it to that) and we did the 5-hour parking thing again (with a sit-down meal in Downtown Disney) and I had my usual breakfast at the La Brea Bakery. I'm sure it was exactly the same as it's always been, but it didn't hit the spot, so I'll be trying something else if we return again in the future and want the free 5-hour parking.
I did revisit the WonderGround Gallery art shop in Downtown Disney briefly when we arrived and saw some matted prints of a couple of the big-eyed Disney/Star Wars characters for around $40 that I almost picked up, but we never made it back to the shop on the way out...so no new art to put in the garage this time. Another Downtown Disney observation - there was a ton of construction going on. And I was surprised to see the Rainforest Cafe was dead. That was a fun place to eat with the kids.
When we arrived at Disneyland, the line to get in was as short as it had been in September, so we were looking forward to another crowd-free day. The crowd-forecast calendar predicted an "It's all right" crowd - crowded, but not horrible. Initially, I thought the prediction was spot-on. And then I got inside the park. The crowds were out in force to admire the great Halloween decorations. Every ride's line was awful - the Haunted Mansion line was over an hour long. The Pirates of the Caribbean line snaked up over the bridge when we got there, but had somehow shrunk to just slightly annoyingly long (ending under the bridge) by the time we got off the Haunted Mansion ride.
A couple more comments about the Haunted mansion line: there was a group of four women in their twenties wearing matching red bathing suits (one-piece, Disney-related, I think) with shorts covering the bottoms (though one had pants on, as I recall). There was an abundance of side-boob from a couple of the women and one of the side-boobers was very attractive (the others were just okay). But I was doing my best to be un-creepy and didn't take a photo of them. Also in the Haunted Mansion line, there were a couple of red-headed young women who were very striking in different ways - Dr. Frankenstein could have made a nice Jessica Rabbit out of the parts. One had a very striking pale face and gorgeous green eyes under her bushy red hair and the other had a body with impossible curves, topped off with a face that was all too possible. Again, I was being un-creepy and failed to capture either in a photo.
We had planned to go visit the land of Disney again in October, but it was going to be in the mid-eighties on the Wednesday we planned to go, so we decided to go to the San Diego Zoo Safari Park (formerly known as the San Diego Wild Animal Park). I hadn't been to the Safari park in probably over 10 years (when it was the Wild Animal Park).
We have annual passes and were looking forward to the free parking that we'd always received in the past, but were surprised to be told that only the pricier annual membership granted free parking. Boo!
The highlight of the Wild Animal park was the tram ride around the open areas of the park filled mostly with African herbivores. I was surprised by the lack of carnivores that were part of the tour in the old days (as I said, it's been several years since I've been to the park). The lions were still apparently in the same place (we saw them after the tram ride), but maybe the fact that they were both asleep and oblivious to the world made mentioning them not worth the effort. I dunno. We also saw the baby animal nursery, a bunch of bird exhibits, and I bought some delicious fudge (so rich that more than just a tiny slice makes my teeth hurt. Awesomely delicious).
A few photos from the San Diego Zoo Safari Park trip.
Also unmentioned was a trip to the San Diego Zoo last month. It had also been quite a few years since we'd last visited the San Diego zoo(or had annual passes). Quite a bit had changed (mainly animal exhibit relocation - including the stinky flamingos up front). The Panda-viewing line was as long as it was a million years ago and probably not really worth the wait, but they are cute little critters, even if they just kind of lay there and eat the whole time you're watching them. The Koalas were just as cute and a little more lively.
The sky ride is still there and apparently free for everyone now, not just the annual pass holders. The new Tiger Trail was really scenic and awesome (not the actual tiger part - the tigers were hiding in the furthest corner in the exhibit almost out of sight). We only saw a fraction of the zoo exhibits and I didn't sample any delicious chocolate, so there's not much more to say, I guess.
Here are a few photos of the Tiger Trail.
There's a concert, some Balboa Park museum outings, a million books, and a couple of CDs I still plan to mention, but I'm out of steam and have a couple of book reviews to get to first...



Got something to say? Say it. (0 responses).


This page has been viewed







times since I started tracking hits.
(This is a rudimentary non-unique IP hit counter, so don't be too impressed)