Again, the window of opportunity has opened and closed before I could sneak through and write something intelligent here. I had finished Don't Panic and felt inspired. The words were flowig from my mind in a torrent, but there was nowhere for them to go. I was trapped without a means of capturing any of my thoughts. And now, many days later, they are gone again.
As I write this, my six year old is throwing inane question after question at me, doing her best to thwart my every effort to issue an intelligent thought.
Returning to Don't Panic...I was surprised to discover that the book was not exactly, as I had believed, a Douglas Adams biography. It was a guide to the Hitchhiker's Guide with a lot of Douglas Adams background information thrown in. Actually, the book wasn't so much a guide to the Guide as it was a guide to understanding Douglas Adams and how he created the Guide and his other "literary" works.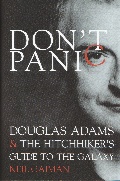 I have been looking for the actual biography mentioned in Don't Panic written by M.J. Simpson, Hitchhiker, but have, thus far, been unable to locate it. I do live in the good ol' USA, so it shouldn't come as much of a surprise that it's scarce...
I am far from finished, but I have too much to do tonight to go much further. Maybe tomorrow...