&nbsp
Leviticus Cross and other Hector Sevilla stuff

I've been meaning to mention a comic book I discovered a few months ago, tucked away in the corner of a comic shop, but I just haven't quite ever gotten around to it. It's a book called Leviticus Cross that is illustrated by one of my favorite comic book guys, Hector Sevilla, the artist who did another favorite, Lullaby.
Before I get into why I found Leviticus Cross tp be worth mentioning, I'm going to jump into the watback machine and talk about Lullaby to help explain why I was so excited to see another book illustrated by Hector Sevilla.
Lullaby is a story that merges Alice in Wonderland with other fables and children's stories (Treasure island, The Pied Pier, and Pinocchio are a few). The characters in the twelve page story are drawn with the exaggerated features that are typical of manga-style books and the landscape is very Wonderland-ish and surreal.





When I picked up the Lullaby preview a few years ago, I had serious doubts that I would ever see anything beyond this initial offering. Fortunately though, my predictions were wrong and the story spawned two story arcs before the publisher disappeared as small press publishers often do. But if you can get your hands on these comics, they're well worth the effort and cost.

L

ife used to be a fairytale.
Maybe not in a real sense, but like many children, life seemed a lullaby to me.
Where fathers are heroes who keep you from harm.
And mothers nurture you and fill your life with happiness.
Yes, life was a fairytale indeed.
The cover art, typical of comic books, is very striking. But, unlike most other books, the interior art is just as vibrant and every bit as well done. The interior pages of the preview issue were black and white (and even though they felt only half-finished, they were still beautifully done). The fantastic elements of the art, though less than clear in this unfinished state, were still apparent and promised great things to come - as you can see in the finished versions of the pages from the first issue.
A brief explanation of the story and characters: In this version of the Alice legend, Alice is thrust into Wonderland by a white rabbit, via a much different portal - an automobile accident. She has almost no memory of her origins, beyond her first name. Through a series of events that are only briefly alluded to, she becomes "the Hand of the Queen" (of Hearts) and a matchless warrior in Wonderland. The preview issue was kept intentionally short, so it wasn't until the first full issue that I met the other primary characters from other familiar tales and learned more about Alice and her mission.
In the full length first issue of Lullaby, Alice's character and her "mission" for the Queen are explained more thoroughly. Alice is seeking an unexplained evil in Wonderland and all clues point to Oz (yeah, that Oz). On her way, she meets and joins with several other familiar faces. The locations and the characters are all familiar...but none of them are exactly as you might expect them.
The main cast consists of five characters: Alice (from Alice in Wonderland, with the Cheshire Cat ever near at hand), Piper (heir to The Pied Piper), Pinnochio (the very same), Red Riding Hood (from Little Red Riding Hood) and Jim Hawkins (from Treasure Island). There are other characters (Hansel and Gretel have a brief role), but these five are the focus of the various plot lines. Pinocchio and Jim Hawkins are traveling together, as are Red Riding Hood and Piper, until the groups converge and discover that their destinations are the same: Oz.

The characters: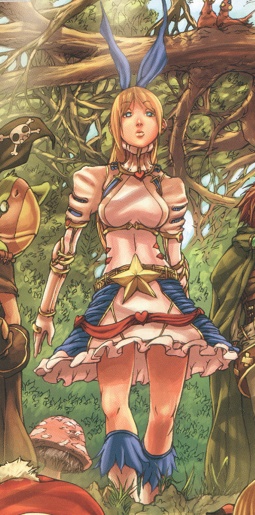 Alice
My name is Alice.
I have many titles.
General.
Hero of the War of Six Armies.
Champion of Wonderland.
Hand of the Queen of Hearts.
And most recently, leader of this ragtag band of travelers.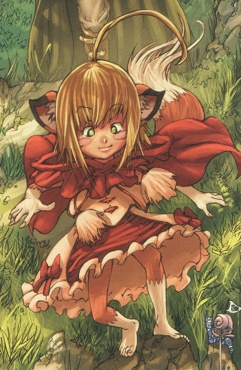 Red Riding Hood
My name is Red Riding Hood.
And I Hate the way she says it.
She uses it to call me like a dog!
But I am not a dog.
I may smell like a dog - heehee, that's not what I meant! - but I'm a girl, and ever since I was bitten by Big Bad Wolf, I think I'm a little bit wolf, too!
Pinnochio
It was given the name Pinocchio by its creator.
It wishes it had a new name. Not because it hates its creator, but because its creator would not like what it has become. It was once a wooden boy whose one wish was to be a real boy.
That wish came true.
Then that wish was torn from it, and now it is wooden again.
And something a bit more...
It is different now, but its name is the same.
It is called Pinocchio.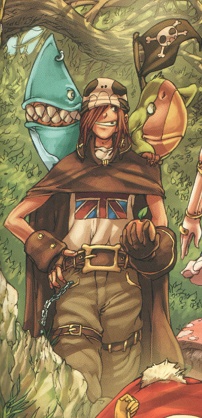 Jim Hawkins
I've carried the name Hawkins with pride since I was a young lad.
And now that I be an older lad, it still swells the sails of me heart with gales of pride when I think of me dear mother.
Me thirst for excitement overtakin' me soul, dear mother consented not once, not twice, but thrice to allow me to search the seven seas fer adventure, though break her heart it did.
Dear old mother, the only woman for me...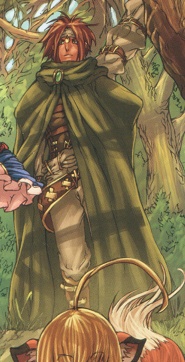 Piper
My name is Piper.
At least, That's the name my father gave me after he stole me.
My father was a kidnapper and a thief.
No matter how the legends spin themselves, the Pied Piper was a kidnapper who stole children right from under their parents' noses. I know that for a fact.
He said he only took children from bad parents and gave them to good parents - had some sort of deal with the storks - and that may have been true.
But he stole children and after he stole me, he kept me.
Saw my aptitude for the flute, he said.
He taught me to play, and play well.
But I rejected his vocation.
Still, I think it was his legacy of darkness that makes it easier for some evils to overtake me.
He gave me that legacy. And he gave me my name.
My name is Piper.
The first arc of the story was published by Image Comics (with Alias receiving a brief mention inside the front cover), but the second arc was published solely by Alias Comics (a local company from La Mesa, California). Sadly, Alias foundered and is no longer around. The guys behind Alias tried to re-open as Abacus, but that company seems to be stuck in no ma's land as well (it has been "about to open its doors" for a couple of years now).
Speaking of the Pied Piper, there's an older comic mini-series called, appropriately enough, The Pied Pier of Hamlin. It was published in the early nineties and has some really cool black and white art by Dave Cooper. I don't think (it's been a few years) there are many surprises in the book, but it is a fun story with unique art. Maybe I'll mention it in more detail one of these days. The Pied Piper story is also the basic premise for The Amazing Maurice and his Educated Rodents by Terry Pratchett - a story for children that doesn't feel like a children's story.

An now, back to the original subject of the post: Leviticus Cross. It's probably easiest to just give you the Prologue from the first issue (which is, sadly, the only issue I've ever seen - it's probably time to try and order it somewhere online) than it would be to try an explain what I've read so far.

Prologue


---



When men began to increase on earth and daughters
were born to them, the divine beings saw how
beautiful the daughters of men were, and took wives
from among those that pleased them. The Lord said,
'My breath shall not abide in man forever, since he
too is my flesh; let the days allowed him be one hundred
and twenty years.' It was then, and later too, that
the Nephilim appeared on the Earth: when the divine
beings cohabited with the daughters of men, who
bore them offspring. They were the heroes of old, the
men of reknown." - Genesis 6:1-4

Gods and mortals have always had something of a
complicated relationship, as much of it has been
formed by whimsy as by careful planning, or even
on occasion by war. The root of this most volatile
relationship is found in the feud between divine
offspring, namely the Giants and the Demi-gods.

There had never been war between them - only
festering hatred. The most powerful of the mortals,
Giants had been designed to act as the personal
guard to the Angels.

But when Angels started interbreeding with
humans, the Giants found their official connection
to be a poor substitute for a blood relation. Pushed
into the shadows by the Demi-gods' gaudy and
capricious antics in the mortal world, the Giants
retreated to the North Mountains.

They chiseled their home out of the mile-high peaks
of granite, all the while keeping careful note of how
the Demi-gods abused their power over the mortals.
When the Demi-gods eventually tired if "lesser
company," they also retreated to build their own
city. At this the Giants smiled.

This meant war...
Actually, Genesis 6;1-4 in my Bible reads a little differently, but there are so many versions out there that the above could be in one of them. Or maybe the above is just a creative interpretation of the original. Who knows?
And it came to pass, when men began to multiply on the face of the earth, and daughters were born unto them,
That the sons of God saw the daughters of men that they were fair; and they took them wives of all which they chose.
And the Lord said, My spirit shall not always strive with man, for that he also is flesh: yet his days shall be an hundred and twenty years.
There were giants in the earth in those days; and also after that, when the sons of God came in unto the daughters of men, and they bare children to them, the same became mighty men which were of old, men of renown.
Thor is a major player in this story, as are the other residents of Asgard. And the art is just as well done as in Lullaby.




But, to be honest, the writing/storyline of Leviticus Cross doesn't appeal to me in the same way that Lullaby does. Still, I'm hoping that it grows on me. Obviously (if you've read any of my other rants), I have a soft spot for Children's books.



Got something to say? Say it. (0 responses).


This page has been viewed







times since I started tracking hits.
(This is a rudimentary non-unique IP hit counter, so don't be too impressed)