Music even an old geezer can love
Meg & Dia at SOMA, San Diego - September 18, 2019


There are probably only three1 currently-touring musical acts that I'm really interested in seeing live. Dia Frampton (and now even more so, Meg & Dia) is one of the three. So when I head Dia announce on Twitter that she would be touring and coming to San Diego, I went online and immediately bought tickets. And, not surprisingly, I'm glad I did.
If you missed out on Meg & Dia's earlier albums, you can still get a few of them from HelloMerch (and see the band's original line-up).



I'd never been to the Soma venue that Meg & Dia were playing, so I wasn't sure what to expect. There was plenty of parking, which was nice (maybe it would have been worse with more well-known performers), and it's located just down the street from the Sports Arena. The venue itself looks like an old movie theater and was standing room only inside the SideStage room (I don't know what the MainStage room looks like or what it offers for seating). By the end of the 3-hour show, my legs and feet were barking. I'm too old to stand in one place for hours.
Before the show started (I'd arrived early, not knowing what to expect), I picked up the HappySad CD (I'd been waiting to buy it because I was hoping there would be signed CDs or maybe a CD signing event, but if there was, I missed it). I was tempted to buy the vinyl record version of the album, but I decided to pass on it. Now I'm wishing I had picked up the vinyl.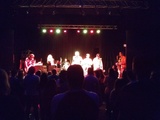 The show started just before 8:00 with the first opening act, a local San Diego band I was unfamiliar with, Glamour Waves. Glamour Waves reminded me a little of No Doubt, mainly because the lead singer is a tiny little pixie with long blonde hair, which she constantly flipped around, and way too much weird eye makeup. She wore fishnet stockings and a t-shirt that fell down to mid-thigh. If there was anything on under the t-shirt, I didn't see it. The band consisted of the blonde lead-singing pixie, a guitarist, a bass player, 2 saxophone players, a trumpet player, and a drummer. The brass section didn't play in every song but they were a nice touch on the songs they did contribute to. I can't honestly say I cared much for any of Glamour Waves' music, but the acoustics of the room/volume of the amplification made it a big muffled mess so I couldn't really judge it fairly. The bass player was a character and the lead singer (I wish I had names, but I can't find anything online) was pretty enthusiastic. Sadly, the distorted, blaring audio made pretty much everything she said into muffled noise. It was like being inside a Peanuts cartoon. Part of the problem may have been the volume level of the microphone. I don't know. I do know that the speaking and singing of both was pretty much a solid wall of noise.

Next came an L.A. band I'd also never heard of, New Dialogue. This was a smaller band: a heavily tattooed female lead singer wearing leather short-shorts and a tube top, a male singer who also played guitar and reminded me of a Talking Heads cover band performer, a skinny mustached guy on guitar, a bearded guy on bass, and a drummer in a hoodie who looked like he was hiding from the law. Their songs were pretty generic and not all that interesting. And they also suffered from the same audio-difficulties of the previous act.
Finally, an hour later, Meg & Dia's crew got to work prepping the stage for their performance2. Meg & Dia's guitarist (co-guitarist - Meg also plays the guitar very well), Carlo Gimenez, was doing some fun crowd-work while walking back and forth across the stage. He was very entertaining - before he even picked up his guitar. There was no sign of a bass player. And the drummer was introduced as a new band member, so I don't know what happened there. The new drummer was a lot of fun to watch during the set, as he twirled him drumsticks and never missed a beat. Unfortunately, the percussion was too much for such a compact venue and just drowned out everything else (not just with Meg & Dia - it was a constant for all the bands). And maybe it was more familiarity with so much of their music, but I recognized and followed along with most of their songs (not the new ones on the album I'd just acquired, of course), There were a few songs that were more stripped down with just Dia's vocals and Meg on guitar and sometimes singling, too. Those were magical. One was Dear Heart, which is a song that I suspect was about the separation the sisters felt during the past several years following Dia's attempt to become a solo artist. Dia had to stop singing at one point because she started crying. She did recover and fish the song, but it was a touching moment.
Here's the album version of Dear Heart, which is almost as good as the live version was. Enjoy. And then go buy the album.

Between songs were many stories told by both Meg and Dia. Events like shoe shopping and Dia's new jacket, and a few about their childhood. It was so interesting to hear about their actual life events. Also so sweet and wonderful was Dia's tiny sweet little voice saying "Thank you" at the end of every song. I loved it when Dia did the same thing on her last tour. She's so adorable. And I'd never seen Meg in person before, but...wow. She's even more gorgeous than Dia. I wish I'd been able to get a photo of Meg that captures just how attractive she is in real life because no photo I've ever seen does her justice. The Frampton sisters share some great genes.
Meg & Dia finished their set strongly with Monster, one of the not-stripped down songs. and even through the crowd was tiny and many left after Monster, enough weirdos stuck around and kept clapping and cheering to get Meg & Dia to come back and do an encore. Unfortunately, they hadn't done an encore in their earlier shows and Dia said they'd already performed all the songs they had prepared. Carlo came back on to the stage and whispered something off-microphone to the girls. After Meg and Dia discussed things (also off-mic), Dia announced that they were going to perform a stripped-down version of one of their new songs, Teenagers. And it was beautiful and amazing. And should have been on the album this way.
Here's the video for Monster. The live performance, and a more experienced Meg and Dia, made the live version of the song different - and maybe a little better. But there's something charming about the younger Frampton sisters' performance, too.
Here's a full set list of the songs they performed.
Better at Being Young
Warm Blood
Roses
Indiana
Are There Giants Too, In The Dance?
Teenagers
Lit Match
Nineteen Stars
Setting Up Sunday
My Ugly Mouth
Boys Can Cry
Cardigan Weather
Going Away
The Middle (Jimmy Eat World cover)
Dear Heart
Koala
Fighting for Nothing
Monster
Teenagers (Stripped down version)
One final comment about this show. It was advertised as an "all ages show," but there were more than a few f-bombs lobbed during the between-song spoken bits, mostly from the male co-singer in New Dialogue. Only one came from Dia, though she did share a few other words of a non-f-bomb, yet still profane, variety. There were also a few songs that violated the "all ages" label - mostly from the two opening bands.
One final (and late) comment not-about-the-show: I just listened to a Podcast (Just A Tip with Megan Batoon) that Meg & Dia were guests on. I had never, prior to this episode, heard of this Podcast, but I really enjoyed it. It was, surprisingly, not very much about Meg & Dia's music and mainly just about dating. Throughout the episode, I struggled to tell Meg & Dia's voices apart, which seems weird because Meg has such a distinctive voice. Loved getting to know both girls just a little better.



There's still a bunch of stuff I plan to mention someday (mostly fun trips over the past year or so), but I think the book-blather tsunami is probably up next. Or maybe I'll squeeze in some Disneyland blathering. Or maybe a little Susie Cakes blather. Who knows?


1 The other two performers are Xenia (another discovery from The Voice) and Grace Vanderwaal (who I only found out about after she won her TV talent show, so I was late to the game). Admittedly, I wouldn't say no to Green Day, Chris Isaac, Living Colour, The Lemonheads, or many of the wandering 80s bands that pass through town, but I have been a little lax in seeing shows from many of the above when they passed through town over the past few years.
2 It was interesting to watch each band (with the help of a couple of guys who I assume work for the SOMA venue) setting everything up and tearing it down between each band's set.



Got something to say? Say it. (2 responses).


This page has been viewed







times since I started tracking hits.
(This is a rudimentary non-unique IP hit counter, so don't be too impressed)