Warcrack relapse?

I managed, after no small effort, to escape from Azeroth last year. I had been spending hour upon hour of my free time sitting in front of my computer, exploring the rich and diverse landscapes of a virtual world and working to build up the skills, fortunes and magical prowess of my online persona, Gnomdalf (as well as a few other less well-used characters). As uninteresting as this sounds to someone who has never indulged in World of Warcraft, I think you would be surprised at just how addictive this game becomes after you've given a try. It doesn't hook everyone, but for misanthropic trolls like myself, this game is hard to put down.
But I managed. And I even stayed relatively clean for about a year. I have been playing a few non-Massive-Multiplayer-Online-Role-Playing-games that were all but forgotten when I discovered WoW (Battle For Middle Earth I and II, Pool of Radiance and most recently, Diablo II), but I haven't really felt the same compulsion to play any of these other games - they're just time-killers when I'm bored. That said, I did finally finish both Battle for Middle Earth games and Pool of Radiance. My efforts in Diablo II are ongoing.
Between the monthly charge to play WoW (it's around $15), the need to buy the expansions periodically (which I haven't) and the addictive nature of the game, I'm pretty sure I need to stay away. But Blizzard wants me back, and they're dangling a pretty enticing lure to hook me again: a free 10-day pass and a free upgrade to the first World of Warcraft expansion pack, The Burning Crusade (which is going for about $20 now, I think).

I have to reinstall WoW (it has never been installed on my current PC) to install the free expansion pack and then I'm going back to Azeroth. For at least 10 days. We'll see if I can break free after that. Or if I can resist the Lich King expansion pack that's coming out this week.


(Here's a high-res AVI version of the trailer video)
Speaking of the Lich King, there are two comic book titles (published by WildStorm, a division of DC) set in the WoW universe that I've been enjoying almost as long as I've been WoW-free.






The WoW comics fill a part of the void left when I abandoned the game and one of them even fills in a lot of the back story that isn't really ever addressed in the game (the origins of the Scarlet monastery/Scarlet Brotherhood and the Lich King's henchmen were revealed in issue #2 of WoW Ashbringer). And the art is well done, too. The familiar locations, critters and races are depicted with such familiarity that the artists must also be players.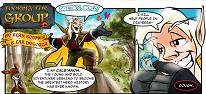 On another WoW-related tangent, I stumbled upon a great (for geeks/Wow players) web comic called Looking for Group a few weeks ago. It's not exactly Warcraft canon (as the comics try to be), but it's very similar and is quite often very funny.
Okay, okay...one last WoW reference and then I'm done. I saw - months ago - news of another WoW game: World of World of Warcraft.

Too funny.


Okay, I'm done.



Got something to say? Say it. (0 responses).


This page has been viewed







times since I started tracking hits.
(This is a rudimentary non-unique IP hit counter, so don't be too impressed)