The Dinosaur Lords vs Dragon Teeth
The only two Michael Crichton books I've read have both been unfinished drafts published after his death. I really enjoyed both of them immensely, so I don't know if I'm a huge Michael Crichton fan or a huge fan of whoever finished these books.
The only other Crichton book I've ever read, Pirate Latitudes, was a fictional, but very well-researched and real-feeling, tale of pirates in the Caribbean. Very similar to, in my opinion, On Stranger Tides, but without the Voodoo, extra-dimensional Fountain of Youth stuff, and magic. Surprisingly, I've only ever mentioned Pirate Latitudes one time on this sorry excuse for a site. And that was only a mention of books that I had on my to-read shelf. I know...I suck.
But I'm trying to do better. I'm not really doing much better, but I have at least kept the more recently-read books to be mentioned (I hesitate to call what I do a "review") in a separate stack on the to-read shelf where they can remind me what a waste of space I am. Baby steps, I suppose.
I don't remember enough about Pirate Latitudes to say anything more about that book, but the other Crichton book I've read is the much more recently published Dragon Teeth - a paleontological romp through the old west. This one I read a couple of months ago, so it's at least slightly more fresh in my memory.
The other Dinosaur book I'm going to mention is The Dinosaur Lords by the recently deceased Victor Milan, which I read just a month or two back. While it is, admittedly, completely unrelated to the Old West story in Dragon Teeth, I wanted to mention this novel with Dragon Teeth because they both involve dinosaurs (kind of a stretch for Dragon Teeth, but still). Another trait they share is authors who won't be contributing to further adventures of these characters (there are actually two more books in The Dinosaur Lords series on my reading shelf that were published before Victor Milan passed, but I haven't made it to either of those yet - I'm hoping the story was wrapped up by book three - there are some big questions in need of further exposition in the first novel).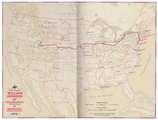 Before I get into each book, here is another similarity they both share: maps of the locations in the stories (each one is a two-page map that I have attempted - poorly - to combine into a single image).



Dragon Teeth

Dragon Teeth is your basic fish-out-of-water, rich kid goes dinosaur fossil-hunting in the uncharted west type of story. You know, that old chestnut. The main character is extremely unlikable when we meet him.
William Jason Tertullius Johnson, the elder son of Philadelphia shipbuilder Silas Johnson, entered Yale College in the fall of 1875. According to his headmaster at Exeter, Johnson was "gifted, attractive, athletic and able." But the headmaster added that Johnson was "headstrong, indolent and badly spoilt, with a notable indifference to any motive save his own pleasures. Unless he finds a purpose to his life, he risks unseemly decline into indolence and vice."

click here to show or hide the full quoted excerpt
As our entitled, unlikable protagonist gets the shaft from various parties throughout the book, he ends up in a familiar place from old west folklore - Deadwood, South Dakota. But along the way, he has a few run-ins with the natives and rogue U.S. cavalry soldiers.
"We"re done for," Morton moaned.

"Any minute now we'll hear those arrows whistling," Isaac said, "and then, when they get closer, out come the tomahawks - "

click here to show or hide the full quoted excerpt
Once he makes it to the fabled Deadwood, he witnesses a little bit of Kung Fu-ish Chinaman-abuse, falls for Miss Emily, an old west lady of the night, meets the Earp brothers, and becomes a whole lot less entitled and more self-sufficient. Maybe not a "whole lot" more, but at least a little more.
Here's are a couple of excerpts showing the true nature of his new friend when she tries to sell him out to the local outlaws and our first introduction to the Earp brothers.
"So you said you would ask me?" he said, feeling hurt.

She looked down, as if ashamed. "I was curious myself, too."

"They really contain bones."

"I see that, now."

"I don't want them - I don't want anything to do with them - but they are my responsibility."

click here to show or hide the full quoted excerpt
A little later in the story, Wyatt Earp - bodyguard - steps into action.
"That's right."

The boy gave Johnson a note, and scampered away. Johnson opened it, read it quickly, and crumpled it.

"What is it?" Miss Emily asked.

"Just a good-bye from Judge Harlan."

click here to show or hide the full quoted excerpt
Dragon Teeth is filled with loads of historical fact (the basic premise of the story is the rivalry between real-life paleontologists Edward Drinker Cope and Othniel Charles Marsh - both are characters ni the book) and reads like one of David McCullough's non-fiction historical works (of which I've read many and enjoyed each one). It's not exactly an E-ticket thrill ride - there are some dry parts here and there (as there are in real life). I'm sure I'll read it again when I get tired of buying new books - it was that enjoyable and well-written.
Funny enough, another book I recently read, Huck Out West, also links to the old west and Deadwood, South Dakota. More about that later. Before I move on to The Dinosaur Lords, one last excerpt from Dragon Teeth - the afterword penned by Michael Crichton's wife.
His work is as relevant and engaging as ever, as demonstrated by the gigantic success of the Jurassic Park franchise, and in HBO's reimagining of his classic film Westworld.

click here to show or hide the full quoted excerpt
The Dinosaur Lords

Funny thing about The Dinosaur Lords - the blurb on the cover is from George R.R. Martin. And he makes a reference to his own series, saying "It's like a cross between Jurassic Park and Game of Thrones" (lookee there, another Crichton tie-in with The Dinosaur Lords).
There's no doubt that The Dinosaur Lords is very Game of Thronesish. Very. But with a few major differences. The following excerpt is very House Lannister (Jaume and Melodia are cousins).
The herald's tabard swelled to an extra-deep breath. "Comes now the Imperial Champion, the Knight-Champion of Our Lady Bella, el Conde dels Flors, JAUME!" he bellowed.

The crowd erupted in ecstasy as Jaume rode onto the field from between the gaudy silk banners that screened the waiting contestants. It thrilled Melodia to think that her lover might be the most popular man in all Nuevaropa. Certainly the Mercedes adored him.

click here to show or hide the full quoted excerpt
Hee's another very Lannister scene in the The Dinosaur Lords (very reminiscent of an iconic moment in the TV series and the novel form of Game of Thrones).
"Your Highness," the Pope said to Melodia over a golden tureen of strider-tail and vegetable soup. "Certain rumors have reached my ears."

For Melodia the usual dinnertime hubbub in the banquet hall was abruptly overridden by ringing silence. Hearing nothing but the drumming of her own pulse, she showed Pio an expression that was more pulling her cheeks up under her eyes than an actual smile. The eyes of the courtiers at the great table seemed to sear her skin.

click here to show or hide the full quoted excerpt
There's no shortage of sexual references, though there's not really anything too-graphic. Non-Spanish characters are few, but there's a German one in this excerpt (another, Karyl, would seem to be Russian, and there are a couple of minor British characters mentioned).
"Bitch!" Llurdis said.

"Sow!"

"Puta!"

Melodia's stare turned from shocked disbelief to fury. The pair showed every sign of being about to launch one of their full-blown wrestling/lovemaking bouts, out here in front of Melodia's father, the gods, and everybody.

click here to show or hide the full quoted excerpt
The strapping German knight isn't a good dude and his subsequent actions bear this out.

Each chapter begins with a sketch of a Dinosaur, with or without a knight perched on its back, and a blurb about dinosaurs or a quote from The Histories - the tome that the world's religions and even the governments are founded upon. It's unclear what's happening elsewhere in the world, but The Histories are definitely yhr final word in this corner of Paradise.
Now, the major differences from Game of Thrones -
One, instead of Medieval England/Northern Europe being the template for most of the major players in the story, the major players in The Dinosaur Lords are Spaniards. Spanish is the primary language of the day and Spain appears to rule supreme (which did actually happen for a little while, even in our own timeline) - though it's possible that these opinions might just be those of the protagonists in the book and the actual major powers of the era are somewhere outside the scope. Who knows?
And secondly, in this timeline, Dinosaurs managed to survive and flourish into the middle ages of this universe. They're food, they're beasts of burden, they're more common than most mammals. So that puts an interesting spin on the events of the story. But, and here's one of the big twisteroos, there are clues that this isn't Earth. It's a smaller planet that was colonized by Earth natives. But who? And why?
A possible clue comes from one of the chapter header blurbs from The Histories:
Hogar, Home, Old Home - When they were done making Paradise, and found it good, the Creators brought humans, their Five Friends, and certain useful crops and herbs here from the world we call Home. Ancient accounts teach us it is a strange place. It is cold, and we would feel heavier there, and find the air much thinner. The year is 1.6 times as long as ours. We must admire the fortitude of our ancestors in dwelling on such an inhospitable world, and always praise the Creators for bringing us to our true Paradise!

- A PRIMER TO PARADISE FOR THE IMPROVEMENT OF YOUNG MINDS
Two of the characters (the two I find the most endearing and noble) are very R.A. Salvatore-ish. Or maybe they're not, but they remind me of his characters from the Saga of the First King series (which I've probably also neglected to mention here in any detail. Most of the other characters are less endearing, but very medieval in their behavior.
Here's a really long excerpt or two or three) to show you why these guys rock.
"Stop!" the archer cried. "Hand over the hook-horn and your purses, and we'll let you leave with your lives."

Little Nell sighed resignedly as she came to a halt. Walking at her side, Rob Korrigan concurred.

The afternoon light dappled the leaf corpses that mostly hid the ruts in the indifferently maintained road, and filled Rob's nostrils with a rich, dry, small as they slowly turned into humus. A cuatralas, black as a baron's heart, glided from branch to branch, chasing a purple-and-yellow butterfly. Tiny birds twittered to one another among the leaves of tall gingkoes and false plane trees, which grew far enough apart to allow enough sunloght to filter down to sustain a thriving undergrowth of barberry, ferns and scrub oak.

click here to show or hide the full quoted excerpt (there's a lot)
I highly recommend both books, but if you're less of a Sci-Fi/Fantasy nerd, Dragon Teeth is probably the surer bet.


Oh, and I'll get to the other mentionable stuff soon-ish. Maybe.



Got something to say? Say it. (0 responses).


This page has been viewed







times since I started tracking hits.
(This is a rudimentary non-unique IP hit counter, so don't be too impressed)