&nbsp
Return to Potterland!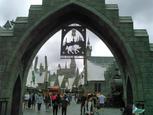 I had really planned to blather on about a whole bunch of books that I've read over the past few months (the list continues to grow), but I haven't found the time or enthusiasm to sit down and say what I liked or disliked about each of them. I still haven't made it through my re-read of The Magicians and now it's been so long since season one of the TV adaptation ended that I don't know how much I even remember about the differences between the two (and why the book is so, so, so much better).
So, all that said, it's time to ramble about something else I love: The Wonderful World of Super-fun Harry Potterville!
The family was supposed to go together in mid-September for another visit, but both kids decided there were other things they'd rather be doing, so it was just the little woman and me. Which was a lot cheaper food-wise, so my inner-cheapskate was happy about that. But my inner-child wanted kids to enjoy the Potterness and Deadness with (there was quite a bit of Halloween stuff up already), so it was a little disappointing. Here are a few of the Halloween-themed decorations around the park).

Sadly, the crowd-prediction calendar was a little bit off in their "Ghost Town" prediction for the day we went. It was less crowded than the July visit, but certainly a lot more crowded than I expected. At least there was no outdoor line for the Hogwarts ride...so my alabaster skin didn't get another unexpected douse of cancer-causing radiation. I suspect the crowd-prediction algorithms are still working with the pre-Potter and pre-Walking Dead crowds, so I'm beginning to lose confidence in their soothsaying abilities.
I did try to take a lot more photos of Potterville this time around. And tried to stand still inside Hogwarts when taking the photos this time, but the darkness thwarted me in most of the photos. Still, there are a few good ones capturing things I haven't shown before. And I haven't bothered to take many out, so there's a lot of blurry, out-of-focus drek here...

I always pick something up from Honeyduke's when we're there, too. This time I decided to try the Dark Chocolate wand (What's a DeathEater's favorite kind of chocolate?). I still haven't had the heart to open it and eat it. It looks too awesome in its box.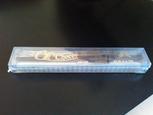 We also took a stroll around the French Quarter (or whatever Universal Studios calls the France-themed area across from Potterton), found Sherlock Holmes's door (and his shadow), and noticed some additions to the exterior of The Walking Dead ride (it was closed the first time we hit it and the line was too long when we returned, so we skipped it). They may have totally updated the interior of TWD ride, too. I guess I'll find out when we return in a few weeks with the kids.

There's a bunch of other stuff I've jotted down notes about to mention, but nothing else I really feel like getting into. Here's one thing, though - a Lease Mileage Calculator.
As I mentioned, I leased a Nissan (which is still too-awesomely fun to drive) and am finding the biggest drawback to the lease to be all the mileage I'm tempted to put on the car. So I decided I needed a way to determine two things:
1) How far over-mileage is the car at a given moment?
and
B) How much is my excess driving going to cost me?
So I broke out the lease to find the terms and then created a spreadsheet to calculate all that stuff for me. I then decided I wanted to be able to do it on the fly, so I created a web page that I could pull up on my phone while still in my car. And here it is:
Oh, I also finally figured out how to connect my Kyocera phone to the Sentra's built-in phone thingy and got the cargo net installed in the trunk by a trained Nissan professional (which had just been riding around un-installed for weeks). So I've got that going for me, which is nice.
My list of Topics Nobody Cares About, But That Won't Stop Me From Mentioning Them is still long, so maybe I'll return before the next Potter trip and talk about some of them, but it seems unlikely. Unless I find myself with a lot more time on my hands than I expect to have.



Got something to say? Say it. (2 responses).


This page has been viewed







times since I started tracking hits.
(This is a rudimentary non-unique IP hit counter, so don't be too impressed)