I'm a Dweeb, and if you're here, you probably are too!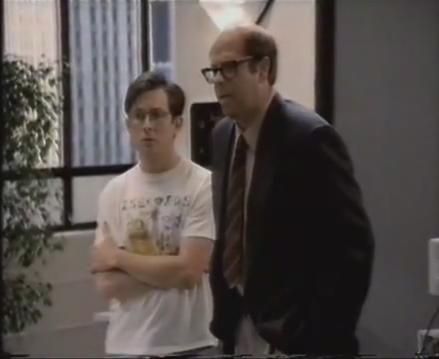 I don't remember what exactly made me take this particular pathway down memory lane, but I was recently re-introduced to a TV show from 10+ years ago that I had forgotten all about, Dweebs. It was a short-lived series (lasting just 10 episodes) that was apparently too far ahead of its time. I've read online reviews comparing this show to The Big Bang Theory (which did start out with a bunch of socially-retarded guys and a technically-retarded girl, but has evolved beyond its original premise into something barely watchable), but I think it bears a much closer resemblance to a BBC show that recently ended its run - The IT Crowd. While both shows are populated with technically-intelligent social misfits, BBT doesn't combine the attractive non-misfit in a work setting (as do both the ITC and Dweebs) and the obvious difference is the field of expertise of the misfits: rocket scientists vs. computer nerds.
As I've scoured the interwebs in pursuit of these phantom ten episodes, I've discovered something quite strange - they don't seem to exist anywhere on DVD. I can't find legit or bootleg versions. Just about any store that sells videos has almost every crappy TV show from the past 60 years on DVD (well, Target does, anyway). With the success of both BBT and IT Crowd - both of which are available on DVD - the omission of Dweebs seems odd.
The only episode, s01e01, that I've been able to find was actually on Youtube in three pieces, so here it is in all its low-resolution glory as a single video file:

I've been planning to mention other stuff (you'd think there would be plenty to blather on about since it's been almost a year since the last update), including my WonderCon trip and the stack of books I've acquired/read recently, but I just haven't felt particularly inspired to share. Maybe later. Or not.



Got something to say? Say it. (0 responses).


This page has been viewed







times since I started tracking hits.
(This is a rudimentary non-unique IP hit counter, so don't be too impressed)