A little of this, a little of that...
When I listed my recent musical acquisitions, I neglected to mention another album (the vinyl kind) that I picked up last year in November that was nearly as satisfying as the Icicle Works album find: Bowie's Scary Monsters.
Scary Monsters is an even older album than Icicle Works (1980 vs 1984), but this record isn't 1980 vintage vinyl. It's a brand new new pressing on heavy-duty vinyl. And it didn't cost $10 (including shipping). Since I bought it from Amazon shipping was free, but the album itself was around $20.

Scary Monsters, David Bowie


There aren't a ton of songs on Scary Monsters that saw radio play back in the day, but it does have three songs that old geezers like me should be very familiar with: Scary Monsters (And Super Creeps), Ashes to Ashes, and Fashion. Among the many cassettes in my trunks of treasure is a Scary Monsters cassette (and a bunch of other Bowie cassettes) that haven't been touched in years.
Scary Monsters (And Super Creeps) is, by far, my favorite song on the album. I don't know that it's a great Bowie song, but it holds a special place in my heart. And when I think about the song, it brings back memories of listening to this album as I walked home from a record store...somewhere, with my ancient non-Walkman cassette player hooked to my belt (absurdly huge by real Walkman standards), and orange-padded headphones perched upon my head. It was in California. Somewhere. Maybe Covina. Maybe Mira Mesa. I'm just not sure. I have a similar memory of acquiring Led Zeppelin IV.

---
Further Adventures in Leasing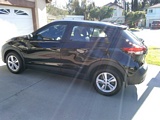 My super-sweet Sentra lease ended a few months ago, so I had to go car shopping. I saw a Nissan Kicks on the lot, which looked kinda like a slightly smaller-scale Rogue1, and I thought it would be a fun upgrade from the Sentra.
The Kicks is pretty much the same size as a Sentra, with a slightly different shape, but the back seat seems much smaller than the Sentra's. And the Kick's mileage, which is supposed to be roughly equivalent to the Sentra, has been a few miles per gallon less than the Sentra's mileage (32.5 compared to 35.5 on average). But the Kick's stereo is way better than the old Sentra's (although a new Sentra's stereo probably would have been exactly the same) and the interior (even in the lowest-end model) is pretty sweet. It reminds me more of a Mini Cooper's interior style.
The Kicks cost a few thousand more than the Sentra, so I probably should have just gone with another Sentra since I really had no complaints with the Sentra I leased last time. I guess my inner-Veruca Salt (not the band - the film character) won out and I just had to have something new.
I got it in black, of course. I had a bunch of photos of the interior (including my sweet Batman car-seat cover), but I can;t find them.
---
The cubical, revisited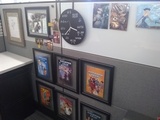 I've mentioned my cubicle decor here a few times since I started decorating it with comic books, so I'm going to do it again. When I first started going insane with the cubicle, I had just one huge wall to crap up. I probably had no more stuff on the walls then (or maybe even less stuff) than I do now, but it was a more public display of by complete dweebish-ness.
For a trip down memory lane, I mentioned it in these posts:
March 2016
July 2016
December 2016
January 2017
July 2017
November 2018
There have probably been other mentions, but these are the ones I can find (the Badbartopia search engine, powered by Google, needs an upgrade - it's on the list).
I've also recently brought a few toys in (sadly, these are new acquisitions and not just stuff I already owned) and I've crapped up the cube even more than before.
The current comic being displayed (for the past few weeks) is Innovation Comics's Quantum Leap. Innovation was a great publisher from the 80s-90s. They did a ton of book and TV adaptations (probably a few movies, too). They even did the first two Terry Pratchett Discworld novels (The Colour of Magic and The Light Fantastic). Those will make an appearance on the wall one of these days.
There have been a few other additions to the cube, too. These currently include a few toys, a framked sketch from a ComicCon years ago, an American flag ('Merica!), the new Flight of the Conchords poster, and some of my favoriter Star Wars calendar pages.
Prior to Quantum Leap being on the wall, I also had several other series (more than I'm showing here - sometimes I don't get around to taking a photo). These included Billy Batson and the Magic of Shazaam (Mike Kunkel awesomeness), Thieves &Kings (Mark Oakley awesomeness), Umbrella Academy Vol 1 (the Netflix adaptation had just started), and the Marvel adaptation of The Wonderful Wizrd of Oz (very well done - Marvel also adapted the subsequent Oz books very well).
My cubicle was once the most crapped-up mess in the area2, but I have a new co-worker who may have exceeded the crap-per foot ratio of my cubicle. So at least my I look less hobo-ish by comparison now.

---
New doodles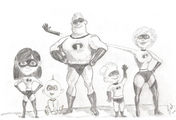 I actually broke out the old sketch pad a few months ago and doodled another Disney Princess. It turned out to look only a little like the princess I was trying to create, Anna from Frozen, but the things I got wrong (the football shaped head and the super-wide mouth) were kind of weird, so I'm not real sorry I screwed them up.
I also incorporated Jack-Jack into my Incredibles family doodle. I used a Jack-Jack doodle that I'd already drawn and just photo-chopped it into the family doodle, so it's probably not worth mentioning it. But that's never stopped me before.



---
I was planning to mention the Meg & Dia concert I went to this week before the fog of old age makes me forget how great it was, but I don't think I have it in me. There has probably been too much blathering for any sane person to consume at once already. Soon, though. Probably.



1 We purchased a vehicle we expected to be piling miles on, a Nissan Rogue. It's coming in well under mileage, so it probably should have also been leased since we're not planning to play the old car game anymore.
2 When I say "crapped-up," I'm referring to covered wall space. Otherwise, it's actually really clean.



Got something to say? Say it. (0 responses).


This page has been viewed







times since I started tracking hits.
(This is a rudimentary non-unique IP hit counter, so don't be too impressed)