&nbsp
Music Time!! And a little Mad humor
The Molly Ringwalds

I went to see The Molly Ringwalds, an 80s tribute band from the UK, this past weekend at the House of Blues in downtown San Diego. I'd been to the House of Blues once before to see Dia Frampton and Xenia, but the Dia/Xenia performance was held in a small staged area on the upper level. The Molly Ringwalds show was held in the House of Blues' much larger subterranean lair, so this was an all new experience.
I knew the upstairs venue was standing room only - as was the dungeon venue - so we arrived soon after the doors for the show opened in order to be somewhat near the stage (we ended up five or six few feet from the stage). And then we stood waiting patiently for the show to start. And we waited. And we waited. All the while, 80s music blared from giant speakers on the sides of the stage, making me dread not bringing earplugs to the venue. The only thing that made the wait even somewhat bearable was The Breakfast Club playing silently on the monitors mounted to the walls around the venue. When it finished showing the first time (as I waited), I expected to see some Pretty in Pink or Sixteen Candles follow it up, but The Breakfast Club just looped and started over.
Finally, over an hour after the show was scheduled to begin (around 9pm), the band walked onstage. So I was a little grumpy, hot and sweaty, and a little claustrophobic (the place was packed) from the beginning.
They are The World's Greatest 80's Experience. Hailing from Sheffield, England, this legendary quintet has been able to combine their individual and very formidable talents to create the true essence of the most radical decade to ever be called "The 80's." The Molly Ringwalds create an 80's Experience by honing their abilities to apply make-up and tease their hair while showcasing all the musical genres of the decade. From their days of building a following at a pub located in a large portion of a big city near a small village located south of a place you've never heard of, to selling out large venues in the United States, The Molly Ringwalds are an indescribable act. Luck and circumstance brought these young lads together. The rest is the history of the 80's.
Each of the five Molly Ringwalds members assumes a different persona from the 80s. The main front man was Adam Ant, the guitarist was a member of Devo (I don't know any of those Devo guys by name), the bass player was Dee Snyder (Twisted Sister), the pianist was a bearded Pee Wee Herman, and the drummer was wearing a Cobra Kai gi (The Karate Kid). But their positions in the band are fluid - each of the band members got at least a little bit of time as lead singer. Adam And and Pee Wee Herman also played other instruments periodically throughout the show. Pee Wee played both the piano and the drums. Adam And took guitar and piano. Surprisingly, there were no Devo or Adam Ant songs performed, though Dee Snyder did perform We're Not Gonna Take It.
I was fond of, and very familiar with, most of the songs that were performed. Here are a few of the songs they did a decent job performing:
Photograph, Def Leppard
Any Way You Want It, Journey
In A Big Country, Big Country
Enjoy the Silence, Depeche Mode
Rio, Duran Duran
Don't You (Forget About Me), Simple Minds
Patience, Guns N' Roses
Rebel Yell, Billy Idol
Tom Sawyer, Rush
Home Sweet Home, Motley Crue
99 Red Balloons, Nena
Under Pressure, David Bowie & Freddie Mercury
We're Not Gonna Take It, Twisted Sister
Purple Rain, Prince
The drummer also did a few Beastie Boys songs, but I'm not going to put those on the above list because the Beastly Boys "music" is garbage. Even the originals don't deserves the label "decent." Ick.
And I think they also performed the following songs, but I may be remembering the songs that assaulted my eardrums before the show began (granted, the show itself was every bit as loud as the canned music they piped through the speakers, it was just more fun to experience).
How Soon Is Now, The Smiths
You Spin Me Round (Like a Record), Dead or Alive
Welcome to the Jungle, Guns N' Roses
Bizarre Love Triangle, New Order
Shout, Tears For Fears
The show was about two hours long, but by the time it started, my dogs were already barking from standing in one place for two hours (what can I say? I'm old), so I didn't stick around to see the encore. I was there long enough to see The Molly Ringwalds walk off the stage after their last non-encore song. Sadly, I also didn't explore enough to see if they had a merch table. I really wanted to pick up a Molly Ringwalds t-shirt. Alas, 'twas not to be.



Speaking of Dia...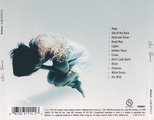 I picked up Dia Frampton's new CD, Bruises, a couple of months ago. I had really planned to mention it here immediately, but just never got around to it. I bought the CD directly from Dia and got a signed CD book insert with a silly Princess Bride quote (every CD she signed had a different silly quote).
Dia has one of those voices that sounds so young and sweet, but is also able to perform vocal gymnastics that are amazing to behold. Thankfully, she reigns it in and doesn't go all out at 110% the whole time. Those singers just make my ears ache. She deftly inserts her impressive vocal backflips and makes it seem effortless...but that does leave you hungry for more while she's performing the less-gymnastic parts of the song.
I was surprised to see the "explicit content" warning label on the CD. There are a few F-bombs in a couple of the songs, which sound all the more surprising when sung by Dia's sweet voice - Die Wild drops a lot of those bombs - which is a shame, because it's a sweet, sad song otherwise. The songs on the CD probably won't see any radio play - none are exactly syrupy pop, but that doesn't mean they're not great songs or well worth a lesson.




I was in such a Dia mood after listening to Bruises (moreso than after listening to Red years ago, which was a little bit more of a pop album), that I went out and searched for Meg & Dia albums, picking up Something Real from a seller on Amazon. I wish I'd been aware of Meg & Dia back when they were still a thing. Dia's sister, Meg, is still around, but as far as I know they're no longer performing together. Meg & Dia have a very Cranberries-esque sound (minus the Irish-ness), which is a major plus for me.
Phone Phun

Also, here's something completely unrelated to Dia or anything else already mentioned: a whole bunch of sound clips from Napoleon Dynamite! I ripped the audio from the DVD and clipped out all the best sounds that I could get somewhat cleanly to use for ring tones, notifications, etc. on my phone and tablet. It's totally annoying to hear Kip say "What?" or "What do you want?" every time there's a new message or notification on your phone. Good times.



Treasures from the distant past


While organizing my boxed-up books recently - moving them from larger and less-hearty plastic bins to a slightly smaller and stronger bins - I came across some pages from a Mad Magazine (or maybe Cracked - I'm not sure which it came from) that I had saved in plastic sleeves. I have hundreds of these things from my early-twenties. I'm quite the packrat. The sleeves in question were of a satirical Beauty and the beast spoof called "Walt Dizzey's Beauty and the Feast." It was written by Lou Silverstone and illustrated by Walter Brogan. I'll probably add it to my Beauty and the Beast trading card set/comics auction that I have up on eBay. I've just added superhero/Star Wars related Mad strips to other auction packages as am unexpected bonus.

I know all this stuff sounds like nonsense that I've just spewed out without much effort, but it does take time to weed out all my typos, grammatical errors, find and add pictures, and format it all to be readable. So that said, Coming soon (eventually) - a post filled with all kinds of pirate-y goodness!!



Got something to say? Say it. (0 responses).


This page has been viewed







times since I started tracking hits.
(This is a rudimentary non-unique IP hit counter, so don't be too impressed)