Monday December 19, 2005
So much for my intentions of updating the site more often. I had planned to post a nice little piece about this year's annual Halloween festivities put on by my neighbor, but didn't think to take any photos on Halloween and I haven't been able to find anyone else that did, so...
I procrastinated.
And now, way too many weeks later, I've decided to just describe my neighbor's creativity with my most descriptive prose and get on with things...
Creative neighbors

I mentioned the festive neighbor on my street who takes "decorations" to the next level on Halloween and Christmas late last year. Sadly, photographic evidence of their creativity is lacking, with the exception of their "tiki Santa." This tiki statue was actually recycled from the prior Halloween's festivities. Festivities that dwarfed the minimal efforts put into the Christmas decorations...

As night fell, the driveway of this unassuming home was transformed into a headhunter cook-out. A giant pot was surrounded by bamboo screens, witch doctor masks, shrunken heads and tiki torches while kids, dressed in grass skirts and other pacific island theme attire, danced around the scene. Jungle sounds and chanting blasted from hidden stereo speakers and every now and then, one of the players would be popped in to the pot, disappearing from view. Hidden from view, new heads would sneak into the pot and pop up unexpectedly.

This past Halloween was no less spectacular. Instead of a "headhunter" theme, they went with a more traditional Halloween theme - the creepy graveyard. A rickety brown picket fence, a pile of dirt reminiscent of a freshly filled grave, skeletal leafless trees, tombstones and stone pillars topped with toga-clad figures transformed the driveway into a cemetery. A stately angel, draped in linen, loomed over the center of the scene. The sound of crickets and an occasional guttural growl were heard over the hidden stereo speakers. If you looked closely enough, you could see that things weren't exactly as the appeared.

And then, every ten or fifteen minutes, the sounds emitted by the monstrous stereo speakers would change. In place of the crickets, catchy music would begin playing. The still, silent figures atop the columns and grave markers would spring to life - dancing in time to the music. The grounds keeper, shoveling dirt to and from a wheelbarrow, would continue working - oblivious to the changes around him.

I wish I had thought to take pictures.





My wife called me on the phone when I was at work, last week, to tell me that the daughter of one of our neighbors had died the previous night. The girl was almost five years old.

I knew this sweet little girl during the last three years of her life. She was adopted into a large, affluent family from a Korean adoption agency and was unconditionally loved by her new family. I watched as she was transformed from a non-speaking, terrified, fish-out-of-water to a bright, friendly, happy little girl. My own daughter, who is a few months older, had played with her and loved to spend time with her.

This is what happened: the little girl was not feeling well, so her parents had allowed her to sleep in their bed. The father slept downstairs, on the couch, and the mother slept on the floor, next to the bed so she wouldn't disturb her daughter's slumber. At some point in the night, their daughter choked to death on her own vomit, but didn't wake her mother in the process. When her mother awoke the following morning, she discovered that her beautiful adopted daughter was lifeless.

When I found out that she had died, I was speechless and distraught...but imagine the grief her parents and adopted siblings must be feeling. As is natural, the thought of their daughter brought to mind my own daughters. I can't imagine the anguish I would feel if I lost one of my children - especially if I was lying on the floor next to the bed that they had died in.

Nothing is as tragic as the death of a child.



Media Misinformation

There has been a lot of misinformation in the news lately about my employer, ADCS, and its founder, Brent Wilkes. I've avoided contributing to this "noise," but, as I have read many of these baseless attacks, I've begun to feel that a voice from within the camp should be heard so that the many blatant lies being fabricated and endlessly repeated across the Internet are rebutted. The worst of these half-baked rumors-presented-as-facts are being published in web logs - such as this one: the ever ridiculous Cannonfire, the blog of some non-entity named "Joseph Cannon."
The primary conspiracy theory that Cannon, and his army of know-nothing-internet-detectives, have repeatedly expounded upon is the fact that the companies formed by Brent Wilkes are empty shell companies. These self-proclaimed detectives insist that the companies are "fronts" with no actual working employees and false addresses. The primary company, ADCS, and all the companies that are contracted to do government work are, in fact, fully staffed and functioning entities. Many, though not all, of the companies under this corporate umbrella occupy the same space - a building large enough to house several companies. At least one of these sub-company's records has never been updated with the current Business address and, sure that they are on to something devious, these retarded-detectives have proclaimed wrong-doing. It's ironic that so many of these claims rely upon outdated images from GoogleMaps or online sources that are clearly out-of-date. Many of the sources of information are also, at best, antagonistic to the success of Brent Wilkes. Audre Systems, a former business associate which tried to cheat Brent of rightful earnings after he saved the company, is a prime example of this.
A list of the domains which have been registered by ADCS entities was also presented within one of these blogs. The truth is that there are web pages within this list that are bereft of any meaningful content or information. These content-free web sites are not the reputed "empty-front" companies that these misfits have claimed are funnels to disperse money to politicians. Each of theses sites is related to a project which has been bid for, is being bid for or has been awarded to an ADCS entity. Often, the work done for these contracts is of a nature that cannot be disclosed publicly, thus the lack of content. Or the contract is never awarded - another less-than-insidious explanation for the lack of content. It's not exciting, but it's true.
There are many other fallacies presented as "facts" that I could discuss if I had the inclination, but it's likely not worth the time - these bloggers will continue to grasp at every straw to prove their own crackpot theories - and it's really not my place to say anything. These conspiracy theorists will continue to seek out any and every vague link to illicit or unsavory activities, no matter how tenuous the association really is. So far, there have been associations with drug-trafficking, organized crime, and many political scandals that occurred long before any of the relevant events took place. It's deplorable.
The only thing that Brent Wilkes is guilty of is optimism.


Make Love the bruce campbell way
If you don't know who Bruce Campbell is, then much of what you are about to read will be unremarkable. Google him first, and then proceed.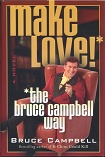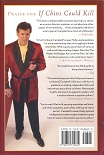 Make Love!*
*the bruce campbell way
I almost picked up Bruce's autobiography, If Chins Could Kill: Confessions of a B Movie Actor, when I saw it on the shelf at the local bookstore a few years ago, but I really didn't know what to expect from Ash's autobiography...so I passed. But I was definitely inspired to pick up his second book, and I'm glad I did. Had I taken the time to read the book's jacket notes, many things would have been more clear, but I jumped right in and started reading. The jacket notes:
What you're reading right now is known as the "flap copy." This is where the 72,444 words of my latest book, Make Love the Bruce Campbell Way, are cooked down to fit in a 3 1/2-by-9 1/2 inch column.
But how does one do that with a fictional story about a B movie actor's disastrous attempt to finally star in a big-budget Hollywood movie? Do you tantalize readers with snappy zingers like the one in chapter six where Biff the Wonder Boy says, "You may be bred in ol' Kentucky, but you're only a crumb up here"? Or do you reveal pivotal plot points like the one at the end of the book where the little girl on crutches points an accusing finger and shouts, "The killer is Mr. Potter!"
I have too much respect for you as an attention-deficient consumer to attempt such an obvious ruse. But let's not play games here. You've already picked up the book, so you either: A. Know who I am B. Like the cool smoking jacket I'm wearing on the cover C. Have just discovered that the bookstore restroom is out of toilet paper
Is this a sequel to my autobiography, If Chins Could Kill: Confessions of a B Movie Actor? Sadly, no, which made it much harder to write. According to my publisher, I haven't "done" enough since 2001 to warrant another memoir.
Is it an "autobiographical novel"? Yes. I'm the lead character in the story and I'm a real person and everything in the book actually happened, except for all the stuff that didn't.
Mostly, the action revolves on my preparations for a pivotal role in director Mike Nichols's A-list relationship film Let's make Love!, starring Richard Gere, Renee Zellweger, and Christopher Plummer. This is the kind of break most actors can only dream of. But my Homeric attempt to break through the glass ceiling of B-grade genre fare is hampered by a vengeful studio executive and a production that becomes infected by something called the "B movie virus," symptoms of which include excessive use of cheesy special effects, slapstick, and projective vomiting.
From a violent fistfight with a Buddhist to a life-altering stint in federal prison, this novel has it all. If you like John Grisham, Tom Clancy, or one too many run-on sentences, you'll absolutely love Make Love the Bruce Campbell Way. And if the 72,444 words are too time-consuming, there are lots and lots of cool graphics.

Regards,
Bruce "Don't Call Me Ash" Campbell
I read this book without the understanding that it was fiction. Did this make it more interesting for me? Maybe, but even without a misplaced belief that the book is based on actual events, it was filled with many laugh-out-loud passages, such as this one where Bruce explains why he is not fit to write a "relationship" book:
He'd seen me up close and personal with some damn sexy women, the likes of Vanessa Angel, Alyssa Milano, and Elizabeth Hurley, so in the world according to Barry, I was the living embodiment of a chick magnet - the perfect choice to write a relationship book. Barry is a nice guy, but he's also a fool. What he fails to realize is that the Bruce Campbell who romanced his way through a succession of beautiful leading women bears no resemblance to the Bruce Campbell who forgets anniversaries and hoards Victoria's Secret catalogs. In the real world, none of what he sees on the silver screen relates to me, the actor - or any actor, for that matter.
Let me walk you through a few of the key differences. For starters, love scenes are never the result of an actor's romantic prowess, or insistence. These are obligatory elements of any cinematic romance story, and actors in leading roles are often confronted with them. In reality, shooting a love scene is about as exciting as groping my sister - and thankfully, I don't have one.
Equally amusing are the graphics in the book that go along with the story: photos, e-mails, torn out notebook pages, clipped newspaper articles and other odd, but amusing, little interruptions on every pair of facing pages.
Chapter 4 - Mind the Gap
Communication is the glue that binds civilization together. For instance, my wife, Ida, and I don't share information all at once over a quiet supper; rather, we tend to spout things as we think of them during the course of a day. It doesn't matter whether we're on different floors or behind locked doors - we insist on doing it, knowing full well that it always causes two things: a breakdown in communication, and irritation.
Here's a typical conversation:
"Hey, Bruce, I'm going to the store," Ida would yell from upstairs. "Can I get you something?"
"Bye," I would call back, reaching for the remote control to mute the TV. "Hey, are you going to the store?" I would then ask.
"I just said that," she would say, growing increasingly annoyed.
"Great - can you get me something?"
You can see how even the smallest bit of missed or repeated information can quickly turn what would ordinarily be a civil conversation into one that's twice as long, and half as civil.
The story, by the end, becomes less believable and more obviously fictional, but never loses its appeal. I even got a signed copy (though I wasn't present for the actual signing). I have to pick up a copy of If Chins Could Kill now. My reading list grows ever-longer...



Want to express an opinion? Do it here.