Friday, May 12, 2006
I'm sure that you've all noticed my failure to keep the site updated...
Hello?
Okay, so maybe nobody else has noticed...but I have. And why, you ask, have I become so negligent of my very own piece of unreal estate? The answer is twofold: one, I've been posting the stuff (book reviews, etc) I usually post here on another site. And two, I've been playing way too much World of Warcraft. I've heard the game referred to as "World of Warcrack" because of its addictive nature (not really much of an exaggeration).
Since Warcraft has become such an all-consuming part of my non-life, I suppose I'll explain...

My main character (I have three - two of whom were created to let the kids have fun running around looking at the beautiful virtual landscapes), Gnomdalf, is now up to level 56. The highest level one can achieve, until the next version of the games rolls out, is 60. So I'm close to the pinnacle. And what do I receive when I get there? Nada. Zip. Zilch. But I will have wasted far-too-many hours of my life sitting in front of a computer watching as a virtual gnome fights virtual creatures, mines virtual minerals, performs feats of virtual engineering and...well, just generally wanders around a virtual world looking for new and exciting things to see.
Other than that, I've watched some TV.

Man, wasn't the season finale of The Office great? I love that show. It feels so much more real than anything else on TV. I suppose that if I was a doctor, I would relate to the gritty reality of ER or Grey's Anatomy, but I'm not. Grey's Anatomy is also a great show, by the way, but not in, in my opinion, the same league as The Office. Maybe that's just because I'm a guy who works in an office and often feels as if his qualifications for employment are eroding by the minute as the incompetence of management makes itself evident at every turn while subjected to forced confinement with a bunch of misfits trying to meld into a "corporate machine." Or maybe it's something else. The finale, culminating in Jim's (if you don't watch the show, stop now - I'm not going to explain who the characters are) inescapable pronouncement to Pam, is killing me. It's almost as bad as Smallville's (another favorite) torturous cliffhanger-finale. I may not relate to the Smallville/Superman characters or storyline, but I love a well-told piece of escapist fiction (as the boxes of comics and paperbacks in my garage will attest). If only all TV programs could be this well done.
I've seen a few movies in the last few months (Firewall, Mission Impossible 3, Steve Martin's Pink Panther and The Sentinel), but none have really inspired me to write a "review." The Sentinel was a worthy film and has many points worth mentioning, but the muse hasn't been with me of late, so no review for you!
And now, a few of the reviews which have previously been posted elsewhere...
Fairy Tales are more than true: not because
they tell us that dragons exist, but because
they tell us that dragons can be beaten.
- G. K. Chesterton
Coraline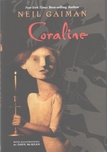 When I finished reading A Feast For Crows, I decided, upon reviewing the ever-increasing stack of books on the "to be read" shelf, to inject a little whimsy into my reading schedule. So I began, at long last, reading Coraline. I knew very little about this book, as I set out, other than its classification as a children's story (which explains why it took so long to get to it - I had the same reservations with the Harry Potter books) and a reputation for being a wee bit scary. The book, while definitely capable of captivating a child, is a little dark and scary for younger kids - I would place the target age for this story at 10 and over.
The book is riddled throughout with slightly-disturbing illustrations by Dave McKean. If you've seen Mirror Mask (which I might share a few thoughts on, if anyone cares), you will recognize his distinctive artwork (credited to the main character, Helena). The illustrations are only part of the weirdness, though. The story itself is a twisted Alice in Wonderland meets the un-Disneyfied scariness of the original Grimm fairy tales/folk tales.
Terry Pratchett contributed a (humorous, of course) jacket review, saying:
"This book will send a shiver down your spine, out through your shoes, and into a taxi to the airport. It has the delicate horror of the finest fairy tales, and it is a masterpiece. And you will never think about buttons in quite the same way again."
The protagonist, Coraline, is a young girl somewhere between ten and thirteen years of age, I would guess. The book never says, so I can only base my assumptions on the narrative. The story is presumably set somewhere in England, though this is also a guess - based on the language of the story. As with any Gaiman story, there are many quotable passages, but I will try to stick with a few of my favorites...
The cat stopped walking, sat down, and began to wash itself thoughtfully, apparently unaware of Coraline's existence. "We...we could be friends, you know," said Coraline. "We could be rare specimens of an exotic breed of African dancing elephants," said the cat. "But we're not. At least," it added cattily, after darting a brief look at Coraline, "I'm not." Coraline sighed.
Cats. They're just smaller, meaner people.

But it's not all funny...
"Oh, but we want you to," said her other mother. "We want you to stay. And it's just a little thing." "It won't hurt," said her other father. Coraline knew that when grown-ups told you something wouldn't hurt it almost always did. She shook her head. Her other mother smiled brightly and the hair on her head drifted like plants under the sea. "We only want what's best for you," she said.
Creepy.

And, as hard as it is to limit myself, here's one last quote from the story (again, starring the irrepressible cat)
Something furry pushed itself against her side in one smooth, insinuating motion. Coraline jumped, then breathed a sigh of relief when she saw what it was. "Oh, it's you," she said to the black cat. "See?" said the cat. "It wasn't so hard recognizing me, was it? Even without names." "Well, what if I wanted to call you?" The cat wrinkled its nose and managed to look unimpressed. "Calling cats," it confided, "tends to be a rather overrated activity. Might as well call a whirlwind." "What if it was dinnertime?" asked Coraline. "Wouldn't you want to be called then?" "Of course," said the cat. "But a simple cry of 'dinner!' would do nicely. See? No need for names."
I'm guessing Neil has a few cats around the house.

This story, though intended for children, is also a good read for an adult. It's not American Gods...or even Stardust, but it is worth your time. There's a little humor, some genuine-feeling emotion, and just a little bit of old fashioned, spine-tingling horror (though not the Stephen King variety).

It isn't a very lengthy read (only 163 pages, including the pages containing only illustrations), so even if you're an old guy like me, you should give this one a try.

I had also planned to write a few thoughts on A Feast For Crows, but I never got around to it. And I don't really feel like it anymore. One comment: Though it is a book worth reading, I was often lost because of the gigantic cast of characters and the long period of time between books (until my barely-functional brain finally managed to recall the characters from the previous installments).

I'm currently reading an Umberto Eco book called Baudolino, and have a neat little tie-in to a non-fiction Leonardo Davinci book I read at the mid-point. I may, someday, share a few thoughts/passages from that one, too. One never knows...

Oh, and there's also Pratchett's The Unadulterated Cat and a big ol' pile of comics I am considering discussing (foremost is Dark Horse's Conan series). Maybe if inspiration strikes later.

The one and only part of the site that has received diligent attention is the Opus archive in the Lighter Side. I have actually managed to scan every comic strip that I had clipped (there are still a disappointing number missing) and all the current ones as I receive them.



C'mon, share your thoughts. All the Cool Kids are doing it...