Nerd! Nerd! Nerd!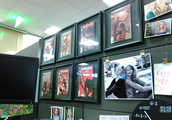 I decided it was time to change up the comics on my cubicle wall so I put up the first 7 issues of Dark Horse's Conan. The Joe Linsner covers are awesome. I actually had to skip issue #2 because the Frost Giant's Daughter cover is a little too risque for the office. So I have #1, #0, then #3-#7 on the wall
Speaking of things nerdly, nobody has been buying my comics or toys on eBay for the past few months, but here's a tribute to the many treasures that I have said goodbye to over the past couple of years...
Cul De Sac / Richard Thompson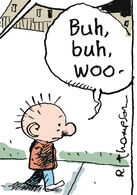 While looking for a new calendar and hoping for a Cul De Sac desk calendar to adorn my cubicle (like the one I had several years ago), I discovered that Richard Thompson, the artist of Cul de Sac (that has sadly never been published in a local newspaper), died in July of last year. Richard Thompson was a guest at ComicCon many years ago, which is where I discovered and fell in love with his wacky world. I'm part Petey.
While I'm not feeling a Terry Pratchett or Douglas Adams level of loss, I am sad. And confused. The Cul De Sac comic strips have continued appearing online since he stopped creating them on September 23, 2012 (it had a five-year run). You would probably think I would have noticed the repeats, but maybe that's part of this strip's greatness. The humor is so well-crafted that it's always funny, even if it does feel familiar. The strip linked above was posted on December 29, but when I recently looked more closely at the date in the comic itself and realized it was from 2008.


Dave!, Marc Richard

I was contacted by another author trying to generate some positive feedback for one of his books. The author in this case was Marc Richard, and the book was Dave! (the first trilogy). I was told that my review of one of Terry Pratchett's books brought me to his attention. The book was described by the author thus: "It has aliens, politics, and lots of humor. It has been called Douglas Adams meets South Park, or If Christopher Moore had a job at the Cartoon Network writing for Adult Swim."
The back cover of the book provides this glimpse into the book's plot:
Can a horde of nobodies save the world?
Starlet Richter is your typical transgender woman living in the good ol' U.S of A.
The country is in ruins after President Gibson enshrouds it in his wall, and seals it off from the outside world.
After years of watching the place fall apart, she decides it's time to do something about it. She's going to help tear down that wall!

Eric Tisdsale is Starlet's long-lost love.
He's making a pretty mundane living as a pool shark, until one phone call changes everything.
He's asked to join the Invaders, a secret society led by a charismatic and flawlessly handsome dude named Dave.
Their mission: destroy the forces in D.C. and take the country back.

Both have their plans.
Both are in danger.
Will they save each other? Themselves? The country?
How about when they discover the president is not actually human, and there may be more of his kind hiding among us?

DAVE! is a science fiction comedy that features fast-paced action, pie-throwing clowns, nudists, and lots and lots of aliens.
Equal parts Hitchhiker's Guide and Coen Brothers, this series will have you laughing your way through the apocalypse!
The Douglas Adams/Hitchhiker's Guide comparison immediately piqued my interest. I thought the book's summary on Amazon sounded more like Billy Pilgrim's misadventures in Slaughterhouse Five than Arthur Dent's romp through the Galaxy, but I went through a Vonnegut phase many moons ago and read everything by Vonnegut I could find, so that didn't dampen my enthusiasm.
Sadly, the book wasn't all that I'd hoped it might be. It started out a little bit weird (email correspondence between many of the book's characters - including the author himself, who thought it would be fun to plug himself several times in the book) before becoming less weird, yet no more well-written. It didn't help that the story is a liberal's vision of the absolute worst-case scenario for the United States of 'Merica. I don't know if he came up with the story when Donald Trump ran for president in 2012 or if the Trump-then-Mel-Gibson presidency idea was inspired from the Donald's second, more successful, attempt to become president in 2016, or if he's just a little bit psychic and dreamed the story up well before the Donald ever expressed any interest in the Presidency. Prescience aside, there's not much here. Maybe I'm just not the demographic the book is shooting for (old heterosexual white guy), but I found few redeeming qualities in the book.
I'm not one to turn my nose up at a good story with aliens, conspiracy theories, underground rebellions against a tyrannical government, and just a little bit of dystopian mayhem thrown in for good measure. And this book did include all of the above. Plus an overabundance of profanity. And I do mean overabundance. Man, there were a lot of words starting with the letter "F" in this book. And they were pretty much all the same word. With four letters. In addition to the profanity, it also excluded anything resembling a well-told story. The author seemed to be much more interested in trying to shock the reader with left-wing stereotypes than trying to paint a picture with his words. If this is what the future holds from millennial authors, I'm glad I already have a full library of classics to choose from.
On the positive side, the book was pretty well-edited. There were only a few errors that crept into the text.
In summary, while I'm not telling you not to read this book, I'm definitely not suggesting you should.


Warp, Lev Grossman
Immediately after finishing Dave!, I quickly started Warp to cleanse my mental palate. Warp is one of the few non-Magicians books I'm aware of by Lev Grossman (the only other one I've read/know of is Codex). It's as well-written as one would expect from the author of The Magicians. A quick, enjoyable read.
If you were fond of The Catcher in the Rye in High School (as I was), I have some good news for you. Holden Caulfield is back....kinda. This story takes place 50 years later, the protagonist's name is Hollis, and he's an unemployed college graduate with too much time on his hands. Hollis will not only seem familiar to those of us who grew up with Holden Caulfield, but also to those of us who have a affinity for Albert Camus's Mersault. And there's maybe just a little bit of Quentin Coldwater in Hollis, too. The story takes place in Boston and as someone who has spent no time in either New York City or Boston, Boston feels pretty much interchangeable with New York to me. I was considering blathering on about Hollis's characteristics that resemble Holden's, Mersault's, and Quentin's, but I figure nobody will care and even I'm beginning to lose interest in that topic...
One thing about the book that's both interesting and just a little bit distracting is the barrage of book/TV/movie quotes and flashbacks (I think) interspersed in the text. One of the chapters ends with a whole scene from Star Trek The Next Generation, complete with dialogue from Data, Picard, Crusher, and Troi. I'm not sure if these are glimpses into a slightly schizophrenic brain that won't stay anchored in reality, or if this was just Hollis's way of relating the world around him to the fictional worlds he lived in (very Quentin-like, if that's the case), or if maybe this was just a literary device used by the author to stretch out and liven up the prose. I guess that's left for the reader to decide.
Here is an example of what I'm referring to (the gray text is the book quote/TV quote/movie quote/flashback).
The bell rang, and the doors opened directly onto the office anteroom: apparently the company owned the whole floor. It was decorated like an old-fashioned cloakroom, with wood paneling and an umbrella stand. He walked through it into a reception area, which was painted a stylish, soothing rose color. The receptionist, a young woman with brown hair, looked up when he came in.

I am an android. Doctor. I am incapable of experiencing fear.

She was sitting on an uncomfortable-looking orthopedic chair with no back, wearing a headset phone. "Can I help you?" she said.

Why, Mr. Kessler is one of our most valuable clients.

Hollis cleared his throat.
"I'm looking for Eileen Cavanaugh."
"I'll see if she's free," said the woman,
She switched to an intercom and politely lowered her voice.
"Darcy? ls Eileen there? There's someone out here to see her."
She listened for an answer, then looked back up at Hollis.
"Your name?" she said.

Call me Ishmael.

He cleared his throat.
"Scotty."
She waited For a moment for Hollis to give a last name, but when he didn't she just said "Scotty" into the headset, then stopped and listened again, tapping her pen.
And another.
...
in a tuxedo was doing tricks with ropes and knots in the middle of a ring of spectators. The peripheral highway that ran along the docks came up suddenly, only a block past the market. There was nowhere to cross it legally, but he waited on the shoulder for a while for a break in traffic, surrounded by broken glass and black, charred-looking blowout pads.

"You can't ride back in the rain, Hollis. Wait a few minutes."
"l can't exactly stay here. can I?" he said bitterly. "Anyway. it's not raining anymore."
"Yes, it is."
"No, it isn't."
Eileen went over to the window and pulled up the blinds. They looked out through the black bars of the fire escape. Night was falling.
"Is it?" said Hollis. "I can't really tell."
"l guess I can't tell either."
They listened for the sound of rain.
Anyway," she said. "Take an umbrella."

The road cleared for a minute. He jogged across a few lanes of black asphalt worn shiny with age, jumped over a guardrail, and suddenly he was at the docks. Two enormous splintery gray timber wharfs jutted out into the harbor in front of him. The New England Aquarium stood at the end of them, on a double row of massive concrete pilings.
A scum of Foam and floating trash bobbed around the base of the pilings, but farther out in the main harbor the water was blue and clean. The air was chilly. Seagulls wheeled and cried overhead. Hollis could see as far as Logan Airport on the far side of the bay, where every couple of minutes another plane took off or landed, weirdly out of sync with the roar of its engine because of the time...
The story ended a little more abruptly than I would have liked. Xanthe is still an enigma to me, the repercussions of Peters's peer pressure were left unexplored (sending the barely-ever-there Mersault to prison was the point of The Stranger, after all), and I wanted to know more about Eileen. But maybe that's all coming in Warp II: The Wrath of Caulfield.


One last thing before I go - a couple more doodles. They're not great, but they're pretty good. As always, the originals looked much cooler than these scans. But whatcha gonna do?
I still haven't finished re-reading The Magicians, but season 2 of The Magicians starts on SyFy in a few days so I guess I better get back to it so I can compare the original to the TV version with more authority. So far, everything I remember as being wrong when watching the TV version has been pretty-much spot on, though.



Got something to say? Say it. (2 responses).


This page has been viewed







times since I started tracking hits.
(This is a rudimentary non-unique IP hit counter, so don't be too impressed)