The Bloody Crown of iGoogle

Amongst the paltry few books I've read recently, I finished The Bloody Crown of Conan, another collection of Robert E Howard's Conan stories (just a couple of weeks ago). It's a collection of original, unedited versions of these three stories:
The People of the Black Circle
The Hour of the Dragon
A Witch Shall Be Born
It also includes a brief history of Robert E Howard's life up to the point that things take a distinct turn for the worst (he ended his own life at only 30 years of age - after creating an impressive number of diverse characters and fictional worlds), drafts of the stories in the book, an untitled incomplete story, and - what made it most striking for me - illustrations throughout by Gary Gianni.
I thought the illustrations were so interesting that I went online to find them because surely, I thought, someone must have posted them at some point in the many years this collection has been in print.
Negatory, good buddy. There were a few here and there in their low resolution glory, but no compendious collection.
So I scanned about 80% of them myself (you can definitely tell these were scanned from a bound book due to how blurry one side or the other of just about every image is). And now they are available on the interwebs - right here. So you've got that going for you. Which is nice.
I thought about re-sizing the images to make them fit in the browser more cleanly, but then I decided that defeated the purpose of sharing them. So they're all pretty huge.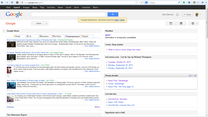 "And what," you ask, "does Conan have to do with iGoogle?"

Nothing, of course. Other than it's about to become a thing of the past. Just like Conan.

I really like iGoogle. I set it as my home page on the browsers of all the PCs I use at work and home. I hit my iGoogle home page about 100 times a day (probably more) and have a whole bunch of RSS feeds coming into it. When it was announced (many moons ago) that iGoogle was getting the axe later this year (November 1, 2013) I started looking for a replacement with dismal results. The closest I could find was MyYahoo. But MyYahoo is extremely limited in its customizability and just kinda...clunky. So I set it up with my favorite news feeds, and dreaded the day iGoogle went away (popping in two or three times in the months since). I even made an attempt to create my own RSS feed reader. But I quickly decided that I didn't have the time to create something I would actually be happy with.

And then I received another reminder pop-up when I opened iGoogle this morning. My forgotten dread returned...I had to do something or risk losing all the news feeds I'd setup in iGoogle and hadn't copied to MyYahoo, so I searched again, expecting to find nothing new. But I came across a review and comparison of a few other non-Yahoo services that were similar enough to iGoogle to warrant a mention. One of these was Protopage.com. It sounded pretty similar to iGoogle, so I went to the site, poked around and then signed up. After playing with it for an hour or so, I had all my RSS feeds setup (in multiple tabs - I really like that feature) including Google news.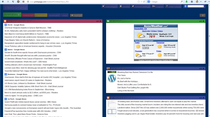 I no longer dread the demise of iGoogle. Good riddance...until Protopage decides to start charging for its services or close its own doors, that is. And then the mad dash to find a replacement will begin anew.



Got something to say? Say it. (1 response).


This page has been viewed







times since I started tracking hits.
(This is a rudimentary non-unique IP hit counter, so don't be too impressed)