Buckle up...extreme nerdishness ahead!
San Diego Comicfest


I went to the San Diego ComicFest on Saturday (March 7) for the first time. It has apparently been around for 8 years, but I don't think I'd ever heard of it before this year. The only reason I knew it existed this year is because I received an email from the new incarnation of the Mysterious Galaxy book store - which is now located in Mission Valley and will only ever see my shadow darken its doorway if they have a very special guest author stop by (I'm sure it's still a lovely store - it's just sooo far away now).
It cost me $25 to to gain entrance to the ComicFest exhibit hall (a smallish room with maybe 60 vendors on folding tables). None of the vendors had anything very current. The vendors all had a real swap meet feel. Loads of old books, comics, magazines, video, toys, lunch pails, cereal boxes, etc.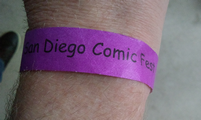 I didn't even get a lanyard and a cool pass for my $25 (as one does with the ComicCon). Just a cruddy wrist band.


Mysterious Galaxy did have a booth with at least three authors crammed behind a small folding table piled with paperbacks. Greg Bear was the only one of the three authors that I've read (I mentioned the final book in the War Dogs trilogy a while ago, which I was surprised to discover is his most recent novel). I should have brought my War Dogs novels with me for him to sign...but I didn't. Or maybe my tattered, but well-loved, Infinity Concerto paperback.
Another missed opportunity.
The real reason I went to the ComicFest wasn't to see Greg Bear, whose books I have admittedly enjoyed, because he wasn't signing a new book and I feel weird about asking an author to sign a bunch of old books without buying anything new from him.
The real reason was to see Mike Kunkel, the creator of the great Herobear and the Kid comics, The Land of SokMunster book my kids loved as young 'uns, and many other child-friendly delights (like a super-cool Shazaam). I came across Mike several times at the San Diego ComicCon, both in a booth for his company, The Astonish Factory, and just hanging out at the Con (before I swore off the overcrowded nightmare that the San Diego ComicCon has become for good). I've always thought Mike seemed like a super-cool guy, so I was looking forward to seeing him and buying anything he was selling.
A secondary objective was to locate copies of American Gods: The Moment of the Storm issues #8 and #9, which I have been unable to find ant any of the local comics shops I've been to.
Alas, 'twas not to be. Mike didn't come to the ComicFest, despite being on the talent roster of the ComicFest web site. It took over an hour to ascertain this information (not because there was that much to see - I was just convinced he was sitting behind one of the 100 or so tables arranged haphazardly around the hotel and I was somehow missing him).
After circling a few times, I finally looked him up on the ComicFest web site, found his assigned table location (which meant nothing to me) and asked one of the volunteers manning the Exhibit hall where the location actually was. Three stops later, we found someone who knew what the location code meant, but this person also knew that Mike hadn't arrived to claim his space and it had been given to someone else.
So that was disappointing, too.
Nor was there any sign of American Gods: The Moment of the Storm. All the comics for sale were either much older than this 2019 book or were in the superhero genre (Marvel/DC). There were a few interesting artists that I might have been inspired to open my wallet to, had I not been so bummed about missing out on my primary con-jectives, but I didn't bother.


I had to find something to make the entire experience somewhat worthwhile, though, so I bought Emeli some patches I found (her latest thing is acquiring iron-on patches to put on a denim jacket). Only two vendors were selling patches - one was the RatFink table, something you'd have to be pretty ancient to remember (sadly, I remember RatFink).
Emeli had no interest in RatFink (because she had no idea what RatFink was). I did find some random patches being sold by another of the more garage sale-ish vendors, so I showed a bunch to her and she chose three that she liked: a diamond, an Indiana Jones and the Temple of Doom patch that looks like something that would be worn by a Disney cast member, and a Space Explorer girly-astronaut patch (the word "Space" looks more like "SpRce" on the patch, which I didn't noticed until Emeli pointed it out to me at home. Oops). Probably not a purchase worthy of the admission price, but at least it was something.
I also took some pictures of a few of the people who were dressed up - I saw a really impressive Mandalorian costume when I arrived, but he must have been on the way out (I arrived in the early afternoon) because I didn't see him again by the time I'd started snapping photos. There were a few Avengers that were easily recognized, a whole lot of random costumes I didn't recognize, and even a giant dude dressed as Thor. I wish I'd worn my Fat Thor costume, that would have been a funny contrast to giant Thor.
I think the most noteworthy aspect of this "convention" was the venue - I parked in the back (the first open space I found) and felt like I'd wandered on to one of the sets for The Walking Dead. It was a Sheraton hotel, but was very decrepit and creepy. It wasn't quite as bad inside the hotel, but still...not impressive. But I guess if it had been held in an impressive hotel, they probably wouldn't have been as keen about the hundreds of overweight, balding (male and female), smelly nerds that I saw wandering around. One of whom was me.
There's one last thing that I found noteworthy enough to take a picture of - these metal handmade sculptures that were for sale in the exhibit hall. They were pricey, so I didn't get one, but very cool. Star Trek, Star Wars, Disney characters, Samurai, dudes on motorcycles...they had it all.
So that's about all I have to say about the ComicFest. It was my first visit, and will likely be my last visit.
The Cubicle of Extreme geekishness, relocated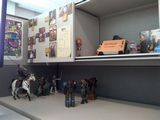 I've updated the comics on the wall of my new cubicle a couple of times since November. That's right, it's a fancy new cubicle...which is, admittedly, pretty much the same as the old cubicle. The only real difference is that I have a better view now - I'm not on the ground floor anymore, so I can now see much more of the parking lot outside (I didn't say it was a view of anything good, I just meant that the visibility of the great outdoors was more prevalent from the new digs). It's also making my fat old butt walk up and down stairs throughout the day, so that's probably a good thing.
I've added a few toys and rearranged some things, but it's pretty much the same mess as the old cubicle.
Here are the most recent comic sets I've had on my cubicle wall:


Marvels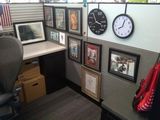 I had Alex Ross's Marvels series from 1994 on the wall a couple of months ago. The covers and interior art of these books is what sets them apart from just about any other comic book series, especially a vast, vast majority of those published by Marvel (or DC). If Norman Rockwell had painted sequential art and done a superhero book, this is the book he might have created. The period of the art is very Norman Rockwell-esque, and the art itself is perfect for the time period and really well done (as Alex Ross's art always is).
The four-issue series has plastic semi-transparent covers with the series title that overlays the unmarred book covers. And the books' covers are heavy card-stock - rare amongst the offerings of Marvel (or just about any comic publisher, really). Except for Marvels issue #0. It's a short origin story with several Alex Ross character pages and promo art following the story. No card stock or special cover.
Marvels includes just about the entire stable of Marvel superheroes (the Avengers, DareDevil, Spider-man, Fantastic Four, X-Men, etc) with a premise that's very similar the X-Men films of the 2000s - the unavoidable mistrust the public develops when super bad-guys arise and are only defeated by superheroes - and is presumably similar to the X-Men comics, but I've never read an X-Men comic, so I can't say for sure.
Marvels is also really similar to George RR Martin's WildCards novels that were published several years before Marvels (starting in 1987). WildCards is a darker - and more adult - look at people with mutant super-powers (originating from aliens, if I remember correctly) and people aren't especially enamored of the mutants in these stories, either.
So I guess I'm saying this is a tired trope that's been done over and over. But Alex Ross's art makes any sequential art story amazing. I have the first issue of the new Marvel comic that's only partially Alex Ross's work, but I haven't taken the time to read it yet, so I can't opine on that one.


Star Wars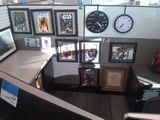 I followed up Marvels with one of the many Star Wars comic book series from Dark Horse in my collection (before Marvel took back the license and started flooding the market with a million Star Wars titles). I don't have much to say about these issues other than the covers were pretty sweet - as one would expect with Alex Ross cover art. Yes, the same Alex Ross I just praised relentlessly did at least a few of these covers.
The story takes place sometime shortly after the events of A New Hope. Dark Horse put out a ton of these "in-between" books that take place in the spaces between the films. I need to dig out the Star Wars Infinities comics one of these days - an awesome twist on Star Wars with "what if..." alternate storylines.
Laurie B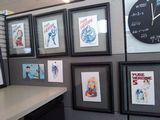 The current comics in my cubicle aren't actually comic books. They're sketchbooks I picked up over several years from the San Diego ComicCon: Laurie B's Pure Heroine (that's "Heroine" as in a female hero, not the drug). Most of these have an extra little sketch inside where Laurie signed them. The back covers are equally awesome (or even more awesome, in this case) as the front. These are very awesome and treasured memories. Laurie's an amazing artist and a very nice person.
Sadly, my boycotting of ComicCon also meant not seeing the familiar faces I had come to know and looked forward to seeing each year. I don't even know if Laurie still makes the trip down from Canadia for ComicCon anymore.


My Doodles

Here are a couple of new doodles I've done: one of the first steam locomotives, The Rocket, Olaf the snowman, and a really not-great Belle sketch. My doodle skills are atrophying more and more each day as I fail to pick up a pencil and create anything interesting.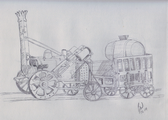 Emeli's skills, on the other hand, have surpassed mine even at their peak in the enthusiasm of my youth. Emeli is so skilled that she's been commissioned by several people to do sketches. But, unlike me, she's not limited to working in graphite/pencils. She also paints, can sketch flawlessly in pen, and can even etch out amazing creations with scratch boards. Here's one of her amazing sketches.






Got something to say? Say it. (0 responses).


This page has been viewed







times since I started tracking hits.
(This is a rudimentary non-unique IP hit counter, so don't be too impressed)