Update 09/27/2018
I was re-reading the Harry Potter drivel I'd written and discovered more than a few typos, so those have been corrected. Not that anyone saw the earlier draft (Dan, I'm talking to you), so this public service announcement is probably needless...
Carry on.


I've still got a bunch of books to blather on about, but I'm going to temper my sadistic tendencies and just talk about non-book stuff today (well, mostly non-book stuff). I'll even spare you the details of this weeks's Tim Powers book signing for Alternate Routes...until next time, that is - if I don't talk about it soon, the details will fade away and you'll have to read about it on some other idiot's web site/blog.

Adventures in Idaho

First, a trip in the Wayback© machine (way back to May of this year) when we took a drive up to Rexburg, Idaho to let our baby girl take a look around the college campus she will be attending this fall, BYU Idaho. It was about a fifteen-hour drive from here to there, but I'd forgotten how scenic and otherworldly the drive through this part of Idaho is. There are big volcanic rock formations all over the place - which I was unable to inexpertly capture with my phone's camera because...well, I was driving. And nobody else could be bothered. But I'll be headed back up there again at some point, so I'll do my best to get some photos next time - even if I have to pull the car over and take them myself.
Here's something else noteworthy about Idaho - it's a great place if you're a fan of unusual soda flavors. While Utah is admittedly better than California, Idaho has the best options just about everywhere you go. And not just unusual bottled and canned soda - Idaho even has them on tap in their soda fountains. We stopped at a Subway in Pocatello, Idaho for lunch and their soda fountain options included one of my favorite unusual soda choices, Red Cream Soda. And later, in Rexburg, we went to a Nielsen's Frozen Custard diner and they had a homemade root beer option in their soda fountain. I was skeptical because you never know with "home made" flavors, but it was amazing. Very creamy and not at all artificial-tasting like every canned root beer. And later, also in Rexburg, we went to a movie at a small theater downtown and they had Ironport in their soda fountain. If you've never had Ironport, it's a difficult taste to describe. It is really tasty, though.
And speaking of the Rexburg theater, it cost a grand total of $11 for two tickets to see Rampage with a big bag of popcorn and a large fountain drink (the glorious Ironport). It was an older theater and the movies weren't brand new releases, but they weren't that old (not like the DVD-released movies that play at the Temeku theater in Temecula - which I'm still happy to drive 45 minutes and pay $3.50 per ticket to see).
One last noteworthy thing about this trip to Idaho - I'd never been to this area and was surprised to see signs about the Idaho Dunes (AKA St. Anthony Sand Dunes), so we went on a little drive to see themup close. They're just outside of Rexburg (several miles outside, actually) and right in the middle of a typical mostly-green Idaho landscape. The area isn't huge, but there are definitely several square miles of tall, drifting dunes like you'd see in the middle of Arizona. It's a little bit surreal. These I did get a few photos of, but my phone didn't really do them justice.
And semi-related to Idaho (from the trip through Utah on the way up to Idaho, anyway), I discovered that you can get Ethanol-free "Clear Gas" at select gas stations in Utah (mostly Maverick stations). It's 88 Octane and just about as expensive as the 91 Octane regular gas, but I like the idea of introducing cleaner burning fuel to my car when I can, so that's what we filed up with whenever possible.
Bald Guy - Cards for every occasion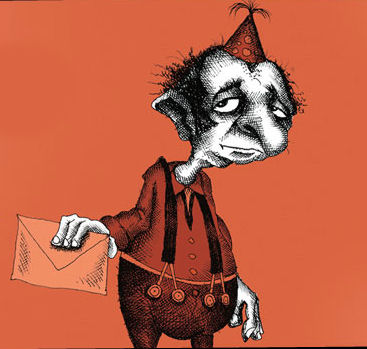 Also back in May or June, I picked up a congratulatory card (actually a bunch of them, but only one of that bunch is going to get a mention here) for my nephew's college graduation from the University of Utah. Except I couldn't find any Congratulatory cards that I thought worthy of my three or four bucks. So I checked out the tried-and-true Bald Guy cards at the mailbox store down the street. And found this one.
The front of the card is semi-complimentary: "You're One is a Million." Only semi- because when you look at the illustration, you see why the object of this statement is one in a million - and not for any complimentary reasons. The card's interior text is what really drives the backhanded compliment home: "But don't get too excited. Statistically, that means there are 6,700 people exactly like you. Happy Birthday."
Since this wasn't a birthday occasion, I did what anyone would do and just crossed out "Birthday and wrote in "Graduation." That's normal, right?
Puppy Power!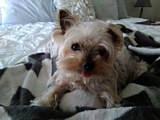 I mentioned that we adopted a tiny little dog from a Yorkie rescue outfit many moons ago, but haven't really said much about him since then. He's doing well and has become such a part of the family that he insists on being held - or at least seated very nearby - whenever we're relaxing.
Here's a funny video that Emeli took when she was recording a video of the little guy for her friend. It's noteworthy because he did something unexpected - he shared his dark side and gave that bear a wack upside the head.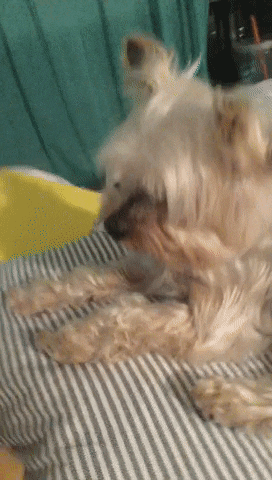 He also showed his softer side when he gave the stuffed bear a big (though involuntary) hug, so he's clearly a complicated little man.

A Harry Potter Pocket Story1
One last thing - here's a little glimpse into how I spend at least a little bit of my free time: writing Harry Potter fan-fiction (Sorry, Dan, not that kind of fan fiction). I was inspired by the Android game I've been playing on my tablet for the past few months, Hogwarts Mystery. It got me thinking about things in the Harry Potter universe that didn't fit very well and how there are so many time gaps in the stories that are begging to be filed in with content.
It's a work in progress (I do actually plan on tying the story's loose ends up so they fit within the events of the films/books), but this is most of what I have so far. I've tried to remove all typographical errors, but I'm sure many remain.


I still have many, many other things to mention (many that have been languishing unmentioned since last year), but in the interest of sparing Dan and anyone else who stumbles across this sad collection of internet-drivel the trouble of reading it, I'll conclude here for now.





1 Pocket Stories was a web site I created, based upon another web site I enjoyed perusing until its demise called Ficlets, that allowed people to write short stories in a Twitter-type environment. Each mini-story is limited in length to just 1,024 characters. I never quite finished the site and, despite having written a few stories on the site that I'm sure no one else has ever read, I eventually allowed the domain name to lapse. The site itself still exists, but it's not 100% functional.



Got something to say? Say it. (0 responses).


This page has been viewed







times since I started tracking hits.
(This is a rudimentary non-unique IP hit counter, so don't be too impressed)