&nbsp
It's only stuff, right?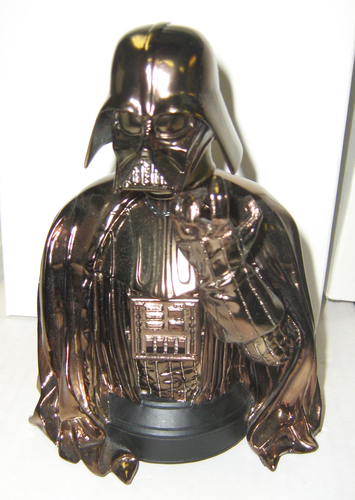 As I mentioned a little while ago, I've been parting with a lot of comics that I don't really have the time or opportunity to enjoy anymore. And I've only made the tiniest dent in the space occupied by all my comics and the other "collectible" stuff I've acquired over the years. What started out as a quest to severely reduce the number of comic books in my collection (I had between four thousand and five thousand comics, which took up a lot of space in their big comic boxes) has evolved into just clearing out anything I don't still love...or have time to love, anyway.
In addition to the few comics that I've sold - I've avoided parting with any of the comics I most love so far - I have sold a Darth Vader statue, a treasured Infocom Leather Goddesses of Phobos game (that wasn't even playable since it was for the Atari 800XL, but did come with a lot of fun stuff), some Star Wars plush toys, some pin-up books, an old digital camera, and have even started selling some of my unopened toys.
I'm not exactly making big bucks selling this stuff (and have lost money on a bunch of these transactions after misjudging shipping costs\eBay\Paypal fees), but the garage is theoretically getting emptier. Part of me hates parting with so many things I really valued (and still would, if I had any time to), while another part of me is looking forward to having less clutter. I even finally went through all my old computer stuff and boxed up a bunch of computers and computer parts that need to be hauled off to an electronic recycling place. I decided to give my Zip 250 USB drive a shot on eBay and actually sold it for way more than I expected (with around ten disks totaling about 1.5 GB total space). So progress is being made...just not very quickly.
I feel like I should talk about the big stack of books I've read recently, so I'm going to at least mention them and offer a brief opinion of each (since my opinion is so very valuable).
The Long Mars - The last Terry Pratchett book (published before his death) I will ever get to read. Less Terry than Stephen Baxter, but still a worthy read.
Gray Mountain - I'd avoided John Grisham's last few books because the topics were just a little too far left for my tastes, and this one is pretty left, too, but I read it anyway and really enjoyed it. The characters were strong, even if the the plot was typical John Grisham (coal mining corporations raping the Virgina mountains this time), and it was as fast-paced as his best books.
Anathem - Man, this thing was a beast. And super-slow to get into. It did have a lot of technology tie-ins to The Long Mars, interestingly. There were many times the story just dragged, but later in the book there was plenty of well-paced story-telling. I think it was a little like Fellowship of the Ring. It all takes place in a familiar, but completely foreign, world, so the background has to be filled in first. Oh, and if you love math and proofs, this is definitely the book for you.
The Golden Princess & The Given Sacrifice - SM Stirling's post-apocalyptic stories are a lot of fun with the post-medieval battles (due to the blackout of all modern technology) and Lord of the Rings references. And he is no more reluctant to kill off main characters than George RR Martin, though they seem to get a longer run than Martin's characters in these books...usually.
I also picked up the 2015 Hyperbole and Half calendar a few months ago when I saw it at Barnes and Noble. It now hangs in my "cubicle" at work (I call it a "cubicle" because my employer has recently decided to try the "open office" layout). It's so horrible. Open office seating is horrible, not the calendar. Though the calendar could use a little more context from month-to-month. It's been too long since reading all the stories on the Hyperbole and Half site to still remember what this single cartoon panel (or two) relates to (I've also got the Hyperbole and Half book, but it's in the to-read book pile). So there's that.
I think that's all I wanted to blather on about. And it's not like anyone reads this drivel anyway (except you, Dan, and maybe Steve, but I meant anyone important).



Got something to say? Say it. (4 responses).


This page has been viewed







times since I started tracking hits.
(This is a rudimentary non-unique IP hit counter, so don't be too impressed)