Goodbye, little friend

We lost a fuzzy, four-legged family member.
We only had Cody, who was more often referred to as "Buddy," for the last couple of years of his too-short life. We adopted him well into his senior years (he was twelve years and a few months old) when we brought him home from a Yorkie Rescue organization. He had been rescued many years earlier from a terrible home (abused by small children which resulted in a broken leg set with a metal rod as a puppy). He was placed with an elderly woman who took good care of him for many years until she passed. He was then fostered in her daughter's home with three other adult Yorkies who were all larger than Cody and did what most animals do - they tormented him because they could. So he learned to be fearful of small children and other animals before we'd even met him. Fortunately for Cody, we had no small children or other pets in our home, so his anxiety eventually lessened.

Cody was hesitant with us initially, but learned to trust his new family and became a big snuggler. When his family was sitting on the couch watching TV he would jump up (he was far too small to get up himself) to let us know he needed to be up with us and then lie happily, on one of his many blankets, beside us. Often, he took his time getting the blankets just right before he would relax. He'd circle and circle, tugging the blanket this way and that, until it was just perfect.
Keli even taught him to sit and shake hands in his old age. He later added lying down to his repertoire. But we could only ever get him to do his new tricks if we gave him a treat. Or if the kids tricked him into thinking he was getting a treat.

He would wait to eat dinner until his family was eating, bringing mouthfuls of kibble into the dining room to eat one piece at a time. When we first brought Cody home, we tried letting him sleep alone in the kitchen or living room, but he wanted no part of that. He would cry until we brought him into our bedroom, where he slept happily through the night. So from that point on, he slept with us. Or at least in the same room. He always preferred sleeping at night in his crate to sleeping out in the open or on a bed. Even during the day, he would often make his way to the crate and get some private time.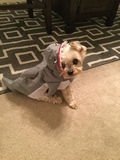 We tried putting him in costumes at Halloween, but he was never a big fan of clothing. Socks, costumes - they would just make him freeze in confusion until someone extricated him from the weirdness. We got him a shark costume last year and he was so cute, with those big brown eyes looking up at you, but he barely moved once it was covering him. So we didn't make him wear it very long.
We tried giving Buddy many toys during his time with us. He had no interest in any balls, no matter the size or composition. Rope toys were of no interest and stuffed animals earned only his disdain. But then I found a tiny, little bear that was probably a cat toy. I brought it home to Buddy, hoping this tiny thing would be something he might want to play with. I don't think he paid much attention to it at first, but several times, when we weren't looking, he would throw it around, pounce on it, and just take it with him wherever he'd go. It was super cute.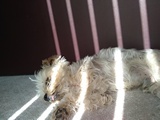 Another of Buddy's favorite daily activities was lying in the sun (either in the house or outside, if it was warm enough). He loved just soaking up the warmth of the sun.
Every day when I would come home from work, he would perk up when he heard my car alarm beep and would run to meet me at the door when I came into the house. The final two weeks of his life, he didn't have the energy to meet me at the door and near the end, didn't even look up when I'd come in. It was heartbreaking to watch his decline. It was heartbreaking to see him so bereft of energy that he couldn't even make it to the sun in his final days.
A week before he started to show the signs of Kidney failure, he was in Utah with Julie and Emeli. One of the days they were there, Cody wandered down the hall by himself, as he often sid, and disappeared. When Julie went looking for him, she found him curled up snoozing. In her suitcase. It was so cute. When she came in, he groggily looked up at her and then went right back to sleep. So cute.
Our awesome little buddy, Cody, went from a vivacious, playful little guy to a crippled old man within about a week. He was diagnosed with potential kidney problems a few weeks earlier, so we were adapting his diet to a more renal-friendly menu, but nothing we did made any difference. We had his blood tested a couple of weeks later and we were told he had stage-4 kidney failure. So the renal-friendly food was abandoned (he reused to eat it, anyway) and we let him eat whatever he wanted. Which was, for the most part, nothing at all. He drank a lot of water, but ate almost nothing.
In the end, Cody couldn't stand unassisted, he wasn't eating anything, he did nothing but sleep restlessly all day, and he didn't respond to anything except physical touch. He still showed some appreciation for a good scratch behind the ears or under his emaciated little chin, but he was quickly approaching a painful demise so we made the very difficult decision to take him to the vet to be put out of his misery. This is the second dog I've lost to kidney failure. The other was Benji, over 25 years earlier, and her death is still painfully etched into my memory.
We have a thousand pictures of our cute little guy, but here are a paltry few...
A few videos...
Your browser does not support the video tag.
Cody didn't appreciate toys as big as he was.
Your browser does not support the video tag.
Cody was quite the explorer in our little yard.
Your browser does not support the video tag.
Cody never could quite get those blanket gophers.
Your browser does not support the video tag.
Cody always had to ge the blanket "just right" before he'd lie down.
Your browser does not support the video tag.
A trifecta of tricks for a treat.
Your browser does not support the video tag.
Our last day with Buddy, he was too far gone to even lift his head. It was heartbreaking.




Got something to say? Say it. (0 responses).



This page has been viewed







times since I started tracking hits.
(This is a rudimentary non-unique IP hit counter, so don't be too impressed)