Excellent Adventures on the PCH (part 3)
Day six: Oregon Explorations, day 2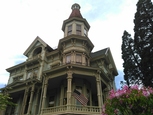 We started our first full day of exploring Astoria with a trip to the Flavel House museum (pronounced "Fluh-vell" if you want to avoid sounding like a knucklehead...as I did). From the exterior, it looks an awful lot like Disenyland's Haunted Mansion, minus all the graves and mausoleums on the grounds. On the inside, it also looks an awful lot like the Haunted Mansion - or at least what the Haunted Mansion would look like if it was a real place and you could get off the ride and wander around.
There's a video in the Flavel House Carriage house that gives you background7 on the Flavel family and especially George Flavel, the patriarch of the family. As for the house, the one part of the house that is off-limits is the tower that George used to climb up inside to spy on everything and everyone in town. It's still there, but it's roped off (so I guess you could get up there if you were rebellious enough). The museum house is a little pricey for what you actually get at $6 a head, but is still an interesting piece of history to explore. I'd recommend checking it out if you find yourself in Astoria.
Here are some photos of the exterior of the Flavel House museum. It's pretty spooky.
And here are a few photos of the interior of the Flavel House museum. It would be a spooky place to stay the night, but the craftsmanship of everything in this house is super-impressive. They certainly don't put anywhere near the same effort into building now that they did back in the late 1800s.
After the Flavel House, we headed over to the Bridgewater Bistro11 for some lunch. There aren't a ton of fast-food places in Astoria, so you'll probably be eating in a lot of real restaurants during your stay. The Bridgewater Bistro was a much more upscale restaurant then the previous night's venue. There is a ton of seating and pretty much all the seats have a great view of the water and the Astoria-Megler bridge that crosses the Columbia River (more about that in a minute). The food was delicious. I only had a cheeseburger and fries...but man, was that a cheeseburger! All the ingredients are locally sourced and you can really taste the difference. Emeli had a cheeseburger with a gluten-free bun and said she couldn't tell the difference from a normal bun. her bun did actually look like a normal bun, unlike most of the crumbly, dry, horrible gluten-free breads we've seen. Satiated, we continued our explorations.
Astoria actually has a couple of theaters. One, in the middle of downtown , apparently only has one screen and plays older movies. The other, on the eastern side of town, is newer and has multiple screens. This is the theater we set out for to see Guardians of the Galaxy Volume 2, a fine piece of cinematic fare. I'd blather on about the movie, but there's still too much trip-related blathering to be done...
After the movie, we set out to see a few more things before it got too dark to really appreciate them. First, we headed over to the Oregon Film Museum (yep, it's a real thing), which is pretty much just a Goonies museum with just a few non-Goonies points of interest. Unfortunately, it had already closed for the day, so we had to postpone that adventure for the following day. We decided to go check out the shops in Astoria's little downtown area and discovered that by this time (almost 5pm) pretty much every shop on the main street was closed. We found a music shop (instruments), a used book store, and an arcade/comic book store that looked like fun...alas, 'twas not to be. And on top of everything being closed, it was raining. So we were getting a little damp.
We did finally find a bookstore that was still open and popped in to see if there was anything of interest to be found. Man, I've never been anywhere that was more infested with the stench of hippies. From the incense (both in use and for sale) to the hippy posters stuck to the ceiling, it was thoroughly hippified. We looked around for a few minutes, but none of us really found anything worth picking up, so we headed back out into the now-non-rain on a quest to find some ice cream.
We'd parked near a shop with both "ice cream" and "chowder" painted on the columns beside the front door, so it wasn't a very auspicious beginning. Once we were inside the shop, we realized out initial instincts were correct - this place was even more hippy-stench-filled than the bookstore. We backed out slowly (never turn your back on a hippy, if you know what's good for you), and set out again.
We discovered Frites & Scoop just down the road. It was definitely a much cleaner and much-less hippy-infested ice cream shop. We were offered multiple samples of different flavors with fancy little metal spoons at the proprietor's insistence. And they were all amazing, but I settled on Hokey Pokey (the girls each had something different). I didn't try a frite, so I don't know how those were, but they were probably delicious.



Our next destination was the Astoria Column. So we drove up the crazy winding road through cool neighborhoods full of both interesting and haunted-looking houses. At the top of the hill, we could see in every direction for miles. the tower was another 125 feet above the level of the parking lot, but nobody seemed interested in climbing the 164 step spiral staircase to the top, so we didn't see anything from the tip-top of the column. On the way back down, we saw some wildlife.
I almost forgot about one of our movie-related stops. On our way up to ther Astoria Column, we drove past the elementary school used in Kindergarten Cop and took a few photos. It is, apparently, a real school that's full of real...well, kids.
We were trying to see everything else from our list of "Amazing things to see in Astoria" before it got dark, so we drove around looking for the Doughboy monument, but couldn't find it8. As we circled around looking for it, we decided to drive across the Astoria-Megler bridge into Washington. A word about the Astoria-Megler bridge - I don't usually get nervous driving over bridges, but this one had me feeling a little on edge. This sucker is tall. And narrow. And scary, at least until you get about halfway across the 4-mile bridge and it drops down to water level. Man, that would be a bad place to be when the tsunami hits9.
There wasn't a whole lot to see on the Washington side of the bridge. Mainly just trees and mossy dock piles (without the docks) and abandoned boats pulled up on the bank of the Columbia. But on the way back to the bridge (after driving down the road for a few miles with nothing new to see, we decided to turn back) we found the Dismal Nitch! And a couple of dismal hoboes sleeping against the wall of the Dismal Nitch restroom.
As far as the Dismal Nitch goes, it's basically a cove where Lewis & Clark were stuck for weeks because they couldn't get past it. It would have been pretty impassable back in the day with no roads, a lot more trees and the wrong weather, fer sure. Yeah history!
The boats on the Astoria side were in much better condition (which is an unfair comparison, since there's an actual town there).

We returned to our Motel and Emeli entertained everyone in the Atomic Motel lobby for an hour or so. I suspect these performances were probably her favorite part of the trip.
Day seven: Oregon Explorations, day 3
Our final goal for Astoria - despite the long list of forts, shops, and the other museum we hadn't made it to yet - was the Oregon Film Museum. We had purchased an "all-access" pass to the three Astoria museums when we visited the Flavel House museum because it cost the same as admission to two of them anyway, and we knew we wanted to go to the Film Museum...so why not10?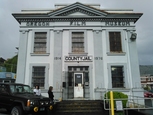 As I mentioned, the Oregon Film Museum is pretty much just a Goonies museum with a few non-Goonies-related items. The museum itself is an old jail that was used to film the opening scenes of The Goonies. It's divided into three main sections: the hot sets, the jail cells, and the gift shop.
The hot sets were probably the most fun. There are three film sets and you get to film five takes of yourself using any of the sets. You pick a scene from different Astoria-filmed movies to read on the teleprompter - we picked scenes from Kindergarten Cop, The Shining, Point Break, and The Goonies. I can believe I didn't take a single photo of the hot sets. We were just having too much fun. Sadly, some of the scenes we filmed didn't record because we didn't know what we were doing. And the ones we did film are going into the vault and will never to be shared with anyone because they are so ridiculous. You can sign up to get an email with a link to all the videos you created (MOV format).
Two of the three jail cells were filled with Goonies memorabilia, and the other one you can go look around. The other room was filed with Goonies character cutouts and a Goonies arcade game. The gift shop had a bunch of Goonies stuff and a little bit of stuff from the other Astoria movies.
I was almost done with this long, monotonous sorory about our adventure, but then I realized this post is already a million miles long, so I decided to save the rest for the next post. That will be the end, I promise. And maybe I'll even mention a thing or two other than details of my Excellent Adventures on the PCH.



7 Speaking of background of the Flavel family, I was provided with a few interesting stories from Barb, at the Atomic Motel, when she was giving me a gigantic list of things to see. First was a story about George being 30 years older than his bride, who was 14 when he married her. The video in the Flavel Carriage house does admit to him being 20 years older which is still weird, but only just a little less weird than 30 years would be. The other story was about the son of George Flavel being nuts. He apparently went after his mother with a butcher's knife and notched the banister of the stairway as he was threatening her (but not in the Flavel house - this was in some other house). And had a crazy temper, killing a local and then escaping conviction by hiding out in Europe for many years. There was no mention of either at the Flavel museum, so who knows if they were true. But I like to think they were...
8 We actually did find it, but since I didn't know what I was looking for, we kept looking for something completely unlike what I thought I was looking for.
9 You will see a ton of signs all long the 101 through Oregon that warn you about being in a tsunami danger zone.
10 It's a great idea! Unless, of course, you don't have plans to spend more than one whole day in Astoria and don't make it to the museum before it closes the full day you're there. If you're a miser like me, you will force yourself to go to the museum on a day that you had planned to spend doing nothing more than driving...
11There's a bar or restaurant somewhere in Astoria (maybe it was the Bridegwater Bistro - I'm not sure) that is rumored to still have a trapdoor in the floor that was used by press gangs to shanghai people into the local fleets' crews. Legend has it that the room beneath this establishment is haunted and the locals will not willingly go into this space alone. Or at all, if they can help it.



Got something to say? Say it. (0 responses).


This page has been viewed







times since I started tracking hits.
(This is a rudimentary non-unique IP hit counter, so don't be too impressed)