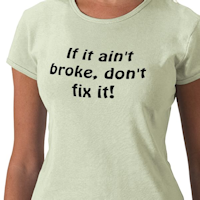 The joys of server upgrades
Man, this might be a new record. I haven't blathered on about anything in over four months. And I probably wouldn't have bothered to now if I hadn't hosed my whole site (and the many other sites I host) with a PHP upgrade. Even now, I should be working on fixing the myriad problems on this site and all the other sites...but after fixing a few pages of Badbartopia and many, many pages on just three of the other sites, I needed a break.
I actually have a bunch of other non-broken-site-related things I've wanted to mention, so I might get around to those things if the inspiration takes me. I think I mentioned the new Lev Grossman book briefly - and the embarrassment that ensued at the signing - but I've been sitting on the humiliating details. I might get to those soon. And I built a couple of handy tools in PHP/MySQL that I was going to mention (a sweet - and most importantly, simple - calendar that's modeled on a limited functionality Javascript calendar and a customizable vertical-tabbed notepad), but they're both kind of works in progress, so that's all I'll say about them for now. They do both work and I do use both every day, but there are still a few rough edges to be polished.
And..well, that's all I have to say about that (for now).
So...about this whole broken-site thing. I'm not sure if the PHP 4 settings were just more forgiving and the default PHP 5 settings are being more serious about syntax or if it's more than just a settings issue, but man, did my code have a hard time working when I upgraded. All my $_GET and $_POST array variable stopped working (when referenced without the $_GET or $_POST) and my includes to a page on Badbartopia for IP-GEO lookups (on domains other than Badbartopia.net) stopped working. So I guess I'll finally be getting around to making the IP-GEO lookup a web service. It was bound to happen sooner or later, I guess.
And what, exactly, prompted me to undertake an upgrade that I was pretty sure would cause major headaches? Well, it was a new site on my hosting that I am hoping to be able to put up quickly and without a lot of effort on my part - with WordPress. I really don't like using those pre-built framework thingys for the sites I do, but I just don't have time to add another major project to my schedule right now - so WordPress it is. And the current version of WordPress doesn't work with PHP 4...thus the upgrade.
Oh, I also wanted to mention the sweet WD TV Live box I got a few months ago. It's so awesome that I actually cancelled cable and just ripped all my DVDs to my computer and now stream the video from computer to the TVs in the house (we only have one WD box, so we have to haul it from TV to TV, but it's tiny, so it's not really a major inconvenience). Paying for cable TV is so overrated.
I can't think of anything else worth mentioning, so good night, John Boy (and Dan and Steve).

Oh, if you find anything that's broken, please let me know. Thanks.



Got something to say? Say it. (5 responses).


This page has been viewed







times since I started tracking hits.
(This is a rudimentary non-unique IP hit counter, so don't be too impressed)