Merry Christmas!
(Yeah, I know it was a while ago.)
And speaking of things that happened in December...Christmas! I didn't post anything festive in December at all. My suckage knows no bounds. But better late than never, right?
Anyway, Christmas was spent in the least Christmassy place on Earth: at home in San Diego. Our well-decorated Christmas tree was festively decorated from mid-November to early January (the best thing about a fake tree: it never dries out and decomposes in your living room) and we did eventually put up some exterior lights and decorations, but Christmas just isn't Christmas without being surrounded by extended family and having snow to play in. I'm hoping to have a real Christmas in the snow with gobs of family next year. That said, I did get some sweet Christmas loot: a clock that runs backwards (this from the office Christmas party white elephant gift exchange - now running in my cubicle next to my Math clock), a sweet wooden watch (the band and exterior of the case are wood - the rest is metal) with exposed gears (under glass, of course) that self-winds when worn (and dies quickly when not worn/manually wound), and some Clark's shoes that I'd long admired but never ponied up the dough to buy.
But enough about my Christmas loot...


Potterland...again

I made my triumphant return to Harry Potterland a few months ago (the first visit since December 2016 - around 3 years later). I'd been jonesing for some Butterbeer and...well, just a visit to Hogsmeade1. Harry Potterland was not at all crowded on this visit. I walked right onto the Hogwarts ride and on to the Hagrid roller coaster without any wait. To be honest, this was a little disappointing in both cases because there's so much fun stuff to look at while you wait, but it feels weird to stop and soak it in when people are shuffling past you as you gawk at the scenery (not to mention my own family that was complaining about the frequent stops to soak in the scenery).
We were also in time to catch the Beauxbaton and Durmstrang performers. Unsurprisingly, all the performers were different from those I saw in 2016 (I would often see the same performers in 2016 when we visited throughout the year). The Hogwarts Choir was singing when we arrived, but we only caught a little bit of their performance as we were wandering through Hogsmeade. We did hear a snippet of the Christmas songs they performed. Hogsmeade at Christmas is great.

The Three Broomsticks, my favorite over-priced place to eat in Potterland, was equally uncrowded on this visit. We walked right up to the house elf taking orders and we were able to sit just about anywhere we liked. We decided to site in the back by the impressive antler collection. I tried the Holiday Feast (turkey, potatoes, stuffing, and a veggie - which was only available during the Christmas season) and found it delicious. Maybe not as delicious as the Bangers and Mash I'd had on the previous visit, but still very good. The Butterbeer was every bit as delicious as I remembered and I'm craving it as I sit here writing this.
Before we left, we watched the Christmas light show on (actually "on") Hogwarts castle. It concluded with a fireworks show and was really impressive. I don't remember seeing anything like that in 2016.
We also looked around at the British section of the European streets where The Walking Dead "ride" is nestled right in the middle of Baker Street. It's funny that The Walking Dead is located here, but I guess it had to go somewhere. I didn't see Sherlock's shadow this visit, but I could have just missed it. I was being rushed along by people who were less concerned about seeing what was there than getting to the next thing to not look at either. We did see a bunch of characters around the park entrance: Scooby Doo, Shaggy, Fred, Velma, Daphne, Lucille Ball, Dracula, and BettleJuice. I'm sure there were others, but those are the ones I remember.
Also notable, there was a guest in an orange velour track suit who was posing with characters throughout the park, dancing with them, battling the transformers, etc. that we ran into several times throughout our visit. I wish I'd taken a picture of him on one of the many interactions. So weird.
And there were, as usual, the loud New Yorkers yelling back and forth to each other in the New York section of "main street."

Speaking of The Walking Dead "ride", it was a little different from what I remember 3 years ago. The only definite difference was the removal of the crashed, smoldering helicopter (on the roof of the hospital). It seems like there were others, but there aren't any that I still remember specifically.
There wasn't a single person ahead of us or behind us.
Despite the complete lack of crowdedness, I still I took too many photos that didn't turn out. The Universal employees in the main line area room (just before the "ride" actually begins) shut me down and stopped me from taking more than a couple of photos in that room and the photos in the hospital hallway never trun out very well for some reason. It was weird to be alone in that room (other than the Universal employees). Just a little creepier than normal.
In other non-Potter news, I also rode the new Jurassic Park ride for the first time. It's an amazing feat of engineering and special effects, but I missed the death and mayhem of the Jurassic Jungle Cruise (the previous version of the ride). The dinosaur-containing aquarium is great. It was a chilly day, so I'm glad I didn't get drenched (as I was warned by the Universal employees that I would - the end of the ride is a very tall log flume). I suspect that's a way to sell buttloads of rain ponchos, because there were a lot of people in ponchos. Admittedly, the guys at the front of the boat did get really wet,
There were also many other opportunities to get damp on a cool day throughout the ride - spitting, splashing dinosaurs aplenty. It would be a nice cool ride in the summer.
I almost tried the Transformers ride for the first time, but it was having mechanical problems. So after waiting in line (without moving) for about an hour, I bailed on that one. Maybe next time.
We also rode the ever-fun Studio tour. The tour guide was okay, but not as funny as some we've had in the past. And there was one big difference (I think there were actually a few changes, but this one was the best) - Norman Bates was hanging out at the Bates Motel (I think he was putting a body in the trunk of a car) and then came walking toward the tram as we stopped to take photos. As he drew nearer, we could see that he was holding something hidden at his side. And then he reached the car ahead of us and savagely attacked one of the passengers, stabbing her forty-seven times, sending plumes of blood and viscera over the other passengers in the car...
Just kidding. Norman Bates was there, but nobody was stabbed. He did have a big kitchen knife and chased after the tram for a while, though.



Before we left Universal Studios, I picked up a few tasty Hogsmeade treats from Honeydukes. I wanted to try a few things I hadn't gotten on previous visits, so I tried fudge flies and butterbeer fudge. The Fudge Flies were milk chocolate, so not especially great, but the chocolate was good quality and tasty, nonetheless. The Fudge was super rich and creamy and so delicious. I'm craving that now, too, but I'll probably try one of the other fudge flavors next time instead. I also bought a Ravenclaw house tie and a chocolate frog in the shops outside the gates (Universal's Downtown Disney). I bought the frog, with it's forgettable milk chocolate frog to get the wizard card. The chocolate frog is cheaper in Downtown Universal, but...also smaller and much less fancy than the wizard card you get in Honeydukes - so that was a disappointment (I only remembered there was a difference after the fact).


December Darling, Meg & Dia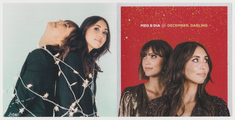 In non-Universal-Studios-related Christmas news, I ordered the Meg & Dia Christmas Album, December Darling, from their web site. I bought the Dia Frampton Christmas album in-store (Target, as I recall) when it came out a year or two ago, but December Darling was nowhere to be seen anywhere but online. I guess that's the new order of things2.
There wasn't much of a CD liner, just the front cover fold-out with the lyrics inside and the 2 photos of Meg & Dia on the front and back. That was slightly disappointing. The photo-filled, insane rant-filled, or at least multi-page something-filled CD liner books are one of the main reasons I still prefer the physical media over the digital downloads.
The album is mostly just Meg and Dia (mostly Dia, I'd say) singing traditional Christmas songs. I love Dia's quirky voice, so this album was a treat for me. There are also some original Christmas songs on the album which were also nice.
Here's one of my favorites from the CD, Dia singing Let it Snow.

I was also going to blather about my extra nerdilicious cubicle, but I've lost interest.
Next time, possibly.






1 I often also miss New Orleans Square at Disneyland and maybe even Disneyland's Main Street the same way when I don't return for months or years at a time - and then I remember why I let my Disney annual pass lapse after too many overcrowded visits.
2 I am still getting all my music on physical media, tough. I'll be super bummed if my only option is digital music at some point in the dark and dreary future. I guess I'll have to resort to buying old CDs, the same way I'm buying old records these days. Speaking of old records, I just got a Pseudo Echo record that I bought on Discogs.com. Sadly, there were multiple versions of this record sold in 1987, and I received the wrong one, or at least not the record I thought I was ordering. No Funky Town for me!



Got something to say? Say it. (0 responses).


This page has been viewed







times since I started tracking hits.
(This is a rudimentary non-unique IP hit counter, so don't be too impressed)