Update: April 30, 2008
I bought a Neil Gaiman children's book, The Dangerous Alphabet, yesterday. I blather on about it at the bottom of the page.
Mortal Fishtank Combat: Fatality

I had my first fish fatality in the new tank this past weekend (Saturday night, actually). A neon tetra bit the dust and lost its eyes and stomach in the process. I thought the little guy was pregnant (it had a swollen stomach that I assumed was full of eggs), but after it died and I did a little searching on the Internet, it sounds more like it was carrying a parasite.

The only other tank loss has been an egg-filled Amano shrimp about a week ago, but it just disappeared, so I don't know if it escaped, was eaten, spontaneously combusted or was kidnapped by aliens who will return it to the tank after being thoroughly probed. These little suckers (the shrimp, not the aliens) are really good hiders, so I have been hoping that it would just come out of hiding eventually. Unfortunately, it hasn't yet...so I'm assuming it won't.

Since I haven't been blathering on about anything (fish tank-related or otherwise) recently, here's the rundown on the changes in the fish tank's population...

After starting the tank with its lone betta fish (who we named Buddy), I decided to add a couple of other fish, so I got two little neon tetras. Buddy the betta didn't seem to mind his new neighbors, so about a week later, I added two glowlight tetras. The four tetras immediately schooled together and were seldom seen apart and I was relieved to see that the betta was leaving them alone.

Them around two weeks ago, the tank started developing a nasty algae problem. The tank isn't exposed to sunlight, so I'm not sure why it started happening, but it quickly turned into a murky algae pit. After some quick research on the internet, I identified a few fish and shrimp that could help reduce the algae problem and headed down to the pet store to see which they had. Unfortunately, they didn't have any of the fish I was looking for, but they did have the Amano shrimp.
I picked up a couple of Amano shrimp to eat the algae, but I couldn't see any change in the algae-content of the tank after giving them a few days (they tended to just hide in the little burrow I made for them most of the time), so I returned to the store with my list of other algae eaters. Unfortunately, they didn't have any of the fish I was looking for, so I got two Chinese algae eaters (recommended by the pet store employee as voracious algae eaters that wouldn't get very big). I also picked up three bulbs to "plant" in the tank which have all begun sprouting, which is pretty cool, I must say.

The tank went from a swampy looking mess to having only slightly algae-covered plastic plants and gravel in a matter of days. And now is free of any visible algae (so I've had to feed the Chinese algae eaters algae tablets to compensate). Those little suckers ate algae non-stop. Unfortunately, the larger of the two has also become a little bit of a bully (we named him Butthead and the smaller one Beavis), chasing the slightly smaller Chinese algae eater around the tank non-stop. Poor little Beavis spends most of his time hiding from Butthead. Butthead even tries to give the betta grief every now and then, but Buddy either ignores him or gives it right back. Surprisingly, the betta hasn't shown any territorial behavior toward the Chinese algae eaters or the tetras.
When the missing Amano shrimp didn't turn up, we went to the pet shop and picked up a replacement and a "mystery snail" (that's what it's really called) with a yellow shell. For a snail, it actually moves around pretty quickly and is pretty entertaining.

Despite my fears of this tank being non-entertaining, it has actually been a lot of fun. I find myself parking in front of it all the time just to watch the critters interact. Fish tanks are awesome - even freshwater tanks.
Here are a whole bunch of photos of my lovely fish tank. And here's a thrillingly exciting video of my fish (minus the dead one who is...dead and not very photogenic).

Flight of the Conchords CD



I picked up a new CD this weekend. I wasn't out shopping for CDs and was unaware that this particular CD even existed before I saw it on the shelf.
Flight of the Conchords is a couple of goofball comic-musicians from New Zealand who have a show on HBO about...a couple of musicians from New Zealand trying to find success in the music industry in New York. The show is awesome - so awesome that I might even pay for HBO to see season two. I picked up the season one DVDs a few weeks ago, but I haven't even opened the shrinkwrap yet - my DVR is always full and putting a DVD in the player just seems like such a hassle.


(this isn't from the HBO series)
I just realized what that song reminds me of...

There aren't any robots, but it's sweet nerdy sci-fi funiness.
The CD has 15 songs that anyone familiar with the HBO series will recognize:
Foux du Fafa
Inner City Pressure
Hiphopopotamus vs. Rhymenoceros
Think About It
Ladies of the World
Mutha'uckas
The Prince of Parties
Leggy Blonde
Robots
Boom
A Kiss Is Not a Contract
The Most Beautiful Girl (In the Room)
Business Time
Bowie
Au Revoir
And there was an unexpected and added bonus: the CD came in a cardboard case with a Conchord pop-up and a two-sided Flight of the Conchords poster (now hanging in my cubicle at work).
Good stuff.

The Dangerous Alphabet


I'm sure it comes as no surprise that it's much easier to write about a text-lite children's book than it is an unillustrated and word-filled "adult" novel. Especially a Neil Gaiman children's book. That's not to say the grown-up books I've read recently aren't worth a lengthy examination, but it's just not as easy.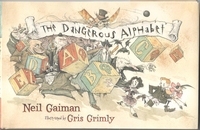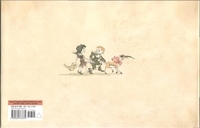 Neil Gaiman is coming to San Diego (the Mysterious Galaxy book store) for another signing this July, so I made sure to get his new book, The Dangerous Alphabet, the day it went on sale (yesterday, actually) - even though I knew nothing more about this book than the title and Neil's authorship. I was actually the fifteenth person (I bought it at lunch) to pick the book up yesterday, so I'll be the fifteenth drooling, gibbering fan that Neil is subjected to that day.
There's really not much to the book. It's a whimsical, if dark, children's book with pretty drawrings and not a lot of text.
A

piratical ghost story in thirteen ingenious but potentially disturbing rhyming couplets, originally conceived as a confection both to amuse and to entertain by Mr. Neil Gaiman, scrivener, and then doodled, elaborated upon, illustrated, and beaten soundly by Mr. Gris Grimly, etcher and illuminator, featuring two brave children, their diminutive but no less courageous gazelle, and a large number of extremely dangerous trolls, monsters, bugbears, creatures, and other such nastinesses, many of which have perfectly disgusting eating habits and ought not, under any circumstances, to be encouraged.

Please Note: the alphabet, as given in this publication, is not to be relied upon and has a dangerous flaw that an eagle-eyed reader may be able to discern.
This book is, undoubtedly, a children's story, but it might not be the most well-suited bedtime story for all children. As I said, it is a little dark, as most of Neil's stuff tends to be, and kinda creepy.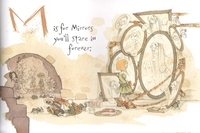 The illustrations aren't brom-scary, but they're pretty spooky. If you're a fan of Neil, clever children's books or even just wonderfully illustrated stories, you should check this book out.




I do still plan to sit down and think about what I liked about The Appeal, Allegiance, My French Whore and Shopgirl. Finding passages that really show why I was impressed (even when taken out of context) is just so much more time consuming...



Got something to say? Say it. (2 responses).


This page has been viewed







times since I started tracking hits.
(This is a rudimentary non-unique IP hit counter, so don't be too impressed)