Finally, something other than Potterville

Amongst the things I neglected to mention last time was my discovery of the wall of sandwich bag art in the local WhichWich sandwich shops (there are three near me). One of them has a bunch of bags that were illustrated at ComicCon, so they're pretty impressive. Most are done in Sharpie, though a few are red colored pencils. Of the non-ComicCon bags, most are unimpressive. But either way, I was inspired to contribute a few of my own substandard Sharpified (sketched in pencil and then ruined with a red Sharpie marker) doodles to the wall. And since I don't expect anyone to wander into a WhichWich and try to find my bags among the hundreds of other shoddy contributions, here they are for your viewing pleasure -
Oh, and speaking of WichWhich, I like the concept, but...it's a little pricey for what you get. That being said, any place that serves breakfast sandwiches all day is definitely on my good side. And their banana shakes are amazing - especially, oddly enough, the fake flavored banana shakes (you can get one made with real bananas or banana syrup).

Doodling again

It's been a few years since I've picked up a pencil (prior to doing these WhichWich bag doodles), but I was inspired to return to the drawing board recently and create some all-new substandard doodles. Elsa is the first, with more mediocrity sure to follow.


One last point of disinterest: my lovely sweatshop cubicle's decor. I think it's time to swap out all the comics on the walls with new ones.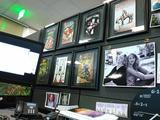 That's all I have to blather on about now. I will be mentioning some of the books I've read soon and will also be headed to Harry Potter fun town sometime this month for one final visit before my pass expires. I'm hoping for Potterverse Christmas decorations to share (but if Halloween was any indication, there will be none). So your reprieve from Potter-related stuff will probably be short-lived. Oh, and I might post a list of my beloved comics, books, toys, etc that I've sold on ebay over the last few months in memoriam. Exciting, I know.



Got something to say? Say it. (0 responses).


This page has been viewed







times since I started tracking hits.
(This is a rudimentary non-unique IP hit counter, so don't be too impressed)