The Big, Fat Network TV Conspiracy!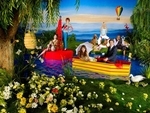 Speaking of my proclivity for cover bands (What? You weren't?)...
I noticed that a new episode of Pushing Daisies had once again appeared on my DVR this week (it's a good thing I'm lazy and hadn't removed the show from the scheduled recordings). I didn't get around to watching it until this past Wednesday night, but after watching it I was filled with renewed hope that reports of the show's cancellation had been made in error.

Sadly, I discovered (in the newspaper, of all places) that the show was still dead and ABC was just airing the last three episodes out of the kindness of their hearts. It's so disappointing that such a brilliant show couldn't find an audience.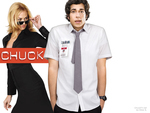 And speaking of brilliant shows with cover songs being performed, how about Jeffster on Chuck? The boys of Jeffster aren't exactly Kristen Chenoweth-caliber singers (I don't know if it's even them singing), but I love a good cover, regardless - especially if it's an 80s "classic."


Thankfully, the networks decided against using the method of bart-likes-it-so-we-must-cancel-it for Chuck's return next season, so it will be returning. But I've heard rumors of big changes, so I hope they don't decide to axe Jeffster. That would be a bummer. Either way, the matrix-esque ending of the previous season does have me psyched for Chuck's return.
How cool is that?


Pushing Daisies wasn't the only show I watched that got axed, though none of the others were known for wondrous cover versions of classic songs.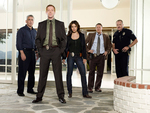 Life was one of the few "drama" type shows I watched last season. The show didn't feature any cover songs, but it did have a knack for picking the perfect emotive background song for every scene. And I will miss the Monk-like Zen detective stories of Charlie Crews (and his gorgeous sidekick, Detective Reese). The season/series finale was so great that I got chocked up watching it.
I will also miss Earl and Randy's exploits in Camden on My Name is Earl. Even though the show was straying dangerously far from its premise of Earl making up for all the bad stuff he had done before discovering karma, it was still full of golden comedic moments. Randy, Joy, and the Crab Man were all brilliant - as was the cast of minor characters surrounding them.
I'm shocked that Scrubs made the move to a new network and nobody tried to save Earl.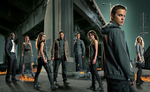 I watched every episode of The Sarah Connor Chronicles, but often had no idea what was going on...so the show's cancellation probably shouldn't be much of a surprise (although Lost is still going strong, so an easily understood plot obviously isn't a requirement for successful TV). In my opinion, the season (and now "series") finale was probably the best episode of the entire series.
Now we'll never know what happened to John Connor and how the war with the machines evolved without him.




On a slightly unrelated note, it looks like they've also pretty much put a bullet in Legend of the Seeker (but having never read the books on which the series is based, I don't know if they're just following the story from the books or trying to wrap things up before the show is canceled - I haven't heard anything about the show's demise). The bad guy is dead, the origins have all been explored and the seeker's forbidden love is no longer forbidden. What's left now?
To be honest, this show really only had one thing that brought me back week after week (or whenever the episodes aired - if not for the DVR, I doubt I could have kept up at all): the confessor, Bridget Regan.
The rest of the cast (is it me or does the seeker look like Bud Bundy?), plot, acting, etc are pretty unremarkable.
I watch too much TV. But at least there's a possibility that I'll be watching less of it next year.



Got something to say? Say it. (0 responses).


This page has been viewed







times since I started tracking hits.
(This is a rudimentary non-unique IP hit counter, so don't be too impressed)