The Wizarding Nerd of Harry Potter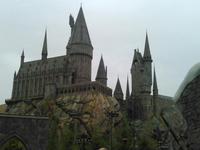 Finally, something worth mentioning! I lucked into visiting Universal Studios Hollywood on a special preview day for The Wizarding World of Harry Potter (we just went because the kids had the week off and there was an offer to get an annual pass for the price of one day's admission). The Wizarding World doesn't officially open until April 7, but everything seemed to be pretty much done from what I could see. As far as I know, this preview day was the first time the general public was allowed in to look around Hogsmeade.
All the Hogsmeade shops were open (as far as I could tell - the doors that didn't open seemed to be facades). I did, of course, try a butterbeer (the non-slushy variety) and picked up some Peppermint Toads and Bertie Botts Every Flavor Beans. Soap and Black Pepper are the worst flavors I've come across so far. It was raining the day we were there (perfect Hogwarts weather), so I also picked up a Gryffendor umbrella to keep a little bit dry in my shorts and t-shirt. I didn't try the Three Broomsticks restaurant, though it was open (we ate at Hard Rock before we knew we would be able to get into Hogsmeade).
I also didn't get to try the ride inside Hogwarts because it was experiencing technical difficulties, but I did get to walk the route through Hogwarts to see all the may displays of wonder between the exterior and the ride itself. The hours long wait to get to the end of the line (once the Wizarding World is officially open) will be filled with much to see and enjoy, at least for the first few times you go on the ride. Also, I tried the the outside roller coaster and found it to be just about my speed. The ride feels a little like an outdoor Space Mountain, though shorter.
So that's my exciting news. Now, on to the usual claptrap...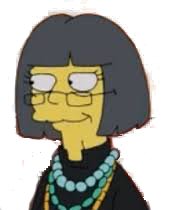 I have an older co-worker-who-shall-remain-nameless who complains about her working environment. A lot. She can't work in a sitting position for extended periods of time, she has to have special keyboard trays, mouse pads, etc for carpal tunnel. And as icing on the annoying cake, she speaks barely-intelligible, broken Engrish.
Recently, her incessant complaining led to her being given a manager's office with an adjustable desk that could be lowered for...well, whatever imaginary ailment she was suffering from. In addition to the office, she kept her cubicle full of crap (if you can call the awesome sweatshop seating in my office "cubicles"). The manager's office was a temporary solution until a co-worker retired. She then moved into his his "cubicle," which could be adjusted in height. The rub is that the new desk with the adjustable height has a much smaller work area. So she now has at least two work spaces (though she might still use the manager's office - I really don't know). I'm assuming she's going to give up the other work space at some point, but her debris is still currently spread across the space. So I decided to poke a little fun on a Friday while everybody else was teleworking.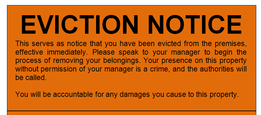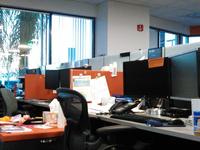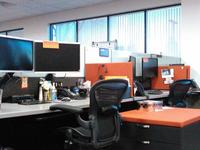 First, I printed new name plates for all the desks but the aforementioned employee's (I'm not even going to bother calling them cubicles) with her name, followed by " Extension Cubicle" and inserted them into the name plate frame on each desk over the actual occupant's name. And then I glued an eviction notice to one of the monitors on each desk (other than her two cubes, that is).
Unfortunately, she took the following Monday off to celebrate some obscure holiday, so my joke was sort of a swing-and-a-miss. I did encourage my fellow employees to leave their eviction notices and extension cubicle name plates up for about a week. But on my next telework day, the killjoy took them all down.
I thought about trying to revisit some of the other pranks I've pulled (mostly on Dave) that were slightly more effective, but I don't feel like it. Maybe later.
This next thing isn't a prank, but I'm going to talk about it anyway...so enjoy.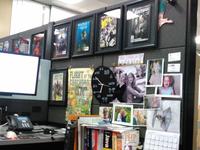 My cube is now a shrine to Batman. It became a Batman shrine to compete with the Superman shrine that another co-worker setup when he moved into his cube (the text-reading-challenged co-worker mentioned in my last rant, Alex). One of his Superman items is a Batman vs Superman picture, which gave me an idea. Prior to his arrival, I didn't have a single Batman-related item in my cube and had never even thought to bring any Batman decor to work. But I thought it would be funny to answer his love for Superman with a feigned love for Batman.
But then, as I generally do, took it too far. So I now have a buttload of Batman stuff in my work space and have far outpaced his Superman acquisitions. I haven't purchases anything new other than a Batman toy for $2.00 from Barnes and Noble and too many $5.00 comic frames from Michael's to display Batman comics. All the comics were already in my collection. I even contributed (negatively, I thought) to my nemesis's cube decor with a couple of Lex Luthor comics (the anti-Superman). But that flopped. He actually liked them. I think the only thing my Batman vs Superman battle is proving to anyone is that I'm a gigantic nerd. The Star Wars calendar, Flight of the Conchords poster, and math clock on my wall don't help dispel than notion.
Xenia strikes again!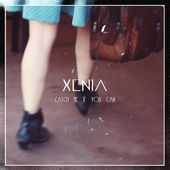 Another noteworthy thing: Xenia has released a new song called Catch Me If You Can. It's good. You should download it - legally, so Xenia gets a few cents from your 99 cent purchase.


Books
Also, here's something I neglected to share - a couple of slightly more detailed "book" reviews than the usual nonsense I've been sharing. I say "book" because they were ebooks, so they don't feel as much like real books to me.
A Vanishing Glow
by Alexis Radcliff
If you're a fan of RA Salvatore's Corona books, specifically the Saga of the First King series, I suspect you'll be a fan of Alexis Radcliff's novel, A Vanishing Glow. The setting, the fictional world - it all felt so familiar (this was an impression I received very early into the book, which was strengthened as I read on). And I don't mean this to be a criticism of the writing - I'm a big fan of Salvatore's books. I really enjoyed the books in the Saga of the First King series. Despite the similarity to Salvatore's writing, I wasn't really hooked by the story until I was a couple of hundred pages in (it took a few weeks to read the first half of the book). But as the pace of the story picked up and the plot became more concrete, I found myself pulling the book up on my phone and reading whenever I had an idle minute - quickly tearing through the second half of the story. The intertwining plot elements kept me guessing about who was really pulling the strings from behind the curtain, right up to the end.
If you're unfamiliar with the Saga of the First King novels, my comparison to Salvatore probably didn't mean a thing to you. So here's an attempt to explain. A Vanishing Glow is set in a medieval European-type world, though not our own. It's very similar, but obviously not anywhere on this planet in any timeline. As in our own world, there are no dragons, hobbits, elves, dwarves, goblins or other Tolkienesque inhabitants of this fictional world. And magic isn't really present, though there's some argument for magic. The technology of this world feels an awful lot like magic (and the embracing of the technology by at least one of this world's religions), but really feels more like science than magic - especially with the steampunkish robotic body parts and other machines. Salvatore does something similar with gems that feel a lot more like magic than science in his Saga of the First King stories. A visitor from either of these worlds would likely see science in our universe and nothing more than magic.
I look forward to a sequel to provide some closure to the characters who didn't really get a "happy ending" (or any other kind of ending) in this introduction to Ghavarim.
Our Fair Eden
by Harry Manners

I'm as big a fan of Dystopian fiction as the next guy. I love Steve Stirling's Emberverse novels (Dies the Fire and its many sequels), John Barnes's Daybreak novels, Steven King's stabs at the end of the world in the Dark Tower books, The Stand and Cell, Cormac McCarthy's more introspective approach to post-apocalyptic life in The Road, and even appreciate the more politically oriented writing of DW Ulsterman (Dominatus and its many spinoffs). I'll even mention a Glenn Beck I read not long ago, and really enjoyed to my surprise, The Overton Window. You could even throw Larry Niven's Lucifer's Hammer, Frank Herbert's The White Plague), and pretty much all of Isaac Asimov's books were post-apocalyptic in some way, though from a much different angle. I'm generally reluctant to start reading a series marketed as teen or children's lit, so I've never read The Hunger Games or Divergent books, but I've appreciated the movies. And who isn't a fan of The Walking Dead?
So now, having displayed my End-of-Days credentials, I present to you another recent discovery: Our Fair Eden by Harry Manners. This is one of the very few books with which I started by reading a digital version. I have several digital DW Ulsterman books on my tablet these days and only one paper version on my bookshelf (the first of his stories that I read, Dominatus), so maybe this is a trend I'll be, despite my misgivings for digital books, pursuing further in the future. Anyway, back to Our Fair Eden...
My first and last impressions of Our Fair Eden were of a smaller scale Hunger Games or Divergent (impressions made without the benefit of, as I mentioned, having read any of those books). It wasn't exactly like either of those stories, though. The story did take a fresh approach to the humanity-on-the-ropes trope - sending the survivors of global catastrophe off to one or another oasis in desolate landscapes (as I understood the story, these desolate landscapes were expected to become future lush landscapes due to a global climate in flux). But the protagonist of the story was never really adequately formed in my mind. The one characteristic that was explored was his homosexuality, which I found distasteful...but maybe that's just me. I also found many very interesting aspects of the story (the soldier-clone-guards and their soylent green diet, for one) to be underdeveloped, leaving me unsatisfied. And the story's ending was disappointing. I don't demand a happy ending with every book I read. But if there's no hope and no sense of accomplishment, I'm left wondering why the story was even worth telling in the first place? Is it just meant as nothing more than a cautionary tale?
I honestly don't know if I'd pick up a sequel.
Race Wars
by DW Ulsterman

These stories are almost post-apocalyptic, but definitely with a much darker, politically-tainted scenario. This is really just another approach to tell the same stories in Dominatus, Tumultus, and the Mac Walker stories. Or really any of his stuff. Big government is plotting to turn every American against his neighbor (neighbors with different pigmentation, anyway) and take out any opposition to the plan, within the government or without. Ulstermnan's writing has improved markedly since Dominatus, so his stories have become much more readable.
It's funny how the events in these stories mix in my head with the Once Second After characters and even some of the Walking Dead events/characters. It's just a big mess of doom and gloom sloshing around in my noggin.
The Force Awakens
by Alan Dean Foster

This is the only book (physical or ebook) that I've actually read since the last post. And like all the Star Wars novelizations, there were a good many confusing omissions from the film that were fleshed out. Like what happened to Poe when the tie fighter crashed on faux-Tatooine? Or what's the deal with the new death star super-weapon? And since Alan Dean Foster penned the very first Star Wars novel, his voice fits the story perfectly (unlike the horrible, barely readable mis-fit of the author's style in Aftermath).


So that's pretty much all I have to say. I say good day, sir.
I said Good day!



Got something to say? Say it. (2 responses).


This page has been viewed







times since I started tracking hits.
(This is a rudimentary non-unique IP hit counter, so don't be too impressed)