Thursday March 30, 2007


My fuse just keeps getting shorter

I'm angry1.
I know...what's new? But this time, I think I have a legitimate reason to be. A few legitimate reasons, in fact.
Exhibit 1: discourteous, shortcut taking, narcissists behind the wheel.
My new job (yeah, yeah...I'll get to that in a minute) requires me to travel 15-20 miles (each way) on Interstate 15 daily - during some of the worst driving hours. While it's a pain just to be on the road simultaneously with so many other drivers, having some of them cut into the exit lane and then either jump back into the non-exit lane ahead of everyone or exit and then re-merge with traffic from the on-ramp on the other side (though I don't see how that could save them much time) just gets my blood boiling. One of these guys was such an exemplary clown that I had to take down his license plate number: CA 4YER399. If that license plate belongs to you, Mr. Bad Driver, I hope you die.
But the bad drivers only get me mildly torqued off. The bigger irritant was from tonight's visit to KFC (don't blame me, it wasn't my idea).
As usual, we used the drive-thru (no greater truth has ever been spoken about drive-thru's than the line delivered by Joe Pesci in Lethal Weapon). If you pull into the drive-thru, you might as well paint a big target on your forehead. Not only did I get the usual shaft with a screwed up order (though this wasn't obvious until I was home and had unpacked the bag - realizing that the box of 8 biscuits I had ordered contained only 4 biscuits...but was in an 8-biscuit box), I also got short-changed. My total was just over ten dollars and I had a twenty dollar bill, so I thought I'd give the cashier twenty-one dollars to avoid all the small bills.
Big mistake. Huge.
The high school drop-out who was working the drive-thru window fat-fingered the amount I gave her as $20.01, instead of $21.00. Sure it only cost my an extra ninety-nine cents to decide never to return to KFC, but it's the principle of the thing.
The moral of that story: avoid the KFC on Poway Road in San Diego. Unless you like being ripped off.
Grrrr...
Okay, enough whining, on to observations of the new job.

Somebody hired me....who woulda thunk?


First, a word of early explanation for those of you who aren't keeping track of my life: I was unemployed from December 17 to March 10.
I'm back in the ratrace...except...I feel like Ryan, the temp from The Office (the US version of the show, of course). Only I'm even more anonymous and even less important. And speaking of The Office, I feel like I've been dropped into a weird parallel universe where most of the people I work with are zombie-clones of characters from that show.
The most glaringly obvious is the counterpart for Jim (the cool guy). The local version is a guy in his mid to late twenties, who was out of the office for my first two days and came back in on my third day, wearing Levis (very much against the company dress code policy) and immediately had the other nerds fawning all over him. His cubicle is decorated with surfing posters, a Social Distortion poster, a Rockwell poster, and other beach-related paraphernalia. I often overhear (I'm not eavesdropping, honest) conversations about surfing or his previous night's drinking adventures. One of the other nerds (yeah, I said "other," thus grouping myself with the nerds) came over and started asking him about Tequila last week. It was embarrassing how much he fawned over this guy. Man-crush!!
And then there's the guy who reminds me of Milton (from Office Space, not The Office). Especially when he's talking on the phone. There's not much more to say about him.
There's only one woman in the department, but I don't really know her well enough to pigeonhole her yet (she did talk about cooking an awful lot on my first day, though). And then there are the old guys. Lots of old guys. And an Indian temp who has the most obnoxious ringtone I've ever heard and answers his phone the same way every time: "Subbuhi" (or something like that - I don't really understand what he's saying).
There's also a guy who is a composite of my first post-college boss and my former co-worker. He's a good guy.
It's an interesting environment. The cubes here are really small and there are a lot of people in them. It's impossible to not overhear twenty different conversations every day. There's a microwave, a refrigerator and a water cooler about fifteen feet from my cubicle and people are always coming and going. There's definitely not a heads-down, frenzied coding attitude to be found at this place...it's relaxed...to the extreme. The people there are always eating something at their desks. There's a wide range of weird smells assaulting mysenses daily.
One of my co-workers said something interesting to me on my first day. He was giving me the basic spiel about what all the developers do and basically admitted that there aren't that many in-house developed applications being used there. Instead, the company's systems consist mainly of vendor applications that require constant monitoring and tweaking. And that's when the interesting thing was said: he remarked that the new paradigm isn't custom development, it's getting third-party vendor packages to work together and supporting them.
So I guess my development days are numbered. Bummer.

Those were my thoughts from week one. Week two went a little something like this:
I've just begun week two of my 12-month contract.
The good news: I actually have rights to a few of the network resources I need in order to do some coding.
The bad news: There's some sort of process on the sandbox server that prevents me from seeing source files (or any files) I've added or changed, so even though I can code and copy my code to its eventual destination...I can't test it or verify that it's working in any way.
I've also been given rights to a few of the databases and database tools, so I can poke and prod at things and see how they work. Granted, I don't know where anything is or what anything is named and I also don't have login information for any of these databases...but the intent was good.
Ironically, now that I have a job again, the recruiters are coming out of the woodwork with new opportunities (many of which appear to be permanent placements as opposed to my current 12-month contract position). It's funny how that seems to work.
That's all I had to say about week two. Here were my thoughts for week three:

I'm in week three of my new job. I still lack many of the network resources that I need to effectively do my job, I have given up all hope of receiving a comprehensive (or even rudimentary) database layout or data dictionary for any of the many databases I've had to pull data from (I only find out bits and pieces on a need-to-know basis) and I continue to be amazed by the segmentation of responsibility on the technical-side of the business. Projects that should have taken no more than a day or two are...ongoing in week 3.
But nobody's screaming, so I guess this is understood and nothing unusual around here.
I'm just happy to be employed and not subject to the whims of the Employment Development Department (Ah yes, the good ol' EDD).

Movies and Books - oh my!

I joined the Blockbuster online video thing (where they send me three videos at a time and I can exchange them at the local Blockbuster, triggering a new mail-batch). It's a lot more convenient than I thought it would be. I love being able to go into the local Blockbuster and switch the videos out (I haven't actually tried mailing a video back yet), so I've been watching movies like crazy (the kids even get to see a few movies now and then). Just last night I watched Rocky Balboa. Tonight I may watch Marie Antoinette. I can't even remember all the other movies I've seen recently (though not a single one was in the movie theater - I haven't been "out" to a movie in months).
I actually finished a book this week (I just haven't been reading much lately), Finn by Jon Clinch.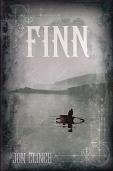 My brief perusal of the jacket notes let me with the impression that the book was the story of an adult Huckleberry Finn, which I thought sounded very interesting. And as I read the first few pages, I was saddened by how far Huck had fallen. But then, as I made it even deeper into the story, I realized that the central figure of the novel wasn't Huck. It was his pap - a man whose name is never revealed to the reader (though the author does tease from time to time).
The story is told in a weird from-both-ends manner that keeps the reader unsure of who anyone is or the exact chronology of the events until the very end. Even with this weird mode of storytelling, the author does a nice job (especially for a yankee) with capturing the feel of Mark Twain's characters and settings. One key difference between Jon Clinch's narration and Mark Twain's was the voice: Huck was our narrator in Huckleberry Finn, and spoke with the voice of a young, uneducated boy, but Clinch narrates his story in his own voice, not in the voice of the eternally-underachieving Finn.
There are so many clever parallels to the events in Twain's Huckleberry Finn that I'm inspired to go back and read it again while Finn is still fresh in my memory. I'd say more about the book (there is a lot to say), but I don't want to ruin anything for anyone.
I just started The Road by Cormac McCarthy (a Christmas present from Steve-o-rino). After I started I learned that Oprah had picked it as the flavor-of-the-day for her book club this week, so I almost decided to read something else. But I am looking forward to it, despite her endorsement.
And that's all I have to say about that. So until next time...



1 I am also apparently very lazy....I started writing this rant three weeks ago.



Even Dan has caved into peer pressure. If he can do it, anybody can...talk to me!