Saturday October 22, 2005
As promised, I'm back with "reviews" of Thud! and Anansi Boys.


Thud!

I seem to have acquired a special fondness for Terry's witches. Granny Weatherwax, in particular. This novel is markedly bereft of witches, but the story does have Commander Vimes. And he's making an interesting adaptation to fatherhood. When you have Vimes, you have the rest of the guardsmen. As always, the book is filled with clever exchanges between the characters. Here is a funny conversation between Nobby Nobbs and Fred Colon:

"War, Nobby. Huh! What is it good for?" he said.
"Dunno, Sarge. Freeing slaves, maybe?"
"Absol--well, okay."
"Defending yourself against a totalitarian aggressor?"
"All right, I'll grant you that, but--"
"Saving civilization from a horde of--"
"It doesn't do any good in the long run is what I'm saying, Nobby, if you'd listen for five seconds together, "said Fred Colon sharply.
"Yeah, but in the long run, what does, Sarge?"

There's a new guard in town - and she's a vampire named Sally. Angua, being a werewolf and mortal enemy of vampires, isn't her biggest supporter.

"Hold it!" Sally thrust both hands in front of her in a gesture of peace. "There's something we'd better sort before this goes any further!" "Yeah?" "Yes. We're both wearing nothing, we're standing in what, you may have noticed, is increasingly turning into mud, and we're squaring up to fight. Okay. But there's something missing, yes?" "And that is...?" "A paying audience? We could make a fortune." Sally winked. "Or we could do the job we came here to do."

We also learn a little more of the Disc's history in this story: The Koom Valley war. An epic battle between trolls and dwarfs that has become a hereditary bloodfeud between the two races. While working on the central mystery of the story, Commander Vimes consults with Chrysophrase, troll crime boss, regarding the recent unrest in Ankh-Morpork, and has these thoughts regarding the issue:

Community leaders, Vimes thought. There'd been a lot of talk about community leaders lately, as in "community leaders appealed for calm," a phrase the Times used so often that the printers probably left it set in type. Vimes wondered who they were and how they were appointed, and, sometimes, if "appealing for calm" meant winking and saying "do not use those shiny new battle-axes in that cupboard over there...no, not that one, the other one." Hamcrusher had been a community leader.

This is a story filled with insightful fun that no one should miss, but it's not all fun and games - there are also passages that reach inside and touch something primal in the reader.




The worst thing about Fat Charlie's father was simply this: He was embarrassing.
Of course, everyone's parents are embarrassing. It goes with the territory. The nature of parents is to embarrass merely by existing, just as it is the nature of children at a certain age to cringe with embarrassment, shame and mortification should their parents so much as speak to them on the street.
Fat Charlie's father, of course, had elevated this to an art form, and he rejoiced in it, just as he rejoiced in practical jokes, frm the simple - Fat Charlie would never forget the first time he had climbed into an applie-pie bed - to the unimaginable complex.

I had never really understood how anyone could think that Terry Pratchett was "interchangeable" with Neil Gaiman (something a clerk at a bookshop expressed when I picked up a Neil Gaiman book and asked about the, then, upcoming Terry Pratchett novel). But Anansi Boys made their similarities a little more evident. I guess I just thought all the humor was injected into Good Omens by Terry Pratchett. Now I can see that it was either not all Terry, or Neil has learned well under the tutelage of Pratchett. Either way, Neil is a comedic force to be reckoned with. But it's not the overt, "trying too hard to be funny," comedy you get from some authors; it's subtle, it's intelligent and while not making you laugh out loud, it does make you think.

It is a small world. You do not have to live in it particularly long to learn that for yourself. There is a theory that, in the whole world, there are only five hundred real people (the case, as it were; al the rest of the people in the world, the theory suggests, are extras) and what is more, they all know each other. And it's true, or true as far as it goes. In reality the world is made of thousands upon thousands of groups of about five hundred people, all of whom will spend their lives bumping into each other, trying to avoid each other, and discovering each other in the same unlikely teashop in Vancouver. There is an unavoidability to this process. It's not even coincidence. It's just the way the world work, with no regard for individuals or for propriety.

That quote actually hearkened more to Douglas Adams than Terry Pratchett, but it's good stuff, nevertheless.

This exchange (I won't go into more detail on the off chance you plan to read this novel) was quite funny:

A man's voice came on the line. "Hello?" it said. It sounded extremely efficient.
"I need the police," said Maeve.
"You do not need the police," said the voice. "All crimes will be dealt with by the appropriate and inevitable authorities."
"You know," said Maeve, "I think I may have dialed the wrong number."
"Likewise," said the voice, "all numbers are, ultimately, correct. They are simply numbers and cannot thus be right or wrong."
"That's all very well for you to say," said Maeve "But I do need to speak to the police. I may also need an ambulance. And I have obviously called a wrong number." She ended the call. Perhaps, she thought, 999 didn't work from a cell phone. She pulled up her onscreen address book and called her sister's number. The phone rang once, and a familiar voice said. "Let me clarify: I am not saying that you dialed a wrong number on purpose. What I trust that I am saying is that all numbers are by their nature correct. Well, except for Pi, of course. I can't be doing with Pi. Gives me a headache just thinking about it, going on and on and on and on and on..."

We even get a glimpse into the hereafter (though if Gaiman knows anything, he's not talking):

The walls of the library were beginning to fade. They were losing color and form. The world behind the walls was starting to show, and in its light she saw a small figure in a smart suit waiting for her.
Her hand crept into his. She said, "Where are we going now, Morris?"
He told her.
"Oh, Well, that will be a pleasant change," she said. "I've always wanted to go there."
And, hand in hand, they went.

Here's an insightful passages that adds depth to an otherwise annoying and unlikeable character:

"You used to eat," said Rosie. "Back when Dad was alive."
"Your father," said her mother, "used to eat, too. And see where it got him? A heart attack, aged forty-one. What kind of world is that?"
"But he loved his food."
"He loved everything," said her mother bitterly. "He loved food, he loved people, he loved his daughter. He loved cooking. He loved me. What did it get him? Just and early grave. YOu musn't go loving things like that. I've told you."

This bit, from the acknowledgements, made me smile. A lot.

I don't think I could have written Fat Charlie without having had both an excellent but embarrassing father and wonderful but embarrassed children. Hurrah for families.

And one of the primary reasons I can see a bit of Pratchett in this book by Neil Gaiman: Funny footnotes.

Rosie lay in the sun by the pool, on the aft deck of a Korean cruise ship* with a magazine over her head and her mother beside her, trying to remember why she had ever thought a holiday with er mother would be a good idea.

*The ship had been the Sunny Archipelago until an attack of gastric flu had made international news. A cheap attempt to rebrand it without changing the ship's initials done by the chairman of the board, who did not speak English as well as he believed he did, had left the cruise ship rejoicing in the name of Squeak Attack

Another one:

If anything was making Spider go away, Spider didn't know about it. On the contrary, Spider was having an excellent time being Fat Charlie. He was having such a good time being Fat Charlie that he began to wonder why he hadn't been Fat Charlie before. It was more fun than a barrel of monkeys.*

*Several years earlier Spider had actually been tremendously disappointed by a barrelful of monkeys. It had done nothing he had considered particularly entertaining, apart from emit interesting noises, and eventually, once the noises had stopped and the monkeys were no longer doing anything at all - except possibly on an organic level - had needed to be disposed of in the dead of night.

The sketch embossed on the cover and on the last page of the story was actually drawn by Neil Gaiman and didn't really stand out as anything unusual until I looked at it a little more closely. I won't say anything more about this, so you will have to read the story to discover the significance.

If you enjoy beautiful prose and thought-provoking, while still entertaining, fiction as much as I do, you should read this book.

Where's my cow (A Discworld picture book for people of all sizes) in the mail today. Only a month too late for the Terry Pratchett signing.

It wasn't exactly what I expected. It was better. A lot better. Admittedly, I expected little. I thought I was buying a Seuss-like children's book about somebody looking for a cow. Not:

This is a book about reading a book
which turns into a different book.
But it all ends happily.

The text in the book is, admittedly, minimal. But it's pure Pratchett. The illustrations are amazing. It's oddly reminiscent of Norman Rockwell (probably intentionally). If you picked up The Art of Discworld, you'll definitely want to grab this book. It's illustrated by Melvyn Grant, not the usual guy: Paul Kidby. Even Cut-Me-Own-Throat Dibbler gets an "Is that my cow?" As do a couple of other colorful denizens of the Disc: Foul Ole Ron and Coffin' Henry. The visual representation of Sam Vimes and Lady Sybil weren't exactly what I expected, but I'm sure Terry approved them, so they must match what's in his head. Now I just have to make the adjustment within my own head.

The "reviews" on the back cover were equally amusing.

"...wonderfully instructive"
Tupence Swivel, the Times of Ankh Morpork

"...Are we not all, in some way, looking for our cow?"
Brian Yeast, Ankh-Morpork Literary Gazette and Paradigm Shifter's Monthly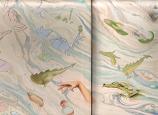 Even the artwork on the inside front and back covers was funny. Weird, but funny.

It's an extremely short read and it may be hard to swallow paying $16.95 for such a small book, but if you're a devoted Pratchett reader, you should buy this book. My kids also thought it was great fun.





Do you have anything to say? Say it here.