Update: Sunday August 6, 2006
I've seen a few new movies (most on DVD - thanks, Blockbuster) and have written reviews for some of them:
Update: Wednesday July 26, 2006
I've added a new forum for Book Reviews to the Badbartopia Forums and posted the first three reviews (all of which were meant to be posted in a rant, but have been languishing unread for so long that I decided to just get them out where they could be read):
Thursday July 20, 2006
Comiccon 2006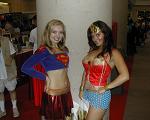 Today was my day to experience the overwhelming craziness that is the San Diego ComicCon. Unfortunately, the one day I attended was the least event-filled day of the con: Thursday. I don't know how many times I heard "Oh, he/she will be here tomorrow/Saturday. Come back then." And then there was the blood drive I had planned to use to fill the time before the Con started...but I'm getting ahead of myself.
I registered online for the Con Wednesday night to avoid the line that winds around the Convention Center, past the Marriot nextdoor and along the harbor (and takes hours to reach the front of). I did manage to avoid the line with great success - it took between five and ten minutes to get my pass...leaving me with an hour to wait until the doors to the Convention Hall opened. Having expected this, I sought out the location of the blood drive (it was being held in a conference room in the Marriot next door.) and dutifully headed through the throng of people (fewer of whom seemed to be in costume this year) and ventured back outside into the glaring sunlight. I discovered, upon finally finding the aforementioned conference room (once I navigated down the hall, turned left before the Starbucks and took the escalator downstairs to a veritable no-man's-land of Hotel-space) that I was a day early. No blood would be drawn on Thursday. I had managed to kill about fifteen minutes, so that left another forty five. So much for my plan to not only occupy the morning with charitable acts, but to acquire some nerd-loot. I was left planless.

I retired to an unoccupied piece of wall and pulled out the reading materials I had brought to occupy my time while waiting to give blood: The Catcher in the Rye. Yeah, I've read it about twenty times before, but it's been a few years since the last reading, so I thought now was as good a time as any to venture into the mind of Holden Caulfield. What I hadn't counted on was the distraction caused my the hordes of milling people. I put Holden back into my pocket and instead watched people as they walked, lurched, slouched, trundled or otherwise moved themselves down the hall. Suddenly, costumes began to appear. I saw a Jedi walking with Lara Croft. Another Lara Croft with a ninja. A family of Jedis - one of whom was wearing a Burger King Mask while the other two wore Jack in the Box heads. I'm not sure what the significance was, but it was pretty funny. I had planned to get a picture of them, but by the time I had moved into position, the masks were coming off. So I decided to wait until I caught up with them later in the day. I never did. There were also the usual assortment of anime-related costumes, Shaun of the Dead, zombies and other blood splattered/weapon-toting costumes. It was quite a freakfest. I did snap one picture of one of the less weird attendees: a couple of Jedi. The head tendrils on the Twi'lek Jedi's costume were quite impressive (I saw many other attendees attempt this costume, but none were as well done as this one).
The clock was counting down...only ten minutes until the doors would open. I saw people taking the escalator down to the lower lever (ticketing is on the upper level, the convention hall is on the lower level), so I decided to play the sheep and follow along. As I rode down the escalator, I noticed that the people ahead of me were being ushered to the upward escalator as soon as the disembarked. So I had a nice round trip on the escalator that killed a few more minutes. While I was riding the escalator, I noticed another costume that I very much wanted to photograph (a goth-themed getup), but was unable to get a good angle while moving away from this costumed attendee. So I again, foolishly, planned to seek out and photograph this person later. It never happened.
At last...the doors opened and the crowds surged forward. I quickly discovered that many members of this crowd were lacking in attention to their personal hygiene. Dude (or dudette), if you weigh 350 lbs, go a little heavier on the deoderant. Even if you're not a heavy-weight, feel free to do a thorough job of deoderizing. There were some really smelly cats at this con (and this was within minutes of the doors opening, so I can only imagine how rank they got after walking up and down the aisles for a few hours).
The long awaited moment finally arrived: comic-related stuff as far as they eye could see. But wait....I wasn't seeing comic stuff. I was seeing booths devoted to movies, TV shows, toy companies, and video games. Where were the comics or other art-related booths?

Undaunted, I set out in search of the comics - and found them on the other side of the convention hall. I quickly located my old friends from Konsequential Studios: Laurie Breikreuz and Kandrix Foong. I was disapponted to learn that ta new issue of A Monk's Tale had not been published, but my disappointment was short-lived when I saw the Laurie Breikreuz sketchbook - in which Laurie was nice enough to draw a cute little sketch in the back. This was actually the only sketch I obtained from anyone during this Con.
With my first convention acquisition in hand, I set out to find the other artists and publishers I look forward to seeing each year.
The next booth I stopped for was not one of the artists I was hoping to see. That's not to say I wasn't happy to see a booth manned by Maddox, the madman behind the Best Page in the Universe, I just wasn't looking for him. I picked up a copy of his goofy comic, The Best Comic in the Universe, which he and the artist (a woman, surprisingly) signed. I chatted him up about not responding to my email, asked him about his day job and then moved on...
I found Frank Cammuso, author of the Max Hamm stories. Again, I was disappointed to see that no new Max Hamm had been published, but Frank tried to cheer me up by selling me a copy of his book (co-written with Hart Seely), called 2007-Eleven and Other American Comedies. I'm, not sure what it's all about, but it's supposed to be funny. I'll probably read it this weekend.
Okay, two down and five or six to go. I began seeking out the others, but saw no sign of any of them. No Ryan Woodward, no Mike Kunkel, no Bobby Rubio, no Courtney Huddleston, and no Mark Oakley. There wasn't even a booth for Summertime comics. The small press artists I had waited to see all year were nowhere to be seen. Sadness.
Still...there was a lot of other stuff to see. So I set out to see everything (which I didn't, but I did see a lot of it).
I mentioned that comic books almost seem to be an afterthought these days at Comiccon, didn't I? Well, I didn't even see a DC or Marvel booth (not Image, come to think of it). The biggest comic publisher I saw represented was probably Dark Horse. Odd. There were, as I mentioned, a large number of video game booths and TV/movie-related booths. The busiest of the movie-themed attractions was Snakes on a Plane. There was a huge crowd waiting to go through the snake-plane tunnel and see the movie-related goodies within. I didn't bother. The Sci_fi channel had an interesting booth. There were no models with rubber snakes this year, but the magnitude of their futuristic...thing was very impressive.

Star Wars and Lord of the Rings were also less represented than in previous years (though there was still quite a bit of Star Wars-related stuff, just not as much). I didn't see a single costume related to Lord of the Rings this year, but the Star Wars fans seem never to lose the faith. Those guys were everywhere. Lego had life-size lego-made models of Batman, SpongeBob (he was about three feet tall) and a Bionicle in their booth. Man, I'd hate to be the guy who had to put those together. Warcraft/Blizzard was also represented in several booths. Each attendee received a free 14-day trial DVD to World of Warcraft with admission (probably in an attempt to thwart their many competitors who were also present and the Con). I discovered that there's a new Warcraft playable card game coming out. I heard no news of the Ghost console game, though.

As always, booth babes were everywhere. The representatives of Playboy and other online models seemed less numerous this year, but there were still a few there. Justine Joli was back again this year, but wasn't dressed nearly as provocatively (on Thursday, anyway). Skimpy attire or not, she was as cute as ever. This year, she was not only selling photos, videos and magazines in which she was featured, but was sitting with an artist who had done a set of paintings (none of which really captured what makes Justine so darn cute). Once again, I couldnt resist a signed 8x10 photo. She actually talked me into hanging out at the Con until 5:30 (I had planned to leave hours earlier) so she could hang out with me on her next "break" (yes, I actually did talk to her) at 5:30, but when 5:30 came, her booth was thronged with horny guys and I tried to hang back in my best impersonation of a non-stalker. Unfortunately, when the crowd dispersed, she also left with some other dude. So my chance to hang out with the enigmatic Justine Joli was lost. I did lurk pathetically for a good fifteen minutes before giving up and leaving for the day. So sad. She did mention something about a Yahoo Group of pathetic guys who worship her...so maybe I can get closure (if I can find it - no luck yet).
Returning to comics, I picked up a few other items from artists I either had never heard of or hadn't expected to see. I found the sixth issue of a comic called Polly and the Pirates (I'm still missing #5, despite my efforts to find it among the thousands of back-issues offered by numerous resellers). The artist, Ted Naifeh, signed my copy (and basically made it unsellable by personalizing it for me - good thing I hadn't planned to sell it). I also found a new comic called Wonderland, published by SLG Publishing (and Disney). I love the Alice in Wonderland spin-offs. The last comic I'll mention is called Paolo Parente's Dust. The art in this book is incredible. I barely managed to pass up a poster of one of the comic's characters. I also got a sketchbook by Mark Schultz and another by Dean Yeagle.
Even though I didn't take many photos this year, you can see the few I took (most of which are linked above) here.



Want to share a thought or two? Go ahead.