Buried in Books
Sorry, Ms. Clack. I've been making slow progress through the pile of books that has been sitting on my reading shelf forever (many for several years), but I haven't bothered to mention any of them - until now. So here's the list of what I've recently read: George RR Martin's A Dance with Dragons, Terry Prarchett's Snuff, SM Sterling's The Tears of the Sun, Edgar Rice Burroughs's Return to Mars (collecting Thuvia, Maid of Mars, The Chessmen of Mars, and The Master Mind of Mars), Lev Grossman's The Magician King, and - most recently - The Reluctant Fundamentalist. This last one seemed especially noteworthy to me for one reason - I heard echoes of Albert Camus in my tiny little brain as I read it. So I'm going to encourage all of you to read it, too (especially if you have an appreciation for Camus).

The Reluctant Fundamentalist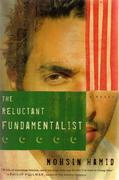 I was struck, from the first sentence of The Reluctant Fundamentalist, by how similar it was to an Albert Camus first person monologue. From the first sentence, I found myself comparing it to The Stranger (since I've read that one a dozen times), but later found that Mohsin Hamid actually modeled his novel on Camus's The Fall. Since it has been about a million years since I read The Fall, that comparison didn't even occur to me. If you appreciate the straightforward austerity of Camus's writing, you'll find this novel interesting.
But even if you aren't a fan of Camus or are just unfamiliar with his stuff, this book may hold a nugget or two worth digging up. Despite what the cover image and the title led me to believe about this book before having read a single word, it is not about recruiting terrorists or any kind of jihadist activity. The "fundamentalist" in the title may refer to several things throughout the story, but none of them really relates to being an Islamic knucklehead.
I've acquired the bad habit of dogearing pages as I read books and come across anything I think might be interesting on its own to another reader. And there were several of those in The Reluctant Fundamentalist, but in hindsight most of them don't stand on their own as well as I thought they would. Here's one that does:

Our situation is, perhaps, not so different from that of the old European aristocracy in the 19th century, confronted by the ascendance of the bourgeoisie. Except, of course, that we are part of a broader malaise afflicting not only the formerly rich but much of the formerly middle-class as well: a growing inability to purchase what we previously could.

Confronted with this reality, one has two choices: Pretend all is well, or work hard to restore things to what they were. I chose both. At Princeton, I conducted myself in public like a young prince, generous and carefree. But I also, as quietly as I could, held down three on-campus jobs — in infrequently visited locations, such as the library of the Program in Near Eastern Studies — and prepared for my classes throughout the night.
That's not to say this is the only quote-worthy passage in the book. It provides a glimpse from the outside of America's Imperialist activities (the author is a Princeton educated Pakistani as is the book's protagonist, so the book may just be a little bit autobiographical), the precariousness of one's social/financial position in society, the challenges of being an outsider, and the difficulties of being involved with a person who has debilitating mental health issues.
My one complaint is the ending - it's painfully abrupt. And to me, unsatisfying. But maybe that's the beauty of the story and I'm just too obtuse to appreciate it.


I'm currently reading The Windup Girl and finding myself comparing it to the works of Kim Stanley Robinson (I've only read one) and Phillip K Dick (I've read many of Dick's books). Interesting, but I'm having a hard time getting very involved in it. But I'm only about 20 pages in, so maybe it will grab me later.
And since I mentioned my humiliation at the Grossman books signing, here are the sad details (sad if you're me, which I happen to be)...
After Lev Grossman finished reading from his (then) new book, The Magician King, and answered a few questions, we - the eager fans - lined up and waited for our turn to get our shiny new copies of the aforementioned book signed.
As I waited in line, I had flashbacks to may other embarrassing moments at book signings I had perpetrated: Gene Wilder, Neil Gaiman, Tim Powers - my awkwardness knows no bounds. So I mentally rehearsed what I would say when I got to the end of the line to get my book signed. I would be cool, I would be smart, I wouldn't say anything stupid.
But this is what actually happened:
I walked up to the table Lev was sitting behind, laid my book before him and said, "Brett."
Lev's response, "Excuse me?"
My smooth reply, "Name's brett."
"Oh, do I know you? Are we Facebook friends?"
"Nope. I loathe facebook."
It didn't get any better from there.
The part that is the most funny is how Lev signed my book.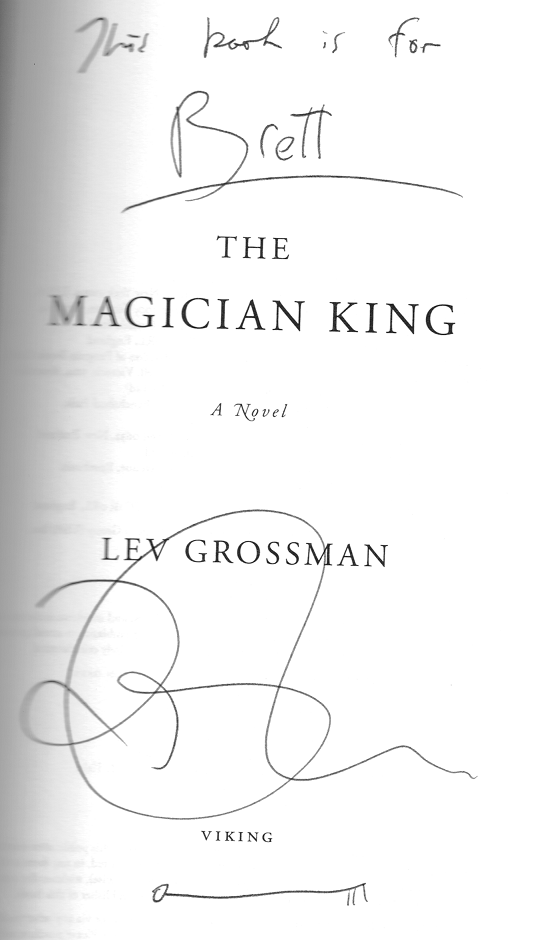 "This book is for Brett". Ugh. I didn't even notice what he'd written until I got home. I'm a dork.
My family laughed at me for days when I told them how retarded I am.



Got something to say? Say it. (0 responses).


This page has been viewed







times since I started tracking hits.
(This is a rudimentary non-unique IP hit counter, so don't be too impressed)