I'll only be blathering about one book today1
Here's yet another topic I've been woefully bad about commenting on: music I've added to my collection over the past several months.
A few weeks ago, I purchased a CD that came out about five months ago (in April 2019). I had somehow not heard one word about this CD, despite loving the band that recorded the music on this CD dearly. I guess this is likely due to the sad state of music retailers - which for me is pretty much Target, Walmart, and occasionally Best Buy, none of which really cater to non-top 40 music fans. I don't count Amazon because I can't physically look through the music there - even though they were the only retailer that brought this CD to my attention when they guessed that I was a fan of the band (they get a lot of suggested products wrong, but occasionally get one right).
I'm sure I would have noticed this album, had it been on the shelf at a brick-and-mortar establishment. Another medium I don't spend much time on is the radio. If I was still listening to the radio, there's also a chance I would have heard about it sooner.
Maybe one of these days I'll blather about the Licorice Pizza record shop in Montclair. Or the Wherehouse stores that used to be all over the place. Or their lesser mall-equivalents in malls everywhere, Sam Goody. Ah, the things kids these days will never really appreciate...



The Cranberries, In The End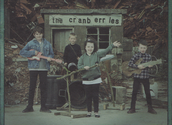 My favorite thing about this CD (the one I got from Amazon, anyway) is that it comes in a little hardback book. I don't know if other music retailers also sell it in a little book or if this is just a limited thing on Amazon, but I'd suggest getting the one on Amazon if the alternative is a jewel case. The book's cover has 4 kids representing each of the band members (who, I suspect, are children of the band members - but I could be wrong about that) in a junkyard, which is awesome. The interior of the book tells the story of the album's creation, has the lyrics for each of the songs, a page with what appears to be school photos of each of the band members, and a group photo with the kids from the cover and the surviving three band members. So much awesome.
It's sad that this will be the last time we'll hear Delores O'Riordan's lovely Irish lilt singing new Cranberries songs. Also sad is that the songs were final-demo versions and could have maybe used a little fine-tuning before being recorded for the final album. But that doesn't mean they're not great. The singing is beautiful, and the songs are worthy additions to the Cranberries catalog.
The album's title song couldn't be more representative of The Cranberries signature sound.

---
The Cranberries, Something Else


I'm super-bummed that this will be the final Cranberries album. But speaking of The Cranberries, I also picked up another Cranberries album a few months ago that I've also loved dearly. It was full (with three exceptions) of beautiful, haunting, acoustic (and orchestra-backed) versions of classic Cranberries songs. The three new songs are great, too.
Zombie, the Cranberries song that everyone knows, has a slowed-down tempo with acoustic and orchestra-backed instrumentals. It's amazing. As are the other songs. And the CD liner notes have a bunch of great photos, made even more special by the fact that this was the last album Delores's released before her untimely death.

There's another alternate version of Zombie, that was also released after Delores O'Riordan's untimely death in January 2019, by a band called Bad Wolves. Delores was supposed to provide vocals for the heavier-metal version of the song, but died the day before she was to record them. The Delores-free version of the song is still interesting, just not as amazing as it could have been.
---
Icicle Works, Icicle Works

I haven't only picked up The Cranberries music, though. I also added a 35 year-old album (yup, the vinyl kind) to ye aulde music collection. I've been trying to find this particular album on CD for years and never could. The closest I came was a greatest hits album on CD that was missing many of the songs of this album.
I still have this album on cassette in a trunk full of treasures. So when I found the vinyl-version online (it was a weird rabbit hole that started on Amazon and ended on discogs.com), I knew I had to get it. Even better, the record cost under $10, including shipping.
The sound quality of the record is amazing (my record player has a built in USB-ripping function so I ripped it so I could listen to the songs on my phone with my headphones). There's a little of the crackle and hiss that's present on all records in the ripped tracks, but it just adds character to the songs.
My favorite song of the album, Out of Season, was actually on the greatest hits album, but only a couple of the other tracks from this album were. And they all deserved to be counted as greatest hits. This is a great album.

---
Dia Frampton, Red


I mentioned Dia Frampton's latest album, Bruises, a few months ago. In that rant, I also mentioned a Meg & Dia CD I had also purchased on Amazon, Something Real (not to be confused with The Cranberries's Something Else). Since then, I've also purchased Dia's first solo album (the physical version, this time), Red.
When Red was released, I bought a few of the songs on Amazon (eventually buying them all individually). I had some digital music credits from Amazon, so I figured I'd just get the album that way. But I'm old and I like things I can hold in my hand, so I eventually bought the CD a few months ago. And it's so much more satisfying than the digital files. And it also included CD liner notes full of Dia-licious photos.
There's a ton of great music on this CD, but my favorite song has always been The Broken Ones. Sweet, sad, and too relatable.

And speaking of Dia and her lovely sister Meg, I'll be seeing them in concert in just a little over a week when they come to San Diego. I'm stoked. I still need to pick up their new album, HappySad .I'm planning to get it at the show.


---
Juliana Hatfield, Juliana Hatfield Sings Olivia Newton John


My favorite cover of any Police song is Juliana Hatfield's version of Every breath You Take. This was apparently supposed to be a bonus track on Beautiful Creature, but it's not on the CD I own. So all I have is this bootleg that I've had for years. The ragged bassline is epic.

So what, you ask, does any of that have to do with this CD? Well, I figured since I loved Juliana's Every breath You Take cover, I'd love the covers of Olivia Newton John's catalog just as much. But...I didn't even recognize several of the songs, so that was a little disappointing. Sadly, this album is more karaoke than re-imagining, but it's still a nice addition to my music collection because Juliana's voice is amazing. Sadly, there was no jewel case or CD liner notes, so you get a cardboard CD case and...well, that's it.
Physical is a fun song, even if it is pretty much the same as the original.

I also recently saw the news that Juliana is releasing an album covering The Police. I guarantee you that I'll recognize every one of those songs.


---
The Lemonheads, The Lemonheads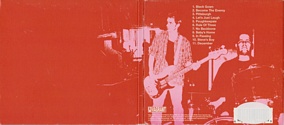 Earlier this year, I picked up a CD released in 2006 that was from one of my favorite bands, The Lemonheads, that I'd somehow missed completely (see my complaints above). Good 'ol Amazon finally brought it to my attention. I'd heard that Evan Dando had gone through some serious drug issues, but after reading a little more about it, I was surprised at all the drama there'd been. Drugs are bad, m'kay.
There were some interesting credits in the CD liner notes - three of which were to his wife at the time (now his ex-wife), english model, Elizabeth Moses. And the CD tray photo is a photo of Elizabeth Moses. I think drugs were the wedge that came between them, sadly. Ol' Evan was surely smitten in 2006.
My all-time favorite Lemonheads song is The Outdoor Type from Car, Button, Cloth. But the songs on The Lemonheads (a completely different band with the same lead singer, Evan Dando) are a lot less folksy-sounding than the Lemonheads I love and sound a lot more like the Hate You Friends-era Lemonheads. Not really my jam, but still...good.

The song on The Lemonheads that's closest thing to The Lemonheads songs I love is probably Baby's Home.

I had a chance to go see The Lemonheads when they toured San Diego in May, but I didn't make it.


---
Green Day, Insomniac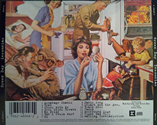 Late last year, I was ordering a book from the Barnes and Noble web site and I needed to spend about five dollars more to get free shipping. So I poked around the web site and found a Green Day CD that I didn't already have, Insomniac. I was familiar with a few of the songs, so I added it to the cart. It has the classics Geek Stink breath, Brain Stew, Jaded, and Walking Contradiction, but the rest of the CS is pretty forgettable in my old man opinion. It's not terrible, but I prefer the later Green Day stuff (this album is from 1995).
The real treat in getting the CD is the fold-out mini-poster. It's pretty sweet. All the CD art is really great - there's even art on the CD itself. I love it when a CD comes with surprises. Too many CDs now are just a single page cover and a nondescript CD - no effort at all. Cue the old man rant, "Back in my day..."
The best song on the album, in my opinion, is definitely Brain Stew. Classic Green Day.

---
And lastly, an album that's not exactly a music album, but is an album by the almost award-winning fourth-most-popular folk duo in New Zealand - so there is a good share of music to be found. But there's also a lot of comical reminiscing and a plethora amusing stories, El Guapo.
Flight of the Conchords, Flight of the Conchords Live in London
I've loved the Flight of the Conchords since I saw them on HBO and then accidentally bought the Season One soundtrack from Amazon many years ago. Season 2 was a little less great (I still bought the second season on DVD, but I didn't bother with the soundtrack). So when I saw the Live in London CD on the rack at Target, I added it to the cart and anticipated a 2-CD bonanza of awesomeness.

There are a bunch of new songs and a few of the classics - all performed live - with lots of stories and commentary by Bret and Jermaine. And like the Season One soundtrack, there's a poster inside the CD case, so that's great. It joined the Season One poster in the Cubicle of Despair.


My all-time favorite Flight of the Conchords song, Robots.

And here's one of the funny anecdotes, Complimentary Muffin. Lots of silliness. Not quite Pythonesque, but silly.

Man, this lame blathering took a long time to complete. I started a few weeks ago. I should be ashamed...



Got something to say? Say it. (0 responses).


This page has been viewed







times since I started tracking hits.
(This is a rudimentary non-unique IP hit counter, so don't be too impressed)