It's been a while...

As you can see, I have a pretty healthy stack of books I've read over the past year or so, but have failed to spend any time at all commenting on. I'm not quite delusional enough to think that my inane commentary is going to matter to anyone else, but I do know that I will likely come back a few years from now to see what I thought of books I'd read in years gone by. I really have done that several times, so I guess it's not all a complete waste of time.
I did take the time to collect some thoughts on one of the autobiographical books I've read in the past couple of months (I picked it up long ago, where it stagnated on my reading shelf while waiting for me to get to it), Sara Benincasa's Agorafabulous! *Dispatches from my bedroom. I heard about it on Neil Gaiman's Twitter feed, where he strongly recommended reading it. So I bought a hardcover copy and then proceeded to ignore it.
I try to mix up the genres of the books I read so I'm not reading the same types of books one after another (which is basically how I read throughout my 20s-30s). I've also read several other biographical-type books recently1, interspersed with other sci-fi, fantasy, thrillers, etc. But it was finally time to follow Neil's recommendation and get to know Sara Benincasa.
And get to know her, I did. Maybe too well.
My only complaint about Agorafabulous!: there are no photos. None. Which is weird for any biographical-type book. It was otherwise a great book and made me laugh out loud embarrassingly often (my apologies in advance - this is going to be a very quote-heavy commentary. And some of these quotes are pretty lengthy). Not exactly a complaint, but a comment: Sara doesn't have a filter. There is profanity galore in this memoir (much of which begins with the sixth letter of the alphabet). And plenty of grown-up talk about things like sex. So be warned - this book, and the excerpts I've shared, are not intended for consumption by young'uns
I've read three or four books since I finished Agorafabulous! *Dispatches from my bedroom, so I may have forgotten or misremembered a few of the more interesting tidbits I wanted to share, but here goes...

Agorafabulous!, Sara Benincasa


I'm always impressed by anyone's ability to describe a memory with richly descriptive details because my brain can barely recall what happened yesterday in any kind of detail. Sara's descriptiveness is unrivaled as she rattles off story after story. Early on, she preps the reader with a little background on her fears and various sources of anxiety. The excerpt below beings with a story about a woman who had the world's longest fingernails.
According to the SLC police, Redmond was ejected from the vehicle and sustained serious but not life-threatening injuries. She survived, but her nails did not. Each one broke off near the finger.

click here to show the full quoted excerpt
For the most part, Sara's story follows a chronological timeline. One of Sara's early phobia/anxiety-ridden memories took place on a school trip to Italy (Sicily, actually, which is somehow not Italy, I guess).
"Perhaps the charming locals will show us a bit of their famous hospitality rather than stab us on sight."

click here to show the full quoted excerpt
While in Sicily, Sara had a pretty overwhelming panic attack (belated spoiler alert!!) that derailed the field trip's long-awaited trip to the beaches of Sicily and brought the tour bus to a Sicilian hospital instead. Sara may have filled in some of these details with a little imagination, but for all I know this is exactly what happened...
Even in my hazy daze, I felt like a fraud. I was going to die, sure, but they shouldn't waste the wheels on me. They could just lay me out someplace. Maybe they could hook me up with a blanket and a stuffed animal and just let me expire quietly.

click here to show the full quoted excerpt
Even when Sara is telling the story of how mentally unbalanced she became in college, she manages to make you laugh. A lot. But you still feel slightly uncomfortable being amused by the terrible things she was experiencing. And she certainly doesn't worry about being Politically Correct, which I love. Any comedic writer/performer who worries about that stuff should find another line of work - maybe teaching school (which Sara did until she found her true calling).
It won't be that bad. Memories of terrible things are almost always easier than the things themselves.

click here to show the full quoted excerpt
One of the terrible things that Sara goes through is a weird fear of eating. She recounts a conversation with her therapist about her recovery from this super-unhealthy issue with a pretty funny gag. And discovers something about herself in the process.
I learned that you could spread ripe avocado on that same toast, then top it off with a (local organic heirloom) tomato, and the whole thing was pretty delicious. Every day brought a tasty new discovery, or a happy rediscovery. My efforts were tentative, but promising. Because I took tiny bites and chewed so cautiously, I savored my food in a way I never had time to do before

click here to show the full quoted excerpt
Sara was raised Catholic, but was also attracted to weirder non-conventional religions. And like most college-aged kids, she was drawn toward saving animals, saving the planet, communing with nature, etc. Here's an excerpt wherein Sara talks about her "foray into the crunchier realm"...
While I was learning to eat solid foods and shit in a toilet and drive a car again, I read a lot of Zentastic, organic, free-range, fair-trade, sustainable, sage-scented self-help books, most of which were designed for postmenopausal ex-hippies with a fondness for moon worship and natural-fiber clothing. I wasn't rich enough to follow my dream of living among noble brown stereotypes, which is why this book isn't called Eat, Pray, Love. I just read books that similarly co-opted other people's cultural traditions and repackaged them with a neat, lily-white bow on top. I called this "spirituality."

click here to show the full quoted excerpt
As I very briefly mention above, Sara tried her hand at teaching. And discovered, as I'm sure most teachers do, that kids are pretty much mostly unruly animals and it's a wonder so many live to see adulthood. But that's not to say Sara didn't get any good stories from her time in the trenches. This story (which isn't the story, it's just a preview of the story) is more about how ill-equipped Sara felt as a teacher. And also possibly why Neil Gaiman recommended her story - he and his wife, Amanada Palmer, are mentioned in this excerpt.
I'm pretty sure we weren't supposed to teach in a classroom without a licensed teacher watching over us. But that's what happened. every single day. And the results were predictably a mix of great success and great disaster. Which brings me back to Billy's boner.

click here to show the full quoted excerpt
The final excerpt I'm sharing has Sara still on a path to become a fully-functional, licensed teacher. And involves a moment of jealousy when she discovers that Mr Wrong from a few years earlier has moved on. Without her permission.
For the first time in my life, I was too busy to worry about anything unrelated to lesson plans, adolescent social development. and the New York City Board of Education's benchmarks and statistics for success in English, grades seven through twelve.

One night in September, I went out to a pub near Columbia with some new friends. During the dinner, Tom called me and promptly apologized for everything he'd ever done wrong in our relationship. He was almost certainly drunk, but I enjoyed the moment nevertheless - at first.

click here to show the full quoted excerpt
I'm totally leaving you hanging because I'm not going to tell you what happens to Sara that leads to her presently completely sane-ish life path. You'll just have to read the book yourself.

My talented Emeli's artwork

Here are a paltry few of the amazing things Emeli has created recently. She also has a Jaws scratchboard that's in progress that will be shared later. Emeli puts my sad little pencil doodles to shame. It's almost enough to make me wish I'd taken more art-related classes in College, just for fun.
You can get your own Emeli art if you hurry. She's selling a few of them on Mercari (I'd never heard of it, either).
I was going to make this another marathon, multi-topic post, but I've decided to end here and blather on about Potterland, Christmas, and my new digs at work later...or maybe never. We'll see.




1 Most recently, I've read All You can Worry About is Tomorrow, R.D. Hubbard; Tony Gwynn, He Left His Heart in San Diego, Rich Wolfe; Code Talker, Chester Nez; Almost Interesting, David Spade; and You're Never Weird on the Internet (almost), Felicia Day. I hope to give each the commentary they deserve, because they were each interesting, funny, or educational in their own ways.



Got something to say? Say it. (no responses).


Just one book this time - David Savakerrva


(and some new Cubicle fun)
I recently finished another book that has jumped ahead of the many others in my queue, David Savakerrva (this is another that was read at the behest of the author who provided me with a physical copy). I would have mentioned it weeks ago, but I've been having major PC issues for the past several weeks (which seem to have all begun when I installed the new version of my anti-virus, but that could just be a coincidence). I can't do much of anything that touches the filesystem without the computer pretty much going into limbo (though the non-filesystem applications are working fine - no browser issues unless I'm trying to download files).
David Savakerrva was a satisfying read, but took a long time to get through (see my earlier laments about spending less time reading recently). It was equal parts steampunk Alice in Wonderland and Dune, and had a little bit of a Lord of the Rings flavor. I also remember feeling some serious RA Salvatore vibes (more Saga of the First King vibes than Drizzt Do'Urden). There were a bunch of other impressions I picked up as I was reading, but by the time I'd reached the end, many of those had faded from my barely-functional memory.

David Savakerrva, Larry Brown



David Savakerrva Volume 1 is a pretty massive tome - over 600 pages - and took me a while to finish. I found myself thinking that the editors should have done what they did to Tolkien's opus and insisted on splitting this huge book into multiple shorter books just to make it feel less overwhelming. I later discovered that Volume 1 contains books 1 and 2, which are each pretty lengthy books in their own right. Funny enough, After reading my Lord of the Rings paperbacks (I went through a few sets) multiple times, I finally picked up a Lord of the Rings hard cover with all three books lumped together as Tolkien originally intended. Lord of the Rings is definitely more overwhelming to read in a single-volume format, as is David Savakerrva.
The main protagonist in David Savakerrva is a young, very unremarkable, boy named Garth. He's very Bilbo Baggins-ish (who wasn't exactly "young" in man-years) or Harry Potter-ish. He's equally annoying in his immature floundering as either of the aforementioned characters. He comes across as whining and incompetent and all his successes are seemingly accidental. But he does grow on you over time.
As I was reading, the similarity of Larry Brown's alien language and his completely foreign/alien character names reminded me a lot of Dune, the more recently read The Rage of Dragons, or even Tolkien's Adventures in Middle Earth. It took me a while, as it did with each of the aforementioned works, to translate the unfamiliar words as I was reading. Early on, I struggled a little to translate the unfamiliar verbiage.
Here's a really long excerpt (a few pages) filled with names and alien words to give you a feel for the . It's also one of the scenes that reminded me of a demented Alice in Wonderland. But first, a little background: the "Soot" character is an alien who has kidnapped our young protagonist to curry favor with the other aliens who have invaded the alien world. Garth has escaped and his doing his best to evade capture in the alien landscape.
Misery, every crackling branch and prickly stem.

Snagged and clawed, scratched and pierced - Garth nearly missed the underworld's hot, windy gale. Fear raked like every thorny bough, but so did thoughts of what next? Soot had taken him for a reason, and though what awaited seeded terrors and plowed up dread, Garth wondered about the Kavahl.

Did they still need to stop it?

Yes! Dahkaa's presumed response. The recent past seemed a blur, but before the Cave of the Beast, Dahkaa had said the G'mach would finish the Kavahl in just seventeen moons. So, what was it now, fifteen or less? And if Dahkaa had died, then what about his plan to unite with the tribes? Was that dead, too?

click here to show the full quoted excerpt
Here's a good excerpt to illustrate why I envisioned a "steampunk" Alice in Wonderland as I read. This excerpt features the most steampunk of all the characters in the story: Torgen Betugen.
Torgen burst through the door of his high-tower room.

Fast but quiet, he leapt down a narrow stairwell. But with every quick turn, the bazooka-like tube strapped to his back scraped the tight walls.

He jumped to a corridor landing and charged a wall. A brick wall, by all appearance. But when he lowered his shoulder and leapt, he crashed through a plaster facade.

Torgen fell three feet, then landed on a platform in a dark, vertical shaft. Already descending, the platform quivered as it dropped, some unpowered freight elevator plunging straight down. Pulleys whined with increasing speed, and Torgen braced for the plummeting end.

click here to show the full quoted excerpt
There is a very early reference to Frank Herbert's Dune in the story, but more Dune-like are the residents of the brutal scorched sub-side culture of the alien planet, who are very similar to Dune's Fremen culture. They're maybe even a little less compassionate than the Fremen. The Dune reference is near the end of this lengthy excerpt.
Dahkaa sat alone. Brooding between boulders on the wind-whistled peak, he ignored the auroral elations high overhead, the fleeting greens and flitting blues. Unmoved by the Northern Lights, the Man of Scars pondered, instead, the still, gray moon.

"So." Garth shivered near the cave. "That's it, we're done?"

click here to show the full quoted excerpt
So, to sum it all up, David Savakerrva is a well-written science fiction epic that delivers. And it's definitely primed for future sequels - the ending is satisfying and equally unsatisfying (if the story ended here).



Further Adventures in Cubicle Decor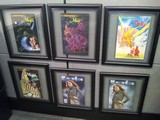 I've had the Terry Pratchett's The Colour of Magic comics (#1 was signed by Terry Pratchett himself way back in 2005 at a Mysterious Galaxy book signing many years ago) on display on my cubicle wall, along with two issues of Doctor Who (with the exact same photo of Amy Pond/Karen Gillan superimposed on different backgrounds that I hadn't really picked up on when I bought them), for the past few weeks. I included the Doctor Who comics to finish filling up the six frames - The Colour of Magic is just a 4-issue mini-series (as is The Light Fantastic, which I had planned to display next).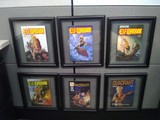 I decided to display Peter M Hsu's Elf Warrior series instead of The Light Fantastic since I'd already had a month of Terry Pratchett awesomeness in my cubicle. Elf Warrior is also a 4-issue series, so I chose a couple of other Peter Hsu books from my collection: Quadrant #7 and The Adventurers #1 - to round it out since Elf Warrior is another 4-issue series from the 80s). I was also tempted to go with one of the workplace-friendly The Gauntlet covers or his Ninja Elite cover, but...well, I didn't.
Peter Hsu has been out of the comics game for a few decades, but his stuff is still worth seeking out and Elf Warrior is still pretty affordable...the Quadrant books are pretty pricey, though. And I suspect they're also much more rare.
I brought in a few of my older toys from my many toy bins, a How to Train Your Dragon concept art print I picked up at the ComicCon in 2009, an R2D2 card Emeli made me just because she's so super-sweet, and I also decorated the not-home-away-from-home for Christmas. Oh, and I bought some awesome tiny magnets from Amazon that are super strong. They've made the cubicle-decorating much easier.
There's plenty more to ramble on about, but I'll never finish this thing if I keep adding to it...



Got something to say? Say it. (no responses).


A few well past due book mentions and a visit to the Black Spire Outpost on the Planet Batuu!
As I mentioned a little while back, I've read several books over the past many months (some over a year ago) and have totally neglected to say anything about them. Which is a shame because pretty much all of them have been well worth mentioning - I noted passages from each to illustrate why I thought they were worth reading - but I suck. I'm reading less than usual and putting less and less effort into my blathering here, so I doubt any of these books will get the full effort they deserve. That said, here's a start on mentioning the members of my ever-growing stack of semi-recently-read books and the very modicum level of effort I'm willing to make...


Art Matters, Neil Gaiman & Chris Riddell (illustrator)



I had heard all about Art Matters on Twitter long before it was even available to order. Pages were being posted online for weeks before I could even get my own copy. I pre-ordered my copy from Amazon about a month before its U.S. publication date (the U.S. version was available over a month after the U.K. version for some reason - even from Amazon, which is weird because they had the U.K. version in stock). When I received my copy, I quickly read it in its entirety. There isn't a whole lot to read - it's mostly illustrations and brief, but thoughtful, commentary on the importance of libraries, the value of fiction and other creative endeavors, and the value of imagination. I liked it so much that I quickly went out and picked up a copy for Emeli (from Mysterious Galaxy, I think) and shipped it to her in Idaho.
Here are a few of the pages that really stood out to me. Most I saw on Twitter before I received my book, but I had to scan a couple of them myself. I especially like Neil's thoughts on fiction because I've heard so much negative criticism of fiction in my lifetime. And being a dinosaur who loves and prefers to read physical books, I like Neil's and Douglas Adams comments on the value of physical books.
I also heard about another book from Neil Gaiman's Twitter feed: Eric Idle's sortabiography, Always Look on the Bright Side of Life.

Always Look on the Bright Side of Life, Eric Idle




I also pre-ordered Always Look on the Bright Side of Life from Amazon well before its publication date. And it arrived with more than just the book - it came with a button that has been proudly displayed on my computer bag since I received it, and a signed (presumably by Eric Idle, but who knows) book plate. So that was a nice bonus.
Always Look on the Bright Side of Life is an excellent biography of Eric Idle's event ful life. It starts out very biographical, but quickly becomes, while still technically biographical, an avalanche of celebrity name-dropping. I didn't realize Eric had been so close to George Harrison, or had rubbed shoulders with Bowie and so many other very famous people. But there you have it - take Neil Gaiman's advice (not provided in this book - see the review just a little northward) and doggedly stick to what you want to do. And get famous. And then you, too, can vacation with the rich and famous, marry a gorgeous model, and visit an awesome castle belonging to one of The Beatles.
There are several pages of color photos of the people mentioned in Eric's memoir in the center of the book (there are also black and white photos throughout the book). Here are a few of those color photos and a couple of the black and white photos.
I noted too many specific passages to mention (as usual) and several were about people other than Eric (like Robin Williams and Steve Martin) that are hilarious and interesting to read, but aren't Eric-adjacent enough for me to mention - so here are the few I noted and have deigned to share...
Firstly, we have Eric interacting with a young journalist...
Laughter is still the best revenge. One day the sun will die, one day the galaxy will die, one day the entire Universe will die. I'm not feeling too good myself. So, what have I learned over my long and weird life? Well, firstly, that there are two kinds of people, and I don't much care for either of them. Secondly, when faced with a difficult choice, either way is often best. Thirdly, always leave a party when people begin to play the bongos.

Now I just wait for the inevitable question: "Didn't you used to be Eric Idle?" That and the delicious irony that I get to sing my own song at my own funeral. I have prepared some last words. Well, you can't be too careful, can you? In the Eighties when I was still comparatively young, a man sitting next to me in the Groucho Club said, "Oh. that's funny seeing you here, I'm just writing your obituary."

What?

click here to show the full quoted excerpt
Next, we find Eric accepting an award in Hollywood on behalf of the Pythons...
A year later Monty Python was inducted into the Hollywood Bowl Hall of Fame, and John Du Prez and I went along with our touring company to accept the trophy. There were wonderful nostalgic clips of us at the Bowl twenty years earlier, and then Robin Williams came on like a blast from a blowgun and torched the audience with a high-octane tribute.

Originally Terry Gilliam was going to join me onstage to accept the award and then we were going to sing "Sit on My Face," but the Bowl nixed that naughty song, saying it was inappropriate for a gala, and so, sadly, Terry Gilliam pulled out. He has very high moral standards when it comes to low moral songs, so that moment of particular public tastelessness would have to wait.

click here to show the full quoted excerpt
And the final excerpt I'll share is from Eric's time working with Leslie Nielsen on a 4-D ride for an amusement park...
A year later. Anheuser-Busch approached me with an offer to write one of these 4-D things. They wanted a pirate film for their Busch Gardens theme park in Williamsburg, Virginia. I was intrigued by the technology so I wrote one. In mine, when seagulls flew overhead, water would drop like bird poop on the audience. I wrote the lead for Leslie Nielsen and he said he would do it only if l would be in it too. You mean filming in the West Indies on a pirate ship with Leslie Nielsen? Well, alright then. So off we went to Puerto Rico, eventually ending up filming on a boat in Cancel Bay off St. John, where I had stayed so happily with George and Liv. At the end of each day's filming I would dive overboard and swim back to my hotel.

I loved every second with Leslie. He was extremely funny. He would play with his own fame and had found a clever way of coming to terms with it. He had a fart machine. He kept it hidden in his hand. He used it to perfection on a crowded elevator in our tourist hotel.

click here to show the full quoted excerpt
If you love the Pythons, love celebrity memoirs, love biographies in general, or just love to laugh, this is the book for you. Go get it (though you won't get the cool button and nameplate that I did, slackers!)

Alternate Routes, Tim Powers


I hate that I've waited so long to write down my thoughts on Alternate Routes, and more importantly, the Tim Powers signing of Alternate Routes at the Mysterious Galaxy book store in August of 2018. I will try to pry the memories out of my severely-damaged brain, but I'm sure much of the amazingness of hearing Tim Powers talk to the small audience of true-believers about anything and everything will be lost now. Luckily, I did jot down a few rough notes about the signing, so all hope is not lost.
I arrived late, so that wasn't great. And to top it off, I forgot to mute my phone. A few seconds after I arrived, my phone made its presence known with a loud "None of your Business!" (a sound clip of the belligerent French knight from Monthy Python & The Holy Grail), so that was awkward. Due to my inability to arrive on time, I stood near the store's entrance throughout the pre-signing and listened to Tim's many colorful stories. I seem to recall there being some open chairs set up near Tim, but I didn't want to disrupt the flow any more than I already had, so I stood unobtrusively in the back. The crowd for this book signing was significantly smaller than the semi-recent Bruce Campbell signing, which was a good thing for me, but not so great for Tim.
Tim talked about Alternate Routes for the first 20-30 minutes, then answered questions and talked about the L.A. area as a goldmine of story ideas. He referred to the inspirations as "hints, not completed stories." One of the things I actually remember was mention of a book called "Secret Stairways" - a book about stairways in the Hollywood hills that you'd never find without the book, which lead to secret valleys with weird temples, movie set graveyards, and other surreal, unexpected things to experience. There were other stories, but they've been pretty much lost in a dead end of my brain beyond a block of damaged synapses. I think he may have even revisited his Pirates of the Caribbean experience with On Stranger Tides. That seems to come up consistently at the signings. if you every have a chance to attend an event with Tim Powers speaking, I highly encourage you to attend. I guarantee you'll learn something.
After story time ended, there was a short line for the signing. While I waited, I also picked up hardcover copy of Neil Gaiman's A Study in Emerald. I thought about asking Tim to sign it just to be funny (Tim had mentioned being a big fan of HP Lovecraft) since the book is a Cthulhu vs Sherlock Holmes graphic novel, but chickened out. To tell you how elderly the crowd at this signing was, I might have been one of the youngest people there. The person in the signing line behind me actually knew Tim Powers and Philip K Dick (who I think I've mentioned from other signings that Tim Powers knew and hung out with for many years) when they were younger and hung out with them. As I was leaving, overheard Tim talking to her about the places they'd hung out and the other people who were there (Philip K Dick, specifically).
I thought I had some photos from the signing, but...I can't find a single photo (now over a year after the signing took place), so they may appear here someday if I can find them.
Now, on to the reasons you should read Alternate Routes (reasons that will be, in my defective brain, hazy at best since I read Alternate Routes months ago)...
With Tim Powers, you either get great historical fiction or great modern-day, generally set in Southern California, fiction. This is the latter - very similar to the Fault Lines series I read many years ago: Last Call (to be honest, I don't know if I read this one), Earthquake Weather, and Expiration Date. Tim Powers knows and loves Southern California. Or maybe just California in general. I can't remember any stories set north of Los Angeles right now, but there could have been some. But his knowledge of the history of the area is unsurpassed - he does his research. In this case specifically, his research would have been around secret service agents, the LA freeways , and occult practitioners of black magic (or gray magic or somewhere in-between).
Here are a few excerpts to give you a feel for the story.
In this one, the secret service and ex-secret service agents are hiding out from the government's secret occult agents in one of the many places found throughout L.A. I found this one interesting because it talks about the creepy too-real animation that's becoming more and more prevalent - and how it even spooks ghosts.
She shivered. "I imagine ghosts sitting at that other table, with a pitcher of lemonade, staring at the wall. Staring through the wall."

click here to show the full quoted excerpt
In this one, our two secret service agents are sleeping in a tomb to stay off the radar of the people trying to catch them. As one would expect, creepiness ensues..
At last he fell asleep.

He didn't dream of Amanda; instead he dreamed that he was at a crowded table in a bar, and for a long time he couldn't make out the faces of the others at the table, nor remember where this place was. The conversation was lively and loud, and the words his companions spoke were in English, but Vickery wasn't able to fit them together into comprehensible sentences. Eventually he heard explosions and gunfire from the street outside - but none of his companions paused in their conversation, and he realized at last that this was the King Tiki Bar, one of the fake buildings in Hogan's Alley at the Rowley Training Center in Michigan. Hogan's Alley was a specially constructed tactical village, like a Hollywood set, in which Secret Service agents were confronted with various simulated attacks and trained in how to react; so of course the gun-battle outside was not real. But even though his tablemates went on talking as energetically as ever, Vickery now saw that their shirts and blouses were blotted with blood, and when one of the men turned to face him, the previously averted half of his face was just a gory crater. Vickery touched his own face just as the other man did the same, and he knew that he was looking into a mirror on the wall.

click here to show the full quoted excerpt
Who knew shaman (is "shamen" the plural of shaman?) lived among us in modern times (at least in the alternate universes spun up by Tim Powers). In this one, we learn one of the dangers of L.A. freeways from a modern day shaman (who has been creeping around for a long time) living in the hills of L.A. And the danger on the freeways isn't related to the fast-moving metal boxes hitting each other or stationary objects.
"All this business." Laquedem went on, freeing one hand from a crutch to wave in a circle, "making use of the current generated when multiple free wills move at a constant speed past stationary free wills, in order to see little way into the future or past--it was harmless enough, back in the days when you could only work for the few seconds a train was passing, or by driving a wagon down a crowded street; though even from the first there were canny protests against railroads, and there was the law that an automobile must be preceded by a man on foot waving a red flag, which prevented any effects. That law pretty much ended with the convoy from London to Brighton in '96.

click here to show the full quoted excerpt
I had several other passages noted to share, but they just didn't stand well enough on their own out of context with the rest of the story to make them worth sharing. Even though most of the excerpts I shared are pretty much rooted in supernatural stuff, there's much more to the story than just ghosts and haunted highways. Tim Powers is, as I mentioned above in regard to his speaking at the signing, a great storyteller. If you appreciate speculative fiction, you;'ll love any of Tim's books.

Return to the Dreaded Land of Disney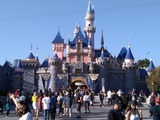 I was just going to blather about books, but I decided to mention something non-book-related: Disneyland. We returned to the land of Disney after over a year of avoiding the overcrowded & overpriced nightmare that is Disneyland because Emeli was home from school and Star Wars land had opened (in addition to a bunch of other changes in the parks that didn't really entice me at all). I remembered the days after Labor day being very lightly crowded the last time we'd had annual passes, so we decided to schedule a trip in September after Labor day. And while not amazingly empty, it wasn't painfully crowded. We actually went on every ride we wanted without having to wait in exceptionally heinous lines, as well as exploring the new surprisingly immersive Star Wars section of the park. It did get a little busier as the day went on, but was never as awful as it usually gets. We just parked in the Toy Story lots so we could stay as long as we wanted to.
As for the new Star War section of the Park, I was impressed. It's an interesting transition to walk from the old west in Frontier land to an Imperial outpost on some alien planet in Star Wars land. The buildings are as authentic (if you can call something that comes from a complete work of Fiction "authentic") as Disney's many other immersive areas (Main Street and New Orleans Square are my favorite "immersive" areas). The giant weird rock formations surrounding the outpost really add to the otherworldly feeling and separation from the rest of the park. And I really liked seeing all the full-sized vehicles (a land-speeder, a pod racer, an X-Wing, an A-Wing fighter, the Millennium Falcon, and a couple of Imperial shuttles) throughout the park. There were a few characters from the films (Rey, Chewy, several stromtroopers) and also a few cast members who weren't from the films dressed as Outpost personnel who were interacting with the real characters. The cast member who played Rey was spot-on - she even spoke with an English accent. I didn't get any good photos of her, but you can see her messing around with the X-Wing in a couple of photos. A wookie (possibly Chewbacca) was up there, too. I didn't drop any dough on Star Wars related merchandise, other than a bottle of water with weird alien writing.
Here are some photos from the visit (including a few that are intended to show how not crowded the park was for our visit). First, here's Main Street decorated for Halloween.
Next, a few from Adventureland (this was the first time I'd climbed around on Tarzan's Treehouse - formerly the Swiss Family Robinson treehouse - in many years, so I took a bunch of photos of the area.
And then on to my favorite area in all of Disneyland, New Orleans Square. Home of the Haunted Mansion and Pirates of the Caribbean.
My last batch of photos all came from the new Star Wars land. They did a really good job with the details, despite the lack of much of anything to do here.
We returned to Disneyland a few weeks later and had our Happy-Disney-Bubble burst. It was as crowded as ever and we didn't go on a single ride in Disneyland. Luckily, we'd planned for a short visit (we parked in the Downtown Disney lot that requires Downtown Disney validation with a $20 purchase for 3 hours parking or a sit-down restaurant purchase for 5 hour validation), so we were out the bucks we spent on a meal at the La Brea Bakery in Downtown Disney, but their food is pretty great, so that wasn't too painful. Star Wars land was too over-crowded to be enjoyable and it was a shoulder-to-shoulder crush of people. We did make our way to California Adventure, which was only slightly less crowded) and went on the one ride of the day: Soaring over The World (I think that's what it's called now). I hadn't been on it since it was Soaring Over California. It's as good a ride as any in Disneyland and my favorite in California Adventure, though I do enjoy the Little Mermaid ride, too. That ride feels misplaced in California Adventure, though - it should be in Fantasy land on the Disneyland side.
Here are a few of the photos I took this on abbreviated visit (mostly just to show how much more crowded the park was this time - the first photo is the transition from old west to science fiction in the tunnel to Star Wars land).
I also thought about showing the new set of comics adorning my cubicle wall, but I decided to save those for later. And I just finished another book, David Savakerrva, that's going to jump to the head of the line for the next exciting addition of Who has the time to read all this drivel?.



Got something to say? Say it. (no responses).



This page has been viewed







times since I started tracking hits.
(This is a rudimentary non-unique IP hit counter, so don't be too impressed)