Goodbye, little friend

We lost a fuzzy, four-legged family member.
We only had Cody, who was more often referred to as "Buddy," for the last couple of years of his too-short life. We adopted him well into his senior years (he was twelve years and a few months old) when we brought him home from a Yorkie Rescue organization. He had been rescued many years earlier from a terrible home (abused by small children which resulted in a broken leg set with a metal rod as a puppy). He was placed with an elderly woman who took good care of him for many years until she passed. He was then fostered in her daughter's home with three other adult Yorkies who were all larger than Cody and did what most animals do - they tormented him because they could. So he learned to be fearful of small children and other animals before we'd even met him. Fortunately for Cody, we had no small children or other pets in our home, so his anxiety eventually lessened.

Cody was hesitant with us initially, but learned to trust his new family and became a big snuggler. When his family was sitting on the couch watching TV he would jump up (he was far too small to get up himself) to let us know he needed to be up with us and then lie happily, on one of his many blankets, beside us. Sometimes he just had to get the blankets just right before he could relax, though.
Keli even taught him to sit and shake hands in his old age. He later added lying down to his repertoire. But we could only ever get him to do his new tricks if we gave him a treat. Or if the kids tricked him into thinking he was getting a treat.

He would wait to eat dinner until his family was eating, bringing mouthfuls of kibble into the dining room to eat one piece at a time. When we first brought Cody home, we tried letting him sleep alone in the kitchen or living room, but he wanted no part of that. He would cry until we brought him into our bedroom, where he slept happily through the night. So from that point on, he slept with us. Or at least in the same room. He always preferred sleeping at night in his crate to sleeping out in the open or on a bed. Even during the day, he would often make his way to the crate and get some private time.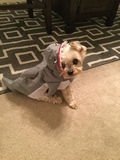 We tried putting him in costumes at Halloween, but he was never a big fan of clothing. Socks, costumes - they would just make him freeze in confusion until someone extricated him from the weirdness. We got him a shark costume last year and he was so cute, with those big brown eyes looking up at you, but he barely moved once it was covering him. So we didn't make him wear it very long.
We tried giving Buddy many toys during his time with us. He had no interest in any balls, no matter the size or composition. Rope toys were of no interest and stuffed animals earned only his disdain. But then I found a tiny, little bear that was probably a cat toy. I brought it home to Buddy, hoping this tiny thing would be something he might want to play with. I don't think he paid much attention to it at first, but several times, when we weren't looking, he would throw it around, pounce on it, and just take it with him wherever he'd go. It was super cute.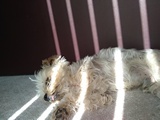 Another of Buddy's favorite daily activities was lying in the sun (either in the house or outside, if it was warm enough). He loved just soaking up the warmth of the sun.
Every day when I would come home from work, he would perk up when he heard my car alarm beep and would run to meet me at the door when I came into the house. The final two weeks of his life, he didn't have the energy to meet me at the door and near the end, didn't even look up when I'd come in. It was heartbreaking to watch his decline. It was heartbreaking to see him so bereft of energy that he couldn't even make it to the sun in his final days.
A week before he started to show the signs of Kidney failure, he was in Utah with Julie and Emeli. One of the days they were there, Cody wandered down the hall by himself, as he often sid, and disappeared. When Julie went looking for him, she found him curled up snoozing. In her suitcase. It was so cute. When she came in, he groggily looked up at her and then went right back to sleep. So cute.
Our awesome little buddy, Cody, went from a vivacious, playful little guy to a crippled old man within about a week. He was diagnosed with potential kidney problems a few weeks earlier, so we were adapting his diet to a more renal-friendly menu, but nothing we did made any difference. We had his blood tested a couple of weeks later and we were told he had stage-4 kidney failure. So the renal-friendly food was abandoned (he reused to eat it, anyway) and we let him eat whatever he wanted. Which was, for the most part, nothing at all. He drank a lot of water, but ate almost nothing.
In the end, Cody couldn't stand unassisted, he wasn't eating anything, he did nothing but sleep restlessly all day, and he didn't respond to anything except physical touch. He still showed some appreciation for a good scratch behind the ears or under his emaciated little chin, but he was quickly approaching a painful demise so we made the very difficult decision to take him to the vet to be put out of his misery. This is the second dog I've lost to kidney failure. The other was Benji, over 25 years earlier, and her death is still painfully etched into my memory.
We have a thousand pictures of our cute little guy, but here are a paltry few...
A few videos...
Your browser does not support the video tag.
Cody didn't appreciate toys as big as he was.
Your browser does not support the video tag.
Cody was quite the explorer in our little yard.
Your browser does not support the video tag.
Cody never could quite get those blanket gophers.
Your browser does not support the video tag.
Cody always had to ge the blanket "just right" before he'd lie down.
Your browser does not support the video tag.
A trifecta of tricks for a treat.
Your browser does not support the video tag.
Our last day with Buddy, he was too far gone to even lift his head. It was heartbreaking.




Got something to say? Say it. (no responses).



Another eBook and a Science Fiction Book Club rant

I was once again approached by an author who is looking for eyeballs and asked to read and review her new work of fiction (in eBook format, so it took me a lot longer to get through - I read several physical books in the same time-frame). It's a dystopian political thriller set almost thirty years in the future. And here we go...

Fire of Our Fathers


Fire of Our Fathers is a interesting take on a dystopian American future set in 2046 by an author who writes a lot of this kind of stuff, L.C. Champlin. But the United States isn't the only country suffering - though it is the focus of most of the events in this story - the whole world has succumbed to corruption and economic collapse. Here's the author's own description of the story:
2046 -- Thirty years into the Great Decline, America and the world are mired deep in the swamp of corruption and despair...

Richmond Monroe has just finished the biggest antiques-hunting contract of his life - and taken out a few Somali pirates along the way. When he returns home to Panama, he learns he must risk his life and paycheck to rescue his town from destruction by the land-hungry rulers.

click here to show the full quoted excerpt
And here's a description of the current state of things in 2046 from the story's protagonist, Richmond Monroe.
The whole damn world looked this way now. The economic depression had lasted years, with banana republics and even hulking dictatorships squabbling for resources. Religious extremist groups murdered civilians, while drug cartels kept everyone too high to care.

After the US succumbed to its long-standing, long-festering corruption, the world rapidly followed. The Last Bastion of Hope had fallen. Now everyone bumbled on as best they could, as the human race always had. Two-hundred years, when you thought about it, amounted to nothing more than a flash in the pan.

"Constitutional republic," Richmond snorted. The American Dream - and America had woken up to cold reality.
Speaking of the United States being 200 (and a little more) years old, there's a hilarious quote in the Eric Idle sorta-biography I'm reading now about the bicentennial that's I'll be sharing later (along with way too many other quotes and scanned photos from that book).
The story's dark future bears a pretty strong resemblance to the stories of D.W. Ulsterman1 that I've mentioned briefly here a couple of times. As with Ulsterman's dystopian future, there's no William Forstchen-like EMP that took down the grid, no Zombie-inducing virus that wipes out humanity, no John Barnes-esque plastic eating bacteria to bring all tech to a halt, no S.M. Stirling-like change that reduces mankind to 17th century technology - there's just political upheaval leading to a collapsed economy and end of true representational government (which was ended a long time ago, to be honest).
We meet several people trapped in the declining United States (the protagonist has expatriated to Panama) throughout the story's events. One of these tells the protagonist her story that describes her experiences as an immigrant to the United States who arrived near the end of the era of possibility and watched as opportunities disappeared and a government too much like the one she'd escaped took over.
"We came to this land of opportunity and freedom. People here valued life. We worked very hard here. We learned the language, we made a business, and we gave back to the community. It was the happiest ten years of our life. Coming here was like getting a new life. I was thirty. But over time, after 2016, the Great Decline began. Then it was more and more like living in China. China also was allowed to buy more and more land and companies in America." She sighed. "I'm glad my children and grandchildren are not in China, but I wish they could know America as I knew it."
I was probably most attracted to the promise of actual historical references being interwoven throughout the story, a la Umberto Eco/Dan Brown/Michael Crichton/Brad Meltzer. And while there were a few historical references throughout the story (to George Washington and his swords, and a little from the Civil War era), they weren't really as tightly interwoven as the historical references in the aforementioned authors' books. So that was a little disappointing.
There were quite a few passages in the text that felt out of place. Here are a three (taken out of context, so they may not seem as odd to you). The last one wasn't weird because of the non-flowing prose, like the others, but it was a surprise that the protagonist would bring a Tolkien fantasy element into the story (the only time this happened).
"I'm trying to let you fellows get out with your dignity," Richmond admonished. "You ought to be thanking me."

...

He kept the front area decked out with smaller, cheaper, but expensive-appearing finds. Jackie's desk took center stage; he maintained an office behind her. In the warehouse proper, beyond the office area, Jackie oversaw a strict filing system. She must have a psychological compulsion for orderliness.

click here to show the full quoted excerpt
As with most dystopian stories, the government that evolves is thuggish and corrupt. Here's a brief description of the TSA of the future (which doesn't sound much different from the TSA of today).
The TSA thugs wore blue uniforms, carried submachine guns, and had riot cuffs on their duty belts. They looked like the security of every other third world country.

And the local militarized police force sounds a lot like the police we have now - just a little further to the dark side. Though the legalization of all substances had occurred over a decade ago, dealers still undercut the system, providing as much of a black market as ever. Rather than take on the dangerous and thriving gangs, the cops preferred to beat down law-abiding citizens who thought or said the wrong thing. Namely, the truth."
And the best part of the story is the totally unexpected hero. I won't tell you who he is, but here are some clues (there are five non-concurrent quotes excerpts - it's not meant to be a continuous quote).
The other man wore a knowing smile. "So you recognize me." Myles lifted his chin.

"You are the Baron."

"I am."

The Baron? Now and then a news report mentioned the Baron, a man who operated in numerous markets across the world. His holdings ranged from tech companies to real estate, but his passion lay in restructuring failing corporations.

click here to show the full quoted excerpt
This story must have been written before the father of the Baron moved into the White House, as he didn't go down in a fiery plane crash in our own timeline. So...the moral of the story is this: "If you enjoy dystopian political fiction with a right-leaning bent and don't mind an uneven writing style, you'll likely enjoy this book. I noticed that the eBook price is only around a buck on Amazon, so you've gotta like that.


The Science Fiction (and now other genres) Book Club


I've been a member of the Science Fiction Book Club off and on2 since I was in my late teens. Way back then, the draw was getting several hardcover sci-fi and fantasy books for basically the cost of shipping with a commitment to buy a few more books over the next couple of years at full price. So the average cost of the books was less than buying the same number of paperbacks, which sounds like a great deal. But there were a couple of drawbacks: #1, the books were dimensionally all about 3/4 scale of the publisher hardcovers. So I have a great many miniature hardcovers in library that insult my OCD when they're all on the same shelf with the full-sized hardcovers (now all in bin, so they're not as annoying). And #2, you had to send a card back every month through the mail or you get the book of the month auto-mailed to you. You could do a return-to-sender and return it easily enough, but that was a hassle I didn't enjoy.
At some point, I decided that the affordability of the tiny books wasn't enough to offset the discomfort of having books that looked out of place on the shelf, so I abandoned the SFBC for many years. But a few years ago I decided that cheap was more important than big and joined back up. I was pleasantly surprised when the books arrived and were full-sized hardcovers. And also happy to learn that the card in the mail had been replaced by an online response, so it was much easier to decline the unwanted books of the month. Also a nice improvement was the wishlist feature to save books you may want to order in the future. And maybe best of all, each month you can buy two credits for $14.99/each to later buy any two books at a reduced price (lower than Amazon or Costco, even). So that's pretty cool.
Over the past few years I've more than fulfilled my commitment and am still a member, though I've been a little disappointed that every hardcover hasn't been a full-sized edition (most are). A couple of other comments and/or complaints: the book club is now more of a Generic Book Club that sells just about every genre of book (I've wandered outside the Sci-Fi/Fantasy boundary a couple of times since I've been a member again) and books are often dropped quickly from the club so the availability of Sci-Fi/Fantasy titles is a little less than it once was (and WishList books can quickly become unavailable if you don't pull the trigger fast enough). But my biggest complaint about the good ol' SFBC is this:

THEY SENT ME A BOOK WITH A RIPPED DUST JACKET!!
I don't know if it happened in transit (it wasn't very well packaged - there wasn't any packing material to hold the book in place) or before being packed, but either way, I'm not happy. That hasn't stopped me from buying other books from the SFBC and none of the others have been ripped, but still...



1 L.C., D.W., S.M....each of these authors uses a pen name with two initials followed by a surname. Coincidence? I THINK NOT!!

2 Once your commitment is fulfilled, you quit and rejoin and get 5 more tiny free-ish books. Genius!



Got something to say? Say it. (3 responses).


The Dinosaur Lords vs Dragon Teeth
The only two Michael Crichton books I've read have both been unfinished drafts published after his death. I really enjoyed both of them immensely, so I don't know if I'm a huge Michael Crichton fan or a huge fan of whoever finished these books.
The only other Crichton book I've ever read, Pirate Latitudes, was a fictional, but very well-researched and real-feeling, tale of pirates in the Caribbean. Very similar to, in my opinion, On Stranger Tides, but without the Voodoo, extra-dimensional Fountain of Youth stuff, and magic. Surprisingly, I've only ever mentioned Pirate Latitudes one time on this sorry excuse for a site. And that was only a mention of books that I had on my to-read shelf. I know...I suck.
But I'm trying to do better. I'm not really doing much better, but I have at least kept the more recently-read books to be mentioned (I hesitate to call what I do a "review") in a separate stack on the to-read shelf where they can remind me what a waste of space I am. Baby steps, I suppose.
I don't remember enough about Pirate Latitudes to say anything more about that book, but the other Crichton book I've read is the much more recently published Dragon Teeth - a paleontological romp through the old west. This one I read a couple of months ago, so it's at least slightly more fresh in my memory.
The other Dinosaur book I'm going to mention is The Dinosaur Lords by the recently deceased Victor Milan, which I read just a month or two back. While it is, admittedly, completely unrelated to the Old West story in Dragon Teeth, I wanted to mention this novel with Dragon Teeth because they both involve dinosaurs (kind of a stretch for Dragon Teeth, but still). Another trait they share is authors who won't be contributing to further adventures of these characters (there are actually two more books in The Dinosaur Lords series on my reading shelf that were published before Victor Milan passed, but I haven't made it to either of those yet - I'm hoping the story was wrapped up by book three - there are some big questions in need of further exposition in the first novel).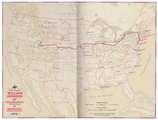 Before I get into each book, here is another similarity they both share: maps of the locations in the stories (each one is a two-page map that I have attempted - poorly - to combine into a single image).



Dragon Teeth

Dragon Teeth is your basic fish-out-of-water, rich kid goes dinosaur fossil-hunting in the uncharted west type of story. You know, that old chestnut. The main character is extremely unlikable when we meet him.
William Jason Tertullius Johnson, the elder son of Philadelphia shipbuilder Silas Johnson, entered Yale College in the fall of 1875. According to his headmaster at Exeter, Johnson was "gifted, attractive, athletic and able." But the headmaster added that Johnson was "headstrong, indolent and badly spoilt, with a notable indifference to any motive save his own pleasures. Unless he finds a purpose to his life, he risks unseemly decline into indolence and vice."

click here to show or hide the full quoted excerpt
As our entitled, unlikable protagonist gets the shaft from various parties throughout the book, he ends up in a familiar place from old west folklore - Deadwood, South Dakota. But along the way, he has a few run-ins with the natives and rogue U.S. cavalry soldiers.
"We"re done for," Morton moaned.

"Any minute now we'll hear those arrows whistling," Isaac said, "and then, when they get closer, out come the tomahawks - "

click here to show or hide the full quoted excerpt
Once he makes it to the fabled Deadwood, he witnesses a little bit of Kung Fu-ish Chinaman-abuse, falls for Miss Emily, an old west lady of the night, meets the Earp brothers, and becomes a whole lot less entitled and more self-sufficient. Maybe not a "whole lot" more, but at least a little more.
Here's are a couple of excerpts showing the true nature of his new friend when she tries to sell him out to the local outlaws and our first introduction to the Earp brothers.
"So you said you would ask me?" he said, feeling hurt.

She looked down, as if ashamed. "I was curious myself, too."

"They really contain bones."

"I see that, now."

"I don't want them - I don't want anything to do with them - but they are my responsibility."

click here to show or hide the full quoted excerpt
A little later in the story, Wyatt Earp - bodyguard - steps into action.
"That's right."

The boy gave Johnson a note, and scampered away. Johnson opened it, read it quickly, and crumpled it.

"What is it?" Miss Emily asked.

"Just a good-bye from Judge Harlan."

click here to show or hide the full quoted excerpt
Dragon Teeth is filled with loads of historical fact (the basic premise of the story is the rivalry between real-life paleontologists Edward Drinker Cope and Othniel Charles Marsh - both are characters ni the book) and reads like one of David McCullough's non-fiction historical works (of which I've read many and enjoyed each one). It's not exactly an E-ticket thrill ride - there are some dry parts here and there (as there are in real life). I'm sure I'll read it again when I get tired of buying new books - it was that enjoyable and well-written.
Funny enough, another book I recently read, Huck Out West, also links to the old west and Deadwood, South Dakota. More about that later. Before I move on to The Dinosaur Lords, one last excerpt from Dragon Teeth - the afterword penned by Michael Crichton's wife.
His work is as relevant and engaging as ever, as demonstrated by the gigantic success of the Jurassic Park franchise, and in HBO's reimagining of his classic film Westworld.

click here to show or hide the full quoted excerpt
The Dinosaur Lords

Funny thing about The Dinosaur Lords - the blurb on the cover is from George R.R. Martin. And he makes a reference to his own series, saying "It's like a cross between Jurassic Park and Game of Thrones" (lookee there, another Crichton tie-in with The Dinosaur Lords).
There's no doubt that The Dinosaur Lords is very Game of Thronesish. Very. But with a few major differences. The following excerpt is very House Lannister (Jaume and Melodia are cousins).
The herald's tabard swelled to an extra-deep breath. "Comes now the Imperial Champion, the Knight-Champion of Our Lady Bella, el Conde dels Flors, JAUME!" he bellowed.

The crowd erupted in ecstasy as Jaume rode onto the field from between the gaudy silk banners that screened the waiting contestants. It thrilled Melodia to think that her lover might be the most popular man in all Nuevaropa. Certainly the Mercedes adored him.

click here to show or hide the full quoted excerpt
Hee's another very Lannister scene in the The Dinosaur Lords (very reminiscent of an iconic moment in the TV series and the novel form of Game of Thrones).
"Your Highness," the Pope said to Melodia over a golden tureen of strider-tail and vegetable soup. "Certain rumors have reached my ears."

For Melodia the usual dinnertime hubbub in the banquet hall was abruptly overridden by ringing silence. Hearing nothing but the drumming of her own pulse, she showed Pio an expression that was more pulling her cheeks up under her eyes than an actual smile. The eyes of the courtiers at the great table seemed to sear her skin.

click here to show or hide the full quoted excerpt
There's no shortage of sexual references, though there's not really anything too-graphic. Non-Spanish characters are few, but there's a German one in this excerpt (another, Karyl, would seem to be Russian, and there are a couple of minor British characters mentioned).
"Bitch!" Llurdis said.

"Sow!"

"Puta!"

Melodia's stare turned from shocked disbelief to fury. The pair showed every sign of being about to launch one of their full-blown wrestling/lovemaking bouts, out here in front of Melodia's father, the gods, and everybody.

click here to show or hide the full quoted excerpt
The strapping German knight isn't a good dude and his subsequent actions bear this out.

Each chapter begins with a sketch of a Dinosaur, with or without a knight perched on its back, and a blurb about dinosaurs or a quote from The Histories - the tome that the world's religions and even the governments are founded upon. It's unclear what's happening elsewhere in the world, but The Histories are definitely yhr final word in this corner of Paradise.
Now, the major differences from Game of Thrones -
One, instead of Medieval England/Northern Europe being the template for most of the major players in the story, the major players in The Dinosaur Lords are Spaniards. Spanish is the primary language of the day and Spain appears to rule supreme (which did actually happen for a little while, even in our own timeline) - though it's possible that these opinions might just be those of the protagonists in the book and the actual major powers of the era are somewhere outside the scope. Who knows?
And secondly, in this timeline, Dinosaurs managed to survive and flourish into the middle ages of this universe. They're food, they're beasts of burden, they're more common than most mammals. So that puts an interesting spin on the events of the story. But, and here's one of the big twisteroos, there are clues that this isn't Earth. It's a smaller planet that was colonized by Earth natives. But who? And why?
A possible clue comes from one of the chapter header blurbs from The Histories:
Hogar, Home, Old Home - When they were done making Paradise, and found it good, the Creators brought humans, their Five Friends, and certain useful crops and herbs here from the world we call Home. Ancient accounts teach us it is a strange place. It is cold, and we would feel heavier there, and find the air much thinner. The year is 1.6 times as long as ours. We must admire the fortitude of our ancestors in dwelling on such an inhospitable world, and always praise the Creators for bringing us to our true Paradise!

- A PRIMER TO PARADISE FOR THE IMPROVEMENT OF YOUNG MINDS
Two of the characters (the two I find the most endearing and noble) are very R.A. Salvatore-ish. Or maybe they're not, but they remind me of his characters from the Saga of the First King series (which I've probably also neglected to mention here in any detail. Most of the other characters are less endearing, but very medieval in their behavior.
Here's a really long excerpt or two or three) to show you why these guys rock.
"Stop!" the archer cried. "Hand over the hook-horn and your purses, and we'll let you leave with your lives."

Little Nell sighed resignedly as she came to a halt. Walking at her side, Rob Korrigan concurred.

The afternoon light dappled the leaf corpses that mostly hid the ruts in the indifferently maintained road, and filled Rob's nostrils with a rich, dry, small as they slowly turned into humus. A cuatralas, black as a baron's heart, glided from branch to branch, chasing a purple-and-yellow butterfly. Tiny birds twittered to one another among the leaves of tall gingkoes and false plane trees, which grew far enough apart to allow enough sunloght to filter down to sustain a thriving undergrowth of barberry, ferns and scrub oak.

click here to show or hide the full quoted excerpt (there's a lot)
I highly recommend both books, but if you're less of a Sci-Fi/Fantasy nerd, Dragon Teeth is probably the surer bet.


Oh, and I'll get to the other mentionable stuff soon-ish. Maybe.



Got something to say? Say it. (no responses).



This page has been viewed







times since I started tracking hits.
(This is a rudimentary non-unique IP hit counter, so don't be too impressed)