This is the final form of the dictionary, revised June 15, 1945, per the Department of the Navy. The Navajo words are spelled phonetically. Courtesy of Naval History and Heritage Command.
NOTE: The thirty-two alternate phonetic Navajo spellings listed below are from Our Fathers, Our Grandfathers, Our Heroes, Circle of Light Navajo Educational Project, pp. 38-55.
I corrected some problems with the month names.
Numerals were transmitted in Navajo, using the Navajo word for each numeral.

LETTER
NAVAJO WORD
LITERAL TRANSLATION
A
WOL-LA-CHEE
ANT
A
BE-LA-SANA
APPLE
A
TSE-NILL
AXE
B
A-HASH-CHID
BADGER
B
SHUSH
BEAR
B
TOISH-JEH
BARREL
There are a ton of detailed battle stories from Chester's World War II deployment to the Pacific. This is an excerpt of Chester's time on Guam.
After my wound, the wounding of our squadron leader, our victory over the Japanese Banzai officer, and the seizure of the Orote Peninsula airfield, the Marines assaulted Sugar Ridge. It was July 30, 1944. The five-hundred-foot-tall, perpendicular ridge offered a clear view of the portion of beach midway down the western shore of Guam, right where we Marines had landed. It also housed multiple Japanese pillboxes, and other fortifications.

Marines made their way up that ridge, scrabbling with boots and fingernails to gain an inch at a time. By midday on the thirtieth, an Allied command post was established, about halfway up. The next day, July 31, 1944, Sugar Ridge fell to the Americans.

After taking the ridge, the Marines were able to move in close to Agana, Guam's largest city. We bombarded Agana with artillery and mortar fire, destroying many of the buildings there. When we moved in for the final conquest, we discovered that it had been abandoned.

click here to show the full quoted excerpt
Here's an excerpt with another of Chester's battle memories on the Palau islands.
In mid-October 1944 - a month after our initial landing - III Amphibious Corps commander General Roy Geiger declared Peleliu secured. Although sections of Peleliu were ours, his declaration was premature. Many of the enemy still fought from the island's mountains and ridges, secure in their hidden caves and bunkers. Also, the Palau Islands housed Japan's administrative headquarters for its Pacific island holdings. And Japan's Lieutenant General Sadae Inoue, managing the Peleliu defense from another of the Palau Islands, was not about to let the men under Colonel Nakagawa give up the fight on Peleliu.


I woke up in a bomb crater blasted into the flintlike coral. No munitions noise. I'd arrived back on Peleliu, after helping out on Angaur, three weeks - or was it only a few days? - before. One day had become interchangeable with the next. I sat for a moment, eyes closed, knees pulled up to my chest.

What island would be next?

I nudged Francis. "Time for breakfast."

Francis groaned, then opened one eye.

click here to show the full quoted excerpt
Chester also shares some stories about other Navajo men during the war and the precautions the military took to keep the code talkers safe.
Despite the United States' insistence upon secrecy, the Japanese somehow learned that the unbreakable code being utilized by the Americans had something to do with the Navajo language. No one knows exactly how or when this information was obtained, but it has been hypothesized that a Japanese translator with the surname Goon first associated the Navajo language with the unbreakable code while participating in the interrogation of Joe Kieyoomia. Kieyoomia, a Navajo man who had survived the Bataan Death March, was questioned by Goon and tortured by his Japanese captors in their attempt to force him to crack the code. His ribs and wrist were broken, and he was made to stand naked in freezing weather until his bare feet froze to the ground, leaving blood and flesh on the ice when they pulled him back inside. It was no use. He could not and would not help the enemy. But the constant attempts the Japanese made to force him to crack the code meant that, at least, they kept him alive. Kieyoomia survived the war, still knowing nothing about the Navajo code.

After the war, I read a newspaper article about a Navajo man who'd been stationed in Alaska. He heard his Navajo language over the radio as he was flying in a military craft. He told his buddies, "These are my people talking." But he was never able to make any sense of what was being said in the Navajo code.

Several Navajo prisoners reported, postwar, that the Japanese had tried to get them to figure out the Marine's code. None of these captives were code talkers, and none shed any light on the complicated secret language.

click here to show the full quoted excerpt
After World War II ended, Chester's military service wasn't complete. He was called back up when the Korean War broke out. His service during the Korean War didn't involve any code talking and was much less PTSD-inducing.
We were assigned work detail while waiting for transport to our official assignments. I was placed with the other communications men, although I don't believe my superiors knew about my code talker service. The other communications personnel and I were issued M1 30-30 rifles and new uniforms.

"I haven't told my family yet," I confided to one of the other Navajo men.

"Me either," the man replied. "Couldn't face it."

"We'd better write to them before we hit Korea. Who knows what it will be like over there."

I wrote to my family, knowing that Father would resume the ritual he'd begun when I fought in the South Pacific. He prayed three times per day - morning, noon, and evening - for my safe return.

click here to show the full quoted excerpt
Chester was proud to have been a Marine and, despite the government's many abuses of the Navajo people throughout his life and before he was born, he was proud to be an American. He was also very affected by the events he lived through in World War II. His PTSD (before that diagnosis was a thing) was pretty bad. But he didn't go to a military shrink to receive treatment. He got help the Navajao way - from a medicine man.
Major Howard Connor, a 5th Marine Division signal officer, had half-a-dozen code talkers with him when he invaded Iwo jima. He said that without them, the Americans wouldn't have taken the island. Iwo Jima was the only battle in the Pacific war where Allied casualties outnumbered Japanese casualties.

On World War II Pacific island battlegrounds, Marines gained the reputation that defines them today - fiercely loyal, fiercely determined, and fiercely lethal combatants. Living examples of their motto semper fi (shortened from semper fidelis or "always faithful"), Marines looked out for each other. And we code talkers, with our secret mission, shared an additional, immeasurable bond with one another. We watched out for our fellow Marines and for our fellow code talkers.

Code talkers took part in every Marine battle in the Pacific War. Each of the six Marine divisions had code talkers. We talkers trusted each other without question, and our fellow Marines sought us out for special assignments.

click here to show the full quoted excerpt
As with any good biographical book, the middle of Code Talker is full of photos. Here are a few of them.
I was also planning to talk about the last couple of trips to Disneyland we took in February and March, our recent trip to the Salton Sea, and some other stuff, but this has already been more blathering than anyone wants to read in one sitting. So next time.
Got
something to say? Say it.
(no responses).
Buckle up...extreme nerdishness ahead!
San Diego Comicfest


I went to the San Diego ComicFest on Saturday (March 7) for the first time. It has apparently been around for 8 years, but I don't think I'd ever heard of it before this year. The only reason I knew it existed this year is because I received an email from the new incarnation of the Mysterious Galaxy book store - which is now located in Mission Valley and will only ever see my shadow darken its doorway if they have a very special guest author stop by (I'm sure it's still a lovely store - it's just sooo far away now).
It cost me $25 to to gain entrance to the ComicFest exhibit hall (a smallish room with maybe 60 vendors on folding tables). None of the vendors had anything very current. The vendors all had a real swap meet feel. Loads of old books, comics, magazines, video, toys, lunch pails, cereal boxes, etc.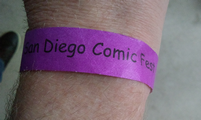 I didn't even get a lanyard and a cool pass for my $25 (as one does with the ComicCon). Just a cruddy wrist band.


Mysterious Galaxy did have a booth with at least three authors crammed behind a small folding table piled with paperbacks. Greg Bear was the only one of the three authors that I've read (I mentioned the final book in the War Dogs trilogy a while ago, which I was surprised to discover is his most recent novel). I should have brought my War Dogs novels with me for him to sign...but I didn't. Or maybe my tattered, but well-loved, Infinity Concerto paperback.
Another missed opportunity.
The real reason I went to the ComicFest wasn't to see Greg Bear, whose books I have admittedly enjoyed, because he wasn't signing a new book and I feel weird about asking an author to sign a bunch of old books without buying anything new from him.
The real reason was to see Mike Kunkel, the creator of the great Herobear and the Kid comics, The Land of SokMunster book my kids loved as young 'uns, and many other child-friendly delights (like a super-cool Shazaam). I came across Mike several times at the San Diego ComicCon, both in a booth for his company, The Astonish Factory, and just hanging out at the Con (before I swore off the overcrowded nightmare that the San Diego ComicCon has become for good). I've always thought Mike seemed like a super-cool guy, so I was looking forward to seeing him and buying anything he was selling.
A secondary objective was to locate copies of American Gods: The Moment of the Storm issues #8 and #9, which I have been unable to find ant any of the local comics shops I've been to.
Alas, 'twas not to be. Mike didn't come to the ComicFest, despite being on the talent roster of the ComicFest web site. It took over an hour to ascertain this information (not because there was that much to see - I was just convinced he was sitting behind one of the 100 or so tables arranged haphazardly around the hotel and I was somehow missing him).
After circling a few times, I finally looked him up on the ComicFest web site, found his assigned table location (which meant nothing to me) and asked one of the volunteers manning the Exhibit hall where the location actually was. Three stops later, we found someone who knew what the location code meant, but this person also knew that Mike hadn't arrived to claim his space and it had been given to someone else.
So that was disappointing, too.
Nor was there any sign of American Gods: The Moment of the Storm. All the comics for sale were either much older than this 2019 book or were in the superhero genre (Marvel/DC). There were a few interesting artists that I might have been inspired to open my wallet to, had I not been so bummed about missing out on my primary con-jectives, but I didn't bother.


I had to find something to make the entire experience somewhat worthwhile, though, so I bought Emeli some patches I found (her latest thing is acquiring iron-on patches to put on a denim jacket). Only two vendors were selling patches - one was the RatFink table, something you'd have to be pretty ancient to remember (sadly, I remember RatFink).
Emeli had no interest in RatFink (because she had no idea what RatFink was). I did find some random patches being sold by another of the more garage sale-ish vendors, so I showed a bunch to her and she chose three that she liked: a diamond, an Indiana Jones and the Temple of Doom patch that looks like something that would be worn by a Disney cast member, and a Space Explorer girly-astronaut patch (the word "Space" looks more like "SpRce" on the patch, which I didn't noticed until Emeli pointed it out to me at home. Oops). Probably not a purchase worthy of the admission price, but at least it was something.
I also took some pictures of a few of the people who were dressed up - I saw a really impressive Mandalorian costume when I arrived, but he must have been on the way out (I arrived in the early afternoon) because I didn't see him again by the time I'd started snapping photos. There were a few Avengers that were easily recognized, a whole lot of random costumes I didn't recognize, and even a giant dude dressed as Thor. I wish I'd worn my Fat Thor costume, that would have been a funny contrast to giant Thor.
I think the most noteworthy aspect of this "convention" was the venue - I parked in the back (the first open space I found) and felt like I'd wandered on to one of the sets for The Walking Dead. It was a Sheraton hotel, but was very decrepit and creepy. It wasn't quite as bad inside the hotel, but still...not impressive. But I guess if it had been held in an impressive hotel, they probably wouldn't have been as keen about the hundreds of overweight, balding (male and female), smelly nerds that I saw wandering around. One of whom was me.
There's one last thing that I found noteworthy enough to take a picture of - these metal handmade sculptures that were for sale in the exhibit hall. They were pricey, so I didn't get one, but very cool. Star Trek, Star Wars, Disney characters, Samurai, dudes on motorcycles...they had it all.
So that's about all I have to say about the ComicFest. It was my first visit, and will likely be my last visit.
The Cubicle of Extreme geekishness, relocated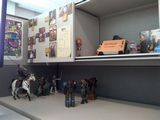 I've updated the comics on the wall of my new cubicle a couple of times since November. That's right, it's a fancy new cubicle...which is, admittedly, pretty much the same as the old cubicle. The only real difference is that I have a better view now - I'm not on the ground floor anymore, so I can now see much more of the parking lot outside (I didn't say it was a view of anything good, I just meant that the visibility of the great outdoors was more prevalent from the new digs). It's also making my fat old butt walk up and down stairs throughout the day, so that's probably a good thing.
I've added a few toys and rearranged some things, but it's pretty much the same mess as the old cubicle.
Here are the most recent comic sets I've had on my cubicle wall:


Marvels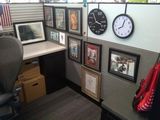 I had Alex Ross's Marvels series from 1994 on the wall a couple of months ago. The covers and interior art of these books is what sets them apart from just about any other comic book series, especially a vast, vast majority of those published by Marvel (or DC). If Norman Rockwell had painted sequential art and done a superhero book, this is the book he might have created. The period of the art is very Norman Rockwell-esque, and the art itself is perfect for the time period and really well done (as Alex Ross's art always is).
The four-issue series has plastic semi-transparent covers with the series title that overlays the unmarred book covers. And the books' covers are heavy card-stock - rare amongst the offerings of Marvel (or just about any comic publisher, really). Except for Marvels issue #0. It's a short origin story with several Alex Ross character pages and promo art following the story. No card stock or special cover.
Marvels includes just about the entire stable of Marvel superheroes (the Avengers, DareDevil, Spider-man, Fantastic Four, X-Men, etc) with a premise that's very similar the X-Men films of the 2000s - the unavoidable mistrust the public develops when super bad-guys arise and are only defeated by superheroes - and is presumably similar to the X-Men comics, but I've never read an X-Men comic, so I can't say for sure.
Marvels is also really similar to George RR Martin's WildCards novels that were published several years before Marvels (starting in 1987). WildCards is a darker - and more adult - look at people with mutant super-powers (originating from aliens, if I remember correctly) and people aren't especially enamored of the mutants in these stories, either.
So I guess I'm saying this is a tired trope that's been done over and over. But Alex Ross's art makes any sequential art story amazing. I have the first issue of the new Marvel comic that's only partially Alex Ross's work, but I haven't taken the time to read it yet, so I can't opine on that one.


Star Wars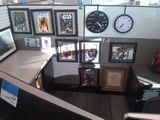 I followed up Marvels with one of the many Star Wars comic book series from Dark Horse in my collection (before Marvel took back the license and started flooding the market with a million Star Wars titles). I don't have much to say about these issues other than the covers were pretty sweet - as one would expect with Alex Ross cover art. Yes, the same Alex Ross I just praised relentlessly did at least a few of these covers.
The story takes place sometime shortly after the events of A New Hope. Dark Horse put out a ton of these "in-between" books that take place in the spaces between the films. I need to dig out the Star Wars Infinities comics one of these days - an awesome twist on Star Wars with "what if..." alternate storylines.
Laurie B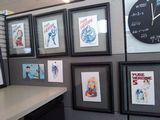 The current comics in my cubicle aren't actually comic books. They're sketchbooks I picked up over several years from the San Diego ComicCon: Laurie B's Pure Heroine (that's "Heroine" as in a female hero, not the drug). Most of these have an extra little sketch inside where Laurie signed them. The back covers are equally awesome (or even more awesome, in this case) as the front. These are very awesome and treasured memories. Laurie's an amazing artist and a very nice person.
Sadly, my boycotting of ComicCon also meant not seeing the familiar faces I had come to know and looked forward to seeing each year. I don't even know if Laurie still makes the trip down from Canadia for ComicCon anymore.


My Doodles

Here are a couple of new doodles I've done: one of the first steam locomotives, The Rocket, Olaf the snowman, and a really not-great Belle sketch. My doodle skills are atrophying more and more each day as I fail to pick up a pencil and create anything interesting.

Emeli's skills, on the other hand, have surpassed mine even at their peak in the enthusiasm of my youth. Emeli is so skilled that she's been commissioned by several people to do sketches. But, unlike me, she's not limited to working in graphite/pencils. She also paints, can sketch flawlessly in pen, and can even etch out amazing creations with scratch boards. Here's one of her amazing sketches.






Got something to say? Say it. (no responses).


Merry Christmas!
(Yeah, I know it was a while ago.)
And speaking of things that happened in December...Christmas! I didn't post anything festive in December at all. My suckage knows no bounds. But better late than never, right?
Anyway, Christmas was spent in the least Christmassy place on Earth: at home in San Diego. Our well-decorated Christmas tree was festively decorated from mid-November to early January (the best thing about a fake tree: it never dries out and decomposes in your living room) and we did eventually put up some exterior lights and decorations, but Christmas just isn't Christmas without being surrounded by extended family and having snow to play in. I'm hoping to have a real Christmas in the snow with gobs of family next year. That said, I did get some sweet Christmas loot: a clock that runs backwards (this from the office Christmas party white elephant gift exchange - now running in my cubicle next to my Math clock), a sweet wooden watch (the band and exterior of the case are wood - the rest is metal) with exposed gears (under glass, of course) that self-winds when worn (and dies quickly when not worn/manually wound), and some Clark's shoes that I'd long admired but never ponied up the dough to buy.
But enough about my Christmas loot...


Potterland...again

I made my triumphant return to Harry Potterland a few months ago (the first visit since December 2016 - around 3 years later). I'd been jonesing for some Butterbeer and...well, just a visit to Hogsmeade1. Harry Potterland was not at all crowded on this visit. I walked right onto the Hogwarts ride and on to the Hagrid roller coaster without any wait. To be honest, this was a little disappointing in both cases because there's so much fun stuff to look at while you wait, but it feels weird to stop and soak it in when people are shuffling past you as you gawk at the scenery (not to mention my own family that was complaining about the frequent stops to soak in the scenery).
We were also in time to catch the Beauxbaton and Durmstrang performers. Unsurprisingly, all the performers were different from those I saw in 2016 (I would often see the same performers in 2016 when we visited throughout the year). The Hogwarts Choir was singing when we arrived, but we only caught a little bit of their performance as we were wandering through Hogsmeade. We did hear a snippet of the Christmas songs they performed. Hogsmeade at Christmas is great.

The Three Broomsticks, my favorite over-priced place to eat in Potterland, was equally uncrowded on this visit. We walked right up to the house elf taking orders and we were able to sit just about anywhere we liked. We decided to site in the back by the impressive antler collection. I tried the Holiday Feast (turkey, potatoes, stuffing, and a veggie - which was only available during the Christmas season) and found it delicious. Maybe not as delicious as the Bangers and Mash I'd had on the previous visit, but still very good. The Butterbeer was every bit as delicious as I remembered and I'm craving it as I sit here writing this.
Before we left, we watched the Christmas light show on (actually "on") Hogwarts castle. It concluded with a fireworks show and was really impressive. I don't remember seeing anything like that in 2016.
We also looked around at the British section of the European streets where The Walking Dead "ride" is nestled right in the middle of Baker Street. It's funny that The Walking Dead is located here, but I guess it had to go somewhere. I didn't see Sherlock's shadow this visit, but I could have just missed it. I was being rushed along by people who were less concerned about seeing what was there than getting to the next thing to not look at either. We did see a bunch of characters around the park entrance: Scooby Doo, Shaggy, Fred, Velma, Daphne, Lucille Ball, Dracula, and BettleJuice. I'm sure there were others, but those are the ones I remember.
Also notable, there was a guest in an orange velour track suit who was posing with characters throughout the park, dancing with them, battling the transformers, etc. that we ran into several times throughout our visit. I wish I'd taken a picture of him on one of the many interactions. So weird.
And there were, as usual, the loud New Yorkers yelling back and forth to each other in the New York section of "main street."

Speaking of The Walking Dead "ride", it was a little different from what I remember 3 years ago. The only definite difference was the removal of the crashed, smoldering helicopter (on the roof of the hospital). It seems like there were others, but there aren't any that I still remember specifically.
There wasn't a single person ahead of us or behind us.
Despite the complete lack of crowdedness, I still I took too many photos that didn't turn out. The Universal employees in the main line area room (just before the "ride" actually begins) shut me down and stopped me from taking more than a couple of photos in that room and the photos in the hospital hallway never trun out very well for some reason. It was weird to be alone in that room (other than the Universal employees). Just a little creepier than normal.
In other non-Potter news, I also rode the new Jurassic Park ride for the first time. It's an amazing feat of engineering and special effects, but I missed the death and mayhem of the Jurassic Jungle Cruise (the previous version of the ride). The dinosaur-containing aquarium is great. It was a chilly day, so I'm glad I didn't get drenched (as I was warned by the Universal employees that I would - the end of the ride is a very tall log flume). I suspect that's a way to sell buttloads of rain ponchos, because there were a lot of people in ponchos. Admittedly, the guys at the front of the boat did get really wet,
There were also many other opportunities to get damp on a cool day throughout the ride - spitting, splashing dinosaurs aplenty. It would be a nice cool ride in the summer.
I almost tried the Transformers ride for the first time, but it was having mechanical problems. So after waiting in line (without moving) for about an hour, I bailed on that one. Maybe next time.
We also rode the ever-fun Studio tour. The tour guide was okay, but not as funny as some we've had in the past. And there was one big difference (I think there were actually a few changes, but this one was the best) - Norman Bates was hanging out at the Bates Motel (I think he was putting a body in the trunk of a car) and then came walking toward the tram as we stopped to take photos. As he drew nearer, we could see that he was holding something hidden at his side. And then he reached the car ahead of us and savagely attacked one of the passengers, stabbing her forty-seven times, sending plumes of blood and viscera over the other passengers in the car...
Just kidding. Norman Bates was there, but nobody was stabbed. He did have a big kitchen knife and chased after the tram for a while, though.



Before we left Universal Studios, I picked up a few tasty Hogsmeade treats from Honeydukes. I wanted to try a few things I hadn't gotten on previous visits, so I tried fudge flies and butterbeer fudge. The Fudge Flies were milk chocolate, so not especially great, but the chocolate was good quality and tasty, nonetheless. The Fudge was super rich and creamy and so delicious. I'm craving that now, too, but I'll probably try one of the other fudge flavors next time instead. I also bought a Ravenclaw house tie and a chocolate frog in the shops outside the gates (Universal's Downtown Disney). I bought the frog, with it's forgettable milk chocolate frog to get the wizard card. The chocolate frog is cheaper in Downtown Universal, but...also smaller and much less fancy than the wizard card you get in Honeydukes - so that was a disappointment (I only remembered there was a difference after the fact).


December Darling, Meg & Dia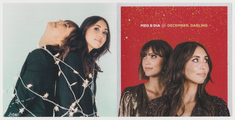 In non-Universal-Studios-related Christmas news, I ordered the Meg & Dia Christmas Album, December Darling, from their web site. I bought the Dia Frampton Christmas album in-store (Target, as I recall) when it came out a year or two ago, but December Darling was nowhere to be seen anywhere but online. I guess that's the new order of things2.
There wasn't much of a CD liner, just the front cover fold-out with the lyrics inside and the 2 photos of Meg & Dia on the front and back. That was slightly disappointing. The photo-filled, insane rant-filled, or at least multi-page something-filled CD liner books are one of the main reasons I still prefer the physical media over the digital downloads.
The album is mostly just Meg and Dia (mostly Dia, I'd say) singing traditional Christmas songs. I love Dia's quirky voice, so this album was a treat for me. There are also some original Christmas songs on the album which were also nice.
Here's one of my favorites from the CD, Dia singing Let it Snow.

I was also going to blather about my extra nerdilicious cubicle, but I've lost interest.
Next time, possibly.






1 I often also miss New Orleans Square at Disneyland and maybe even Disneyland's Main Street the same way when I don't return for months or years at a time - and then I remember why I let my Disney annual pass lapse after too many overcrowded visits.
2 I am still getting all my music on physical media, tough. I'll be super bummed if my only option is digital music at some point in the dark and dreary future. I guess I'll have to resort to buying old CDs, the same way I'm buying old records these days. Speaking of old records, I just got a Pseudo Echo record that I bought on Discogs.com. Sadly, there were multiple versions of this record sold in 1987, and I received the wrong one, or at least not the record I thought I was ordering. No Funky Town for me!



Got something to say? Say it. (no responses).