Music Time!! And a little Mad humor
The Molly Ringwalds

I went to see The Molly Ringwalds, an 80s tribute band from the UK, this past weekend at the House of Blues in downtown San Diego. I'd been to the House of Blues once before to see Dia Frampton and Xenia, but the Dia/Xenia performance was held in a small staged area on the upper level. The Molly Ringwalds show was held in the House of Blues' much larger subterranean lair, so this was an all new experience.
I knew the upstairs venue was standing room only - as was the dungeon venue - so we arrived soon after the doors for the show opened in order to be somewhat near the stage (we ended up five or six few feet from the stage). And then we stood waiting patiently for the show to start. And we waited. And we waited. All the while, 80s music blared from giant speakers on the sides of the stage, making me dread not bringing earplugs to the venue. The only thing that made the wait even somewhat bearable was The Breakfast Club playing silently on the monitors mounted to the walls around the venue. When it finished showing the first time (as I waited), I expected to see some Pretty in Pink or Sixteen Candles follow it up, but The Breakfast Club just looped and started over.
Finally, over an hour after the show was scheduled to begin (around 9pm), the band walked onstage. So I was a little grumpy, hot and sweaty, and a little claustrophobic (the place was packed) from the beginning.
They are The World's Greatest 80's Experience. Hailing from Sheffield, England, this legendary quintet has been able to combine their individual and very formidable talents to create the true essence of the most radical decade to ever be called "The 80's." The Molly Ringwalds create an 80's Experience by honing their abilities to apply make-up and tease their hair while showcasing all the musical genres of the decade. From their days of building a following at a pub located in a large portion of a big city near a small village located south of a place you've never heard of, to selling out large venues in the United States, The Molly Ringwalds are an indescribable act. Luck and circumstance brought these young lads together. The rest is the history of the 80's.
Each of the five Molly Ringwalds members assumes a different persona from the 80s. The main front man was Adam Ant, the guitarist was a member of Devo (I don't know any of those Devo guys by name), the bass player was Dee Snyder (Twisted Sister), the pianist was a bearded Pee Wee Herman, and the drummer was wearing a Cobra Kai gi (The Karate Kid). But their positions in the band are fluid - each of the band members got at least a little bit of time as lead singer. Adam And and Pee Wee Herman also played other instruments periodically throughout the show. Pee Wee played both the piano and the drums. Adam And took guitar and piano. Surprisingly, there were no Devo or Adam Ant songs performed, though Dee Snyder did perform We're Not Gonna Take It.
I was fond of, and very familiar with, most of the songs that were performed. Here are a few of the songs they did a decent job performing:
Photograph, Def Leppard
Any Way You Want It, Journey
In A Big Country, Big Country
Enjoy the Silence, Depeche Mode
Rio, Duran Duran
Don't You (Forget About Me), Simple Minds
Patience, Guns N' Roses
Rebel Yell, Billy Idol
Tom Sawyer, Rush
Home Sweet Home, Motley Crue
99 Red Balloons, Nena
Under Pressure, David Bowie & Freddie Mercury
We're Not Gonna Take It, Twisted Sister
Purple Rain, Prince
The drummer also did a few Beastie Boys songs, but I'm not going to put those on the above list because the Beastly Boys "music" is garbage. Even the originals don't deserves the label "decent." Ick.
And I think they also performed the following songs, but I may be remembering the songs that assaulted my eardrums before the show began (granted, the show itself was every bit as loud as the canned music they piped through the speakers, it was just more fun to experience).
How Soon Is Now, The Smiths
You Spin Me Round (Like a Record), Dead or Alive
Welcome to the Jungle, Guns N' Roses
Bizarre Love Triangle, New Order
Shout, Tears For Fears
The show was about two hours long, but by the time it started, my dogs were already barking from standing in one place for two hours (what can I say? I'm old), so I didn't stick around to see the encore. I was there long enough to see The Molly Ringwalds walk off the stage after their last non-encore song. Sadly, I also didn't explore enough to see if they had a merch table. I really wanted to pick up a Molly Ringwalds t-shirt. Alas, 'twas not to be.



Speaking of Dia...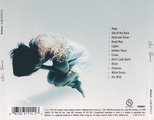 I picked up Dia Frampton's new CD, Bruises, a couple of months ago. I had really planned to mention it here immediately, but just never got around to it. I bought the CD directly from Dia and got a signed CD book insert with a silly Princess Bride quote (every CD she signed had a different silly quote).
Dia has one of those voices that sounds so young and sweet, but is also able to perform vocal gymnastics that are amazing to behold. Thankfully, she reigns it in and doesn't go all out at 110% the whole time. Those singers just make my ears ache. She deftly inserts her impressive vocal backflips and makes it seem effortless...but that does leave you hungry for more while she's performing the less-gymnastic parts of the song.
I was surprised to see the "explicit content" warning label on the CD. There are a few F-bombs in a couple of the songs, which sound all the more surprising when sung by Dia's sweet voice - Die Wild drops a lot of those bombs - which is a shame, because it's a sweet, sad song otherwise. The songs on the CD probably won't see any radio play - none are exactly syrupy pop, but that doesn't mean they're not great songs or well worth a lesson.




I was in such a Dia mood after listening to Bruises (moreso than after listening to Red years ago, which was a little bit more of a pop album), that I went out and searched for Meg & Dia albums, picking up Something Real from a seller on Amazon. I wish I'd been aware of Meg & Dia back when they were still a thing. Dia's sister, Meg, is still around, but as far as I know they're no longer performing together. Meg & Dia have a very Cranberries-esque sound (minus the Irish-ness), which is a major plus for me.
Phone Phun

Also, here's something completely unrelated to Dia or anything else already mentioned: a whole bunch of sound clips from Napoleon Dynamite! I ripped the audio from the DVD and clipped out all the best sounds that I could get somewhat cleanly to use for ring tones, notifications, etc. on my phone and tablet. It's totally annoying to hear Kip say "What?" or "What do you want?" every time there's a new message or notification on your phone. Good times.



Treasures from the distant past


While organizing my boxed-up books recently - moving them from larger and less-hearty plastic bins to a slightly smaller and stronger bins - I came across some pages from a Mad Magazine (or maybe Cracked - I'm not sure which it came from) that I had saved in plastic sleeves. I have hundreds of these things from my early-twenties. I'm quite the packrat. The sleeves in question were of a satirical Beauty and the beast spoof called "Walt Dizzey's Beauty and the Feast." It was written by Lou Silverstone and illustrated by Walter Brogan. I'll probably add it to my Beauty and the Beast trading card set/comics auction that I have up on eBay. I've just added superhero/Star Wars related Mad strips to other auction packages as am unexpected bonus.

I know all this stuff sounds like nonsense that I've just spewed out without much effort, but it does take time to weed out all my typos, grammatical errors, find and add pictures, and format it all to be readable. So that said, Coming soon (eventually) - a post filled with all kinds of pirate-y goodness!!



Got something to say? Say it. (no responses).

A little ranting, some books, comics, and even a little TV

The IT Sweatshop Revisited!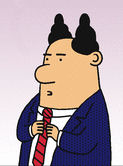 When I had lunch with Dan a week or two ago (depending on when this rant sees the light of day), I brought up the horrible open-office sweatshop seating that I've been subjected to for the past few years. I've mentioned this abomination to office seating a couple of times here in the past, but I guess Dan wasn't paying attention, so...

The only advantage I have over my other three cellmates is the wall I have to display the emblems of my nerdiness. The guy on the opposite end gets a window, which would also be nice - the two in the middle get the shaft. The current comic book selection on my wall is the Dark Horse Star Wars, Dark Empire series, issues one through six and the preview issue - all with Dave Dorman's amazing covers. Nerdgasm!! The previous comics were a couple of Dark Horse's Indiana Jones titles.

What's most funny about my use of this wall for displaying all this stuff is that not one other person I work with has taken advantage of this big area of space to be personalized. Alex MonkeyDonkey (may he rest in peace at Amazon) did use his space for Evil (a Superman shrine), but he's the only other person who has done anything remotely interesting. I keep expecting to be berated by management for having so much personal stuff cluttering up the office. This place eats away at my soul daily.
And speaking of the horror that is my office...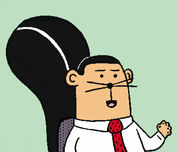 For about a week and a half, I was subjected to some of the most heinous BO I've ever experienced. It was truly horrific. I was no closer than eight or ten feet from the carrier of this stinkbonic plague so I can't imagine how bad it must be for my co-workers who were subjected to this stench from no more than a couple of feet. The noxious cloud that surrounds the carrier takes several minutes to dissipate after he has moved on. This is yet another reason this open office nonsense blows. If I at least had cubicle wall, it would block some of the stench's progress.
A pox on all pointy-haired managers!!



How to Talk to Girls at Parties




Many years ago, I read a short story in Neil's collection Fragile Things called How to Talk to Girls at Parties*. I had seen mention (online, of course) of an illustrated version of this story which had been published, but the only comic book store near me didn't stock it. I also have never seen it in Barnes and Noble (the only book store that seems to have survived - for now - the war with Amazon) or Mysterious Galaxy (honestly, I haven't been to Mysterious Galaxy since they relocated, so I don't know if they stocked it or not).
A few weeks ago I dropped into a comic book shop in Mission Valley, Rising Sun Comics, to kill some time and came across a shelf of Neil Gaiman comics and books. One of these was...drumroll...How to Talk to Girls at Parties! So I bought the skinny hardcover and read it when I returned home. My wife gave me funny looks when I showed her the book, thinking this was a "how to pick up girls" book (as seen in Better Off Dead) so I had to explain the barely-remembered story's premise to calm her down**.


The illustrations of the book are bright, colorful, and evocative, but the male characters of the story look way older than the mid-teens they are supposed to be. But maybe the differences were intentional and Neil is doing a Lev Grossman (the author of The Magicians) thing with his characters - aging them to make the ensuing activities less offensive to sensitive readers. Or a Douglas Adams thing (wherein every version of Hitchhiker's is slightly different than all the others).
Regardless, it's an interesting story and, despite the aging of the characters, is well illustrated. Thumbs up.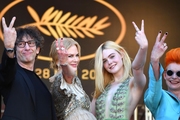 Oh, and one last How to Talk to Girls... thing, they're making a movie out of this short story starring Nicole Kidman and Elle Fanning. Juding from the trailers, it goes well beyond the bounds of the short story and bears little resemblance to the source material, but good for Neil. I'm glad he's making lots of dough off his creations.



Thoughts on the American Gods and The Magicians TV serieses (what's the plural of "series"?)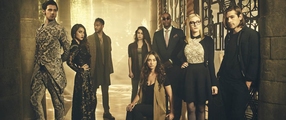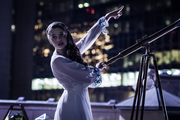 I finally caught up on The Magicians TV series (just finished the last episode of season two) and I also finished watching season one of the American Gods TV series. I'm not loving either series as much as I'd hoped to, but they're good, quality television programming for anyone not comparing them to their source material.
I could be wrong because I haven't managed to re-read The Magicians again recently, but the TV series is straying further and further from the original story. They've taken the same characters, aged them, made all the characters look the same (specifically the female characters), completely changed some of the characters (Penny should be a white redhead and an even bigger outcast than TV Penny), and stirred up the original story (possibly bringing action from the sequels in small part already) to make it more episodic for TV. If you haven't read the novels and you like the TV show, you really should.
The casting of American Gods continues to surprise me. In addition to the gorgeous Emily Browning, Crispin Glover plays a villain (as usual), Corbin Bernsen a cranky old God, and Kristen Chenoweth is an eternally-young old god.
If you're wondering, neither series is suitable viewing for younger viewers. The Magicians is full of bleeped out F-bombs and all kinds of other profanity, rape-talk, and consensual sex (with no real nudity). American Gods has everything The Magicianshas (minus the rape-talk), plus skin (helloooo Emily Browning). And there's way too much dong.
Speaking of American Gods adaptations, the American Gods comic book is up to issue #5. In many ways it's the same as the TV adaptation, but the TV adaptation is taking the long road, developing characters, and really doing a better job of telling the story (Laura Moon barely gets any time in the comic but is a really big part of the TV adaptation). By the fifth issue of the comic, Shadow and Wednesday are already meeting with the other gods in the House on the Rock - contrasted with the TV series, where only one old god has even made it near the House on the Rock by the eighth episode. Wednesday's fellow Gods are also getting a lot of screen time in the TV series (straying a little from the original source material), but many of them don't even get a brief mention in the comic.
Each issue of the American Gods comic has a variant and a normal cover, but the normal covers are so cool I haven't been getting the variants (other than #2, because I though the representation of Mad Sweeney was all wrong). Here are the covers I've picked up and a few of the interior pages, just to show you the level of effort being put into the comic book art.

Rogue One


Continuing my Star Wars streak, I've just finished reading Rogue One. I've consistently preferred the novelizations of just about every TV series/movie I've read (whether it came before or after the film of the same name) just because - if done well - the novelization will explain the many things that I just didn't catch in the film as events sped by at a breakneck pace.
Rogue One is one of the good ones. The characters are much more developed, as expected, than their film counterparts. We get to know Jyn and Cassian, the sad and quirky little Bodhi, Chirrut and Baze. They are all much more three-dimensional than they are in the film. The differences between a Guardian of the Whills and a Jedi are made much more clear (I don't even know that I ever realized Chirrut wasn't a Jedi in the film). Cassian is never really especially likeable (and much more unlikable than I remember him being in the movie), but is more human by the end of the book.
Interestingly, there are apparently also a bunch of Young Adult books about several of these characters going into even more detail with their backstories. Man, Disney really cashes in when they see blood in the water.

I was looking online for something related to Rogue One (the movie) and ventured into some Rogue One movie reviews. I was surprised to see - judging from these reviews - that people really didn't like this movie. At all. I don't remember disliking it, but I do remember being bummed out that - Spoiler Alert! - all the main characters die. But, since none of the characters exist in the future installments of the series (this was Episode 3.5, if you're struggling with the timeline), there's a quick and easy way to explain why we never heard from any of them again: kill them all. And though I hated for the gorgeous Jyn Erso, played by Felicty Jones, to be reduced to atomic particles, I understand why she had to go. I did see another theory posited online that Jyn Erso is actually the mother of Daisy Ridley's character, Rey. The argument was weak and seemed to center around the fact that they bear a slight resemblance to one another...but you never know. It would be difficult to explain since she was blown up at the end of the story without having ever been pregnant - unless she was pregnant with Rey in one of her prior off-screen adventures...
This was a nice wrap-up at the book's conclusion, from Mon Mothma, who we gets a surprising amount of time in the story and a little more character development than I expected.
SUPPLEMENTAL DATA: IN MEMORIAM

[Document #MS8619 ("Unpublished Reflections on Jyn Erso"), from the personal files of Mon Mothma (via the Hextrophon Collection).]

I regret to say I only met Jyn twice. To claim I knew her well would be an insult to the young woman whose fervor captivated so many. Conversely, to speak only of her effect on our movement - to recount yet again the rallying of the Rebellion and our transformation from a wary coalition into a unified nation - would be both redundant and insulting.
So put no stock in my words. I can tell you of those two meetings and what I saw in her - or what, looking back, I remember seeing in her, which may be far removed from the truth. You may find more of a weary ex-senator than Jyn Erso in all this.
Jyn was in chains when we met before Operation Fracture. I'd seen her file and chosen her for the mission for reasons I wish I could be proud of. I expected to meet a troubled girl who had been failed by the Alliance in a hundred different ways: failed by Saw, failed by those of us who knew Saw, failed when she went out on her own, and failed by our inability to save her father or mother. I expected she could be persuaded (by which I suppose I meant manipulated into helping us, and that in doing so we might help her, too.
But the woman I met at Base One could not be manipulated. There are a very few people whose will and ferocity are so great that they pull other people in their wake. I've known some who cultivated that talent as politicians and generals, for good or ill. Jyn, I think, never knew the effect she had on others - never realized the intensity of her own humanity or the presence she brought to a room. She was, as expected, troubled and quarrelsome; she was also impossible to ignore or forget.
In her short life, she had seen relentless hardship and become hard herself. But her fire shone bright.
If our first meeting was brief, our second was even briefer. We exchanged a handful of private words when she briefed Alliance High Command on the threat of the Death Star, and the woman I met then was far different from the one we'd chained. Was she at peace? I don't believe so. But she held herself with a newfound certainty.
It's become fashionable in some quarters to claim Jyn Erso went to Scarif intending to die a martyr - that she realized she had lost everything and chose her path by its inevitable end. I will dispute this claim until my own dying days. I think Jyn fully recognized who she was and sought a way to channel her best and worst impulses, her darkest moments and her brightest, toward a cause worthy of her true incandescence.
In a kinder universe, she would have walked away from Scarif. I cannot imagine who she would have become, but I think she would have been extraordinary.
I am grateful I knew her, no matter how short the time.
I probably need to watch Rogue One again before I can really compare the movie to the book. It seems like there were a million things in the book that weren't in the movie, but I can't be sure. I was mildly confused throughout most of the movie about who the characters were and why they were doing whatever they were doing. But the movie's events may have just not lodged as securely in my tiny brain. Who knows - maybe it will all make sense now that I've read the book, and I'll love this more than any of the other Star Wars films.
And most importantly, I've been waiting for weeks to share this Mad Magazine spoof of Rogue One. Enjoy

Camino Island

I finished Camino Island a few days ago. I read it in just a couple of days, as I have almost every John Grisham book I've read. Also, as with all the other John Grisham novels I've read, I found it to be very enjoyable and well-written. As I think I've mentioned before, Johnny G and I don't share the same political views, but the guy can tell a story that grabs you and doesn't let you go. Thankfully, there was almost no hint of a political agenda in this one. Several of the characters had clear political affiliations, but their politics didn't drive the story. To be honest, even the politically-driven Grisham novels are well-written and hard to put down, so his politics are probably a moot point, but that's my only complaint with any of the Grisham books. There are a few novels I've never read because his stories were getting excessively liberal and I was wasn't enjoying them as much as I had before...so maybe it's not exactly moot, but it is an argument with holes. Regardless, let's talk about Camino Island...
A lot of Camino Island is a self-congratulatory exploration of writers in general. There's is no character who, in any way that I'm aware of, resembles John Grisham in the story, but the story's real protagonist is a fledgling author, most of the other characters are writers or those whose vocations revolve around books.
There's a lot of talk about writing-related topics. Here's a passage where our pretty, young protagonist is reading a book by one of the island's other writers, and tearing it apart.
Ms. Trane's novel dealt with a young, unmarried woman who woke up pregnant one day and wasn't sure who the father was. She had been drinking too much during the past year, had been rather promiscuous, and her memory was not that sharp. With a calendar, she tried to retrace her steps, and finally made a list of the three likeliest suspects. She vowed to secretly investigate each one with the plan to one day, after her child arrived, spring a paternity suit on the real daddy and collect support.

It was a nice setup, but the writing was so convoluted and pretentious that any reader would have difficulty plowing through. No scene was clear, so that the reader was never certain what was going on. Ms. Trane obviously had a pen in one hand and a thesaurus in the other because Mercer saw long Words for the first time. And, just as frustrating, the dialogue was not identified with quotation marks, and often it was not clear who said what.

After twenty minutes of hard work, she was exhausted and fell into a nap.
There is a surprising dearth of lawyers in the book. And the story didn't suffer for it in the least. There are FBI and other above-the-law type scumbags a-plenty, though.






* I was shocked to discover that I've only peripherally mentioned Fragile Things a couple of times in posts on this site. I've never even listed the stories, quoted any part of it or said much of anything about it (the hardcover I have was published, purchased and read over 10 years ago). I should be ashamed.

** I read Fragile Things over ten years ago and my mangled brain barely works - give me a break.



Got something to say? Say it. (2 responses).


Some good ol' fashioned ranting
It's been a while since I've gone off the rails and just ranted about thing that tork me off. There was a window of time that the wife's Jetta made regular appearances here because of its propensity for failure (and then I think I just got tired of complaining about its constant automotive issues). Well, the Jetta has moved on to some other poor unfortunate soul, so now I'm going to complain about the other old car in the driveway: the 2003 Honda CRV.


Adventures in Car Ownership


As with any car that's fourteen years old, things start to...well, not work as well as they once did. The latest mishap with the CRV involved the glove box, of all things. I was digging around to try to find the most recent maintenance paperwork and had some difficulty closing the overstuffed glove box after failing to find anything useful. So I may have been a little too forceful to get it closed.
Later, when I tried to get into the glove box for something else, I discovered that the glove box no longer responded to my feeble attempts to open it. I verified that the lock wasn't engaged and even tried forcing it open from the edges. No luck. So I hulked out and used a little too much force with the latch-release on the front of the glove box. As one would expect, the plastic part snapped right off.
I turned to my friends on the Internet to teach me alternative methods to get into the broken glove box without completely destroying it. Most of the tips I found were complete garbage and would have led to the destruction of the dashboard and glove box if I'd followed through with them (I watched one guy destroy his dashboard as he forced the glove box open). Eventually, I opted to go with the less-destructive advice of several online "experts" and removed the screws to the hinges on the bottom of the glove box under the dashboard. It was pretty easy to do with my ratchet socket set, but ultimately futile. The bottom of the glove box didn't pull out far enough remove it (without more destruction) - the latch was still engaged.
I tried the internet again. No help. And then I got a little less lazy and decided to try to figure it out myself. After studying the exposed lever parts, I saw something that looked like it might move, so I jammed my screwdriver into the mechanism and forced it downward. The now-unhinged glove box latch popped right open. So I closed it, re-engaging the latch, and re-attached the hinge on the bottom.
The moral of the story - if you've broken the plastic latch handle off of the front of your glove box, use a screwdriver to open it. Here's a photo of the mechanism, with the part you need to apply downward pressure to.
Cars are stupid.


Still no Interest in the San Diego Comic-con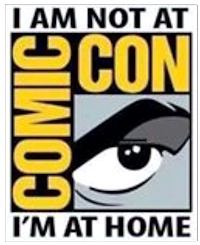 The San Diego Hard Rock Hotel sent me an email today which illustrates why I may never return to the San Diego Comic-con. And probably even why the San Diego Comic-con doesn't care about their loss of my patronage or the patronage of many other comic book collectors in the least. To see what I'm referring to, you need to read the quotes at the bottom of the image. The rest of the email is ComicCon-as-usual.
If you don't want to try to read the #SDCC tip tweets on the image, here are the offenders -
"Keep water and granola bars in your bag. Use the Comic-Con app + have backup panel plans. Scope out the announcements and plan ahead.
@meg_townsend

"Odd #sdccsurvivaltip: bring a nice outfit. At least a jacket or nice pants. There are always promotions and events going on.
@sctdaigle
I'd bet that neither of these visitors spent a nickel on the item which is the primary reason the Con even exists: comic books. I overheard a couple of my younger co-workers talking about their con experiences today. Neither of them mentioned comics once. I even asked one of them if he'd purchased a single comic. He sheepishly admitted he had not.
The SDCC even lost thousands of dollars that Mile High Comics gives them annually due to the SDCC's apathy toward comic-related exhibitors. Mile High Comics pulled out this year and may never return. And teh SDCC management is probably secretly happy that those dirty comic book peddlers are now gone so they have room for vendors that fit their sad vision for the Con's future. Mile High mentions the SDCC here and here, too.
At this point, the Con is all about movies and TV panels. Comics are an afterthought. I wouldn't be surprised if the exhibit hall was divided in the future to turn a majority of the space into rooms for panels.
I don't know why I'm so worked up about this. I don't even really buy comics anymore (other than feeding the Neil Gaiman money machine). I guess it's just because I'm old and hate to see things change.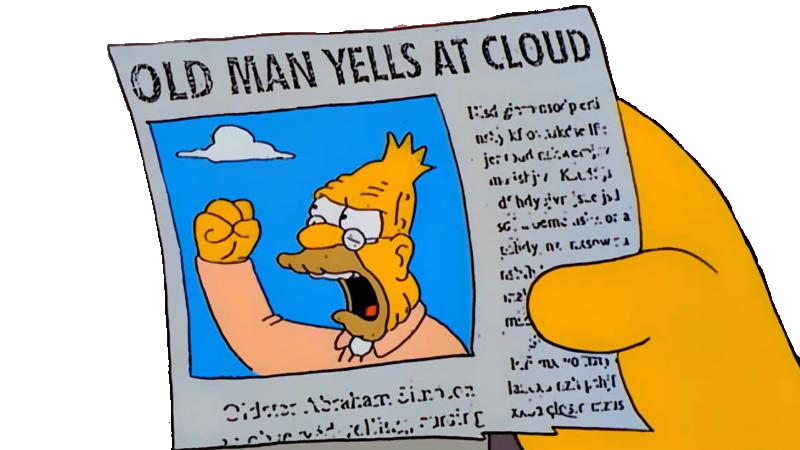 Then again, there are still reasons to go to the Con. They're just not compelling enough to override my aversion to crowds.

I've got more of the usual book-related blather chambered and almost ready to go, but it requires more polishing and I'm all polished out for the night. I'm even planning to comment on Season 2 of The Magicians (for Dan) and American Gods and why I'm not loving either TV adaptation.



Side note - I overwrote the July 11 post when I saved this one and didn't have a backup on hand. But Google saved my bacon - they actually have a backup of the site as it was (prior to today, anyway) and I was able to recover everything. As much as I mistrust Google for their data-stealing ways, I have to admit they do a little non-evil from time to time.



Got something to say? Say it. (no responses).



This page has been viewed






times since I started tracking hits.
(This is a rudimentary non-unique IP hit counter, so don't be too impressed)